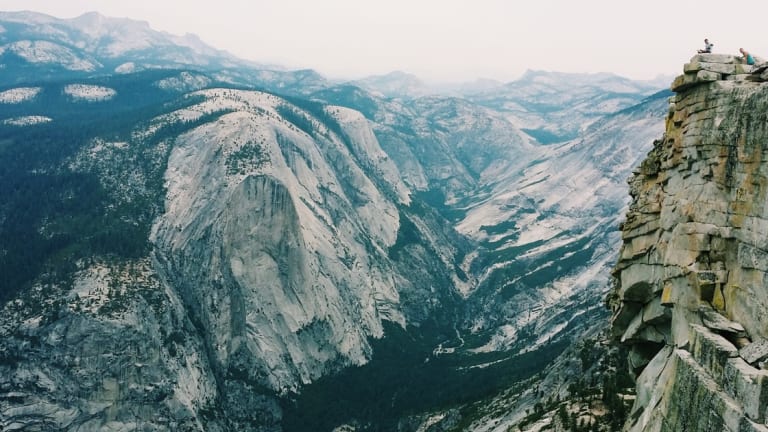 10 Stunning National Parks You Need to Visit in Your Lifetime
And off-the-beaten paths to explore once you get there.
Since 1916, the National Park Service has been entrusted with the care of fifty-eight national parks and the millions of people who visit them each year—and with good reason. From rugged shorelines to towering forests and a geyser or two, the USA has been blessed with millions of acres of natural beauty. The best part of America's national parks? They're right here in our backyard!
If you don't know where to start, check out The Outbound Collective, a website and iOS app that will help you discover the best outdoor adventures nearby, whether for hiking, camping, after-work runs, waterfalls, swimming holes, or catching a sunset. Below, we share our favorite must-dos for beginners at the top ten national parks from members of The Outbound Collective.
01. Acadia National Park // Maine
Must-do: Otter Point
Bring your hiking shoes, water, snacks, camera, and blanket to enjoy the amazing views from this mellow trail. It takes thirty minutes to three hours depending on how far you explore (one mile or all 3.5). From spring through autumn, it's a peaceful spot to catch a sunrise or sunset away from Maine's crowded beaches.
02. Zion National Park // Utah
Must-do: The Narrows
Hiking through the river at the bottom of a deep canyon surrounded by natural springs, beaches, and golden cliffs is a refreshing summer adventure that you won't get in any other national park. Just make sure to pack water shoes and a hiking stick.
03. Shenandoah National Park // Virginia
Must-do: Blackrock Summit
This loop trail is a short easy hike less than two miles that will give you north and south views ideal for watching a sunrise or sunset. Wear comfy shoes and pack an extra layer because it's windy at the top!
04. Grand Teton National Park // Wyoming
Must-do: Explore Jenny Lake
Pack your towel, swimsuit, a picnic, and friends for a day of swimming and relaxing on the shores of Jenny Lake. For fishing aficionados, this lake is full of tons waiting to be caught (just make sure you have a permit).
05. Yosemite National Park // California
Must-do: Little Yosemite Valley and Half Dome
Yosemite's famed Half Dome is more for intermediate explorers as it requires camping overnight. But hikers will enjoy a 3.8-mile trek toward Little Yosemite Valley where you can take a much-needed dunk at Vernal and Nevada Falls along the way.
06. Glacier National Park // Montana
Must-do: Hidden Lake
Spot cute mountain goats and bighorn sheep along this 5.6-mile day hike where you'll find the best views of Hidden Lake and Bearhat Mountain. Fair warning: Glacier National Park is home to the largest grizzly population in the lower forty-eight states, so even though the area is busy, experts highly recommend carrying bray spear in your daypack.
07. Denali National Park & Preserve // Alaska
Must-do: McKinley Bar Trail
Visit this historic site where pioneering mountaineers started their Mount McKinley climbs in the early 1900s. You'll spot ponds, wildflowers, moose, and caribou on this five-mile hike for beginners.
08. Olympic National Park // Washington
Must-do: Hall of Mosses
Unlike the other adventures, the Hall of Mosses is one you can do year-round. The trail is just less than a mile long, but it is filled with some of the most breathtaking and unique scenery you'll ever see: crystal clear lakes and everything covered in moss.
09. Great Smoky Mountains National Park // Tennessee & North Carolina
Must-do: Charlie's Bunion
Step foot on the Appalachian Trail as you embark on this 8.1-mile hike to Charlie's Bunion, a beautiful bedrock in the Smoky Mountains. This is listed as a strenuous hike for intermediate explorers, but the toughest part is the distance, not the ascent.
10. Hawai'i Volcanoes National Park // Big Island, Hawai'i
Must-do: Hike the Kilauea'iki Trail
The lush forests of the Big Island set against vast swaths of black lava rock are other-worldly. Take the gentle Kilauea'iki Trail of the Kīlauea Iki Crater, where even well after fifty years since its last eruption in 1959, you'll find surfaces still warm to the touch and steam escaping through cracks in the rock.
Photo Credit: Eddie Jo
All images courtesy of The Outbound Collective