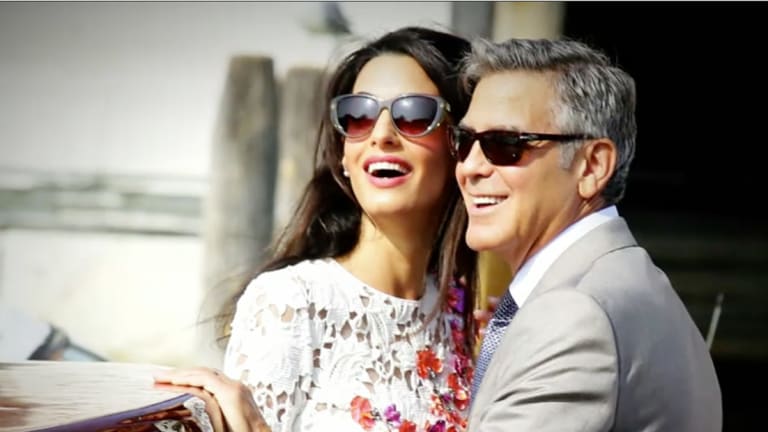 Amal Clooney and Cameron Diaz Have This In Common, and You Might Too
Don't let the fairytales get the better of you.
Yes, Millennials are getting married later than our parents and grandparents did. And yes, research proves that marrying in your early twenties puts you at a higher risk for divorce. Still, there is a palpable sense that in our society, tying the knot remains a notable benchmark for success. And besides that, most of us do, in fact, want to get married. According to Gallup, 86 percent of Millennials hope to say "I do" someday. Whether its nudging from our parents or our own burning desire, many of us want (or at least feel some pressure) to say our vows as soon as possible.  
But what if, despite wanting marriage, it just hasn't happened? Or maybe you really do want to focus on your career? While the pool of suitors may winnow, getting happily married later than traditionally expected is a) possible and b) could be great—at least according to a host of celebrities who have reminded us recently that your shot at true love doesn't disappear the minute you turn the big 3-0. 
This past weekend, Gwyneth Paltrow and her wellness posse at Goop hosted a summit in L.A for Global Wellness Day. Among the many panelists was actress Cameron Diaz who opened up about marrying Benji Madden in 2015 at age 42. "I think it's a matter of I just hadn't met my husband," she said, as reported by People. "I had boyfriends before, and there's a really, really distinct difference between husbands and boyfriends." If ever there was assurance to not settle, that sounds like it. 
Meanwhile, new mother to twins Ella and Alexander, Amal Clooney has become something of a poster child for having it all. After building a successful and powerful career, Amal married George Clooney in a whirlwind romance in 2014. She was 36, he 53. Is her story typical? Anything but. Amal has nevertheless been a role model of intelligence and grace as a later-in-life bride. Of their marriage, George told Esquire, "At 52, I found the love of my life and I'm really happy." And despite having built completely independent lives before each other (an aspect that can prove challenging for older newlyweds), People reports, "between all their important work, they always stay focused on keeping their marriage happy and healthy."
Of course, that doesn't mean we should just be selfish until we find the right one for us. Our single years can be spent learning how to be generous with our time and resources—which, by the way, will prepare you better for the journey that is building a life with someone else. But the point here is that love and subsequent marital happiness doesn't only follow one script. It's not something that has to happen when you're young. It's not something that won't happen because you're older than all your married friends. As we age we become less optimistic. And obviously fertility plays a big part in this whole equation for many women. I'm not ignoring the reasons why we tend to think about marriage as something better suited for the younger among us. But I'm arguing that we can (and should) give ourselves a break from the one-track narrative that has us all fearing spinsterhood. 
If it takes reading about Amal Clooney to remind you that you aren't the only woman in the world who wasn't married at her 10-year high school reunion but still ended up happy, so be it! We need all kinds of stories and role models. After all, there are so many factors other than age that statistically impact a good marriage, like education and money. 
To all the Ina Gartens of the world who got married at age 20 and are still happily committed fifty years later, bravo! To those of you who want to get married but are losing hope as your thirties tick on by, keep the faith. There's more than one way to end up happily ever after.
Photo Credit: ABC News