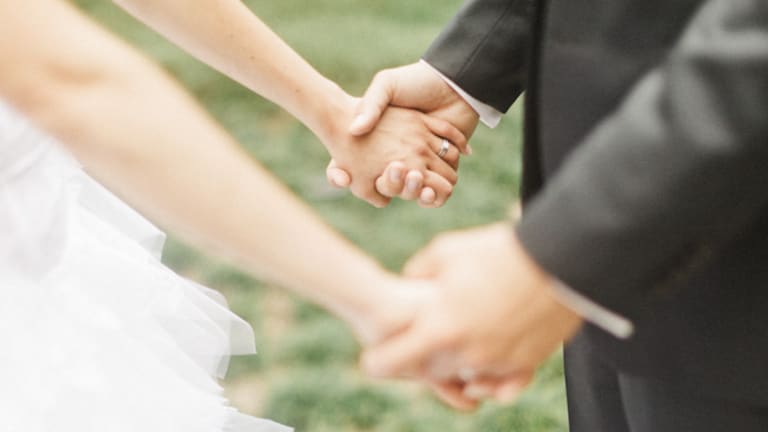 5 Lessons We Learned in Our First 5 Years of Marriage
This couple doesn't sugarcoat it.
On June 2, 2012, we were married in the Lady Chapel at glorious St. Patrick's Cathedral in New York City. It's a cliché to say that life was simpler back then, but it's true. My $300 wedding gown came from a nonprofit that sold used and overstock dresses for charity. My groom's traditional Filipino barong was made of pineapple fibers. Our reception was at a nearby Chinese restaurant. That evening, we took a yellow cab back to our 280-square-foot studio apartment where we spent the night opening presents and writing thank you cards because we would be moving to Europe the day after our honeymoon. Not everyone's idea of the perfect wedding night, but that was us.
Well, five years later, we've lived on two continents, three states, had two daughters and two miscarriages, thrived in our careers, and struggled with unemployment. Needless to say, life has gotten far more complicated, and our relationship has had its ups and downs, too. 
During marriage prep, we learned about Dr. John Gottman's research on marriage and couple relationships. His framework of the Four Horsemen of the Apocalypse can accurately predict early divorcing about five years after the wedding. Now that we have made it five years, we understand why making it this far can be so hard. We've seen each of the Four Horsemen—criticism, contempt, defensiveness, and stonewalling—come and go in our relationship. But we have made it this far, and we have learned a lot about battling these horsemen and making our marriage work.
Here are five lessons we've learned in the five crazy, but totally wondrous years we have been married. 
01. Friendships outside of each other's circles helps your marriage.
No, it's not just because you need "time apart." Friendship with your spouse is different and awesome. But other people need to witness your marriage, too. It sounds self-important perhaps, but our single friends benefit from hearing about what marriage is really like. Sharing our hard-earned wisdom means they can be prudent as they find and pursue their own life partner. We swap notes with our married friends on how to make our spouses happy. In exchange, our good friends keep us grounded by affirming us or calling us out when we're being unfair to our other half, letting us vent in a healthy way, and giving us sage advice in the way only a saner, third-party can when it feels like a war zone at home.
02. You are not easy to live with, but you can change. 
Marriage can change you in ways that you do not expect. In our first ten days as newlyweds, one person (who shall not be named) complained about wet towels on the floor and toilet seats left up. Now, a certain someone else does most of the laundry (gasp!) and has finally learned the proper way of sanitizing a toilet. It took time for us to understand each other and to learn in which ways we could change to make each other happy—not just for their sake, but so that we could each become a better person as well.
03. Figure out your business plan according to your strengths.
We never thought about marriage like a business partnership, but in many ways it is. Who is in charge of paying the bills? One person pays the mortgage, the other pays for our utilities and daughters' tuition. Fat from one paycheck goes into our 401(k), while whatever is left over from the other one is what we call the "fun money." Note: It was a prudent move to have The Saver in charge of miscellaneous spending, because, with these eyes on the debit card, it doesn't happen much. On the other hand, putting our nest egg in the hands of The Security Seeker means we're on track to a healthy retirement! A successful marriage really is like a successful business. As co-founders, we sometimes butt heads, but as long as we believe in and continue to work towards the same shared mission—we know the investment is worth it.
04. If you want to create a healthier and happier future, get a good marriage therapist.
We were in couple's therapy before we even got married for the humble reasons that a) our marriage prep course required it and b) we knew we'd need the help. Business owners have consultants. Athletes and sports teams have coaches. Pregnant couples have prenatal classes, doulas, and midwives. Why wouldn't we put the same care into our marriage? Most insurance carriers cover therapy as a benefit, so take advantage of it. We recommend finding a Gottman-certified therapist near you through the Gottman Referral Network.
From decades of research, Dr. Gottman can place couples in two categories: Masters & Disasters. We certainly aren't Masters of Marriage, but we can both agree that, with help, we've come a lot closer to the title than we were 5 years ago. 
05. Marriage is hard, but time is on your side.
This point has been stressed by many others, but it's important to keep in mind the statistics that accompany the life cycle of a marriage. We hope, and plan, to stay married to each other until we die. The National Center For Health Statistics reports that the probability a marriage will end before your 20th anniversary (versus a lifetime) decreases over time: about 80% at 5 years, 70% at 10 years, 60% after 15 years, and 50% by 20 years. What's the implication? If you have some fortitude and fight the good fight, your chances of marital success increase over time. It's an objective truth to remember whenever we're reminded that, yes, marriage is hard, and that's okay.
Here's to five years of marriage, and, like a fine wine, getting even stronger and sweeter with time.
Photo Credit: Xavier Navarro