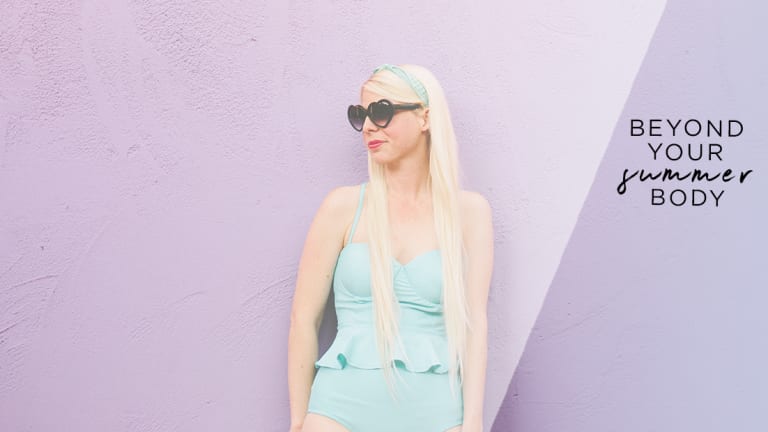 Wearing a Swimsuit Shouldn't Have To Be an Act of Bravery—But That Doesn't Mean It Isn't
The struggle continues for women to feel comfortable and confident
This summer, you might be feeling better than you have in seasons past. Key influencers and brands have been hard at work with a goal to change the narrative that's synonymous with this time of year. Rather than this being a time for "bikini bodies" only, the cultural dialogue is slowly shifting to be more inclusive and empowered. The styles of swimwear, the models we see in it—our image is changing. But it isn't happening without a conscious effort and mindset for acceptance. 
Those who are choosing to defy the old standards—by, say, embracing their own shape—are often cast as "brave." Plus size model Ashley Graham clapped back against this very notion with a recent Instagram photo. In the photo, Graham stands defiantly and confidently in a red swimsuit with her back to the camera. She captioned the photo with "when they call you brave." 
While the model's cheeky bathing suit is not my favorite example of the resurgence of the one-piece, Ashley's sarcastic comment about bravery made me smile. Why is it that doing the exact same thing as a size 2 woman—that is, wearing a bathing suit to the beach—is classified as remarkable, simply because you're a size 12?
Look at the definition of the word "brave." It describes someone who is "ready to face and endure danger or pain." The sad reality is that a lot of women do feel this way when they de-robe at the beach; they're ready to be ridiculed. This is no doubt the result of the narrative found in fashion magazines and perpetuated by celebrity culture, seen in nearly every Blockbuster hit and modeled on our TV screens, which is that we should focus on "imperfections"—and that they must be eradicated. Anyone who has ever received an offhand but hurtful comment about their appearance, or has otherwise had their body marginalized in some way, can understand the feeling that we need some emotional armor in order to get through the day.
Ashley has been outspoken about body image in the past and is a self-proclaimed body diversity ambassador. In a recent interview with People she admitted that despite her positive message, she too still struggles with being self-conscious in a bathing suit.
"I mean, of course like any girl when you get to the beach or the pool and you go, 'Oh, I have to take my cover-up off, crap.' And you feel like everybody's watching, and then you just go, 'Oh fine, I'll just take it off.'"
I admire Graham for this sentiment, especially when I consider the fact that I am not quite at her level of body acceptance. I haven't worn a bathing suit in two years and have actively avoided buying one. It took me by surprise when I realized how long I had been making excuses to not go out in public in a bathing suit—although my incredibly fair skin and Vitamin D deficiency should have alerted me to the situation much sooner. The reality is that I shouldn't really be self-conscious, but I feel that if I go out, my tiger stripe stretch marks and excess fat will draw negative attention to me like a neon sign. The conversation of beachside bravery made me realize that I really do have to summon my courage to don a swimsuit, even if that fact frustrates me.
The idea of being brave because we don't achieve a socially acceptable standard has been born out of a desire for human perfection. When we inevitably cannot reach this standard of perfection, we give up and decide that the only way to pull off an item of clothing is to label ourselves "brave." Parenting expert Tanith Carey and author of Girls Uninterrupted: Steps for Building Stronger Girls in a Challenging World believes that perfectionism starts at a young age and prevents women from focusing on their inner selves. "By setting the bar so high, a girl is likely to be brutally self-critical, eventually eroding her self-worth," she says.
Carey encourages us to try to shift the way we view our experiences. "If your daughter is showing signs of perfectionism, suggest she ask herself questions like: 'What's the worst that could happen?' or 'If the worst happens, will I get through it?' and 'Will this be important next week, or next year?' Remind her that no one's perfect and she always has the choice to let some things go."
This advice is not only applicable to parenting young girls, but it also can apply to how we view ourselves and the perception of others in our day-to-day choices. By shifting our mindset we can reclaim activities, fashion or ideas as parts of our regular confident self, not as acts of bravery.
I would like to see us reach a point where we don't consider wearing a swimsuit to be an act of bravery but part of a belief in our self-worth. I hope we can all make it our goal this summer to do real acts of bravery; stand up for what we believe in, and to give others the gift of being authentic selves—perfect bodies, just as we are.
Share your own summer stories with us using #VerilyMoment and #BeyondYourSummerBody on social media!