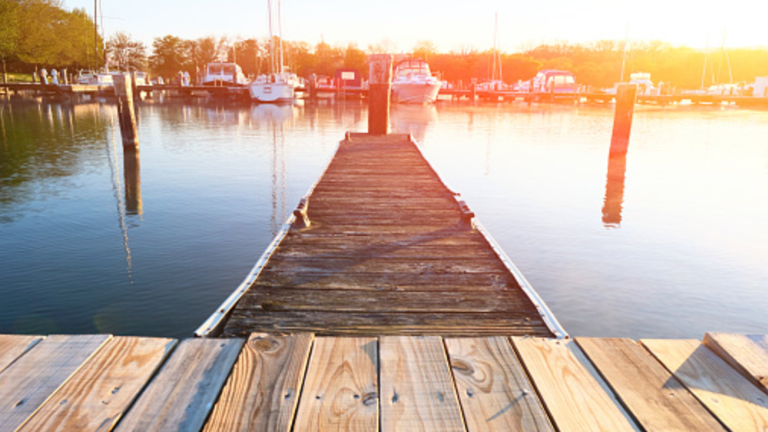 7 Pretty Spots to Visit in the U.S. This Summer
Get your Instagram ready for a flood of likes.

I make a lot of life decisions based solely on Instagram. In the past year, I bought a new carry-on bag, tried (and loved!) a new line of vitamins, scouted out tons of new restaurants, and chose my vacation destinations—all based on posts I saw on Instagram. Not only do you get awesome visual inspiration from what you see on social media, but you also get a first-person account of the experience. That's pretty much a win-win for anyone looking to cash in hard-earned dollars on an unforgettable trip.
However, the hardest thing about traveling for me is packing. I'm the type of person who leaves packing to the very last minute, at which point I frantically try to scrounge all of my essentials mid-anxiety attack (more often than not, I end up forgetting something essential like my toothbrush). One thing I'll never forget is my beloved smartphone. According to a recent survey by SIMPLE Mobile, 88 percent of Millennials agree that their smartphone is their No. 1 packing priority. In addition to navigating new surroundings, your smartphone will enable you to fill your newsfeed with amazing travel snaps this summer. (Let's face it, posting pics is half the fun of traveling.) 
Need destination inspiration for those perfect Instagram opportunities? Jaunt off to one of these seven Instagram-worthy destinations—all within the United States and perfect for a long weekend. To make sure you have enough data and service that works in every nook and cranny of the country, check out affordable, unlimited plans from SIMPLE Mobile, such as its $50 Truly Unlimited Data Plan. It's got enough data to keep you connected no matter where you go, with a price tag that will leave plenty of room in your budget for your trip.
01. Asheville, NC
Set in the heart of Appalachia, Asheville is a haven for anyone who loves nature, history, art, and laid-back vibes. This quaint spot is home to America's biggest home, the Biltmore Estate, and is right off the Blue Ridge Parkway, a scenic driving route guaranteed to give you something to 'gram.
02. Palm Springs, CA
Coachella put Palm Springs on the social media map, but the famous fest is far from the only reason to visit this southern California desert hotspot. You'll be surrounded by glistening swimming pools, mid-century design spectacles, and towering palm trees. And if you love sunsets, trust us, a California sunset never requires a filter. With abundant trails, cool pools, and great restaurants, hikers, loungers, and eaters will all find joy in Palm Springs.
03. Jackson Hole, WY
If you're looking for a place to take in the solar eclipse in late August, Jackson Hole is it. According to Travel + Leisure, "expansive vistas and minimal light pollution" make this small mountain town the ideal vantage point. It's located near Yellowstone and Grand Teton national parks, which will keep you and your smartphone camera more than occupied for a few days.
04. Portland, ME
Lighthouses, rocky coastlines, Americana oozing from every corner—what's not to like about this New England seaside city? The James Beard Foundation just awarded its "Best Chef of the Northeast" award to the curators behind Portland's Eventide Oyster Co. If visions of half dozens on the half shell and one of the world's most photographed head lights (er, lighthouses) doesn't set your Instagram-loving heart aflutter, what will?
05. Key West, FL
Did you know that you can satisfy your tropical wanderlust within the continental United States? The southernmost tip of the country will give you an abundance of beautiful beaches and tropical cocktails to satisfy your need for an escape. Once you've posed for a photo at the southernmost point buoy, the bungalows, beach cruisers, and Hemingway haunts should keep your Instagram feed comfortably afloat.
06. New York City, NY
For the seventh year running, Manhattan was named Business Insider's top U.S. travel destination. For a long weekend, this land of skyscrapers and Central Park won't disappoint. Jaunts to the famous baseball fields, pizzerias, shops, landmark buildings, or anywhere in between will have your head spinning with happiness. Just make sure you have good wireless service; you'll need it for navigating the subway system.
07. Charleston, SC
With a famous street known as "Rainbow Row," how could we not include Charleston among the prettiest U.S. places? Consistently ranked as a top spot, this southern city has great food, rich history, and photogenic moments in abundance. Summer can get hot and humid, so Charleston is also great for early fall visits. Of course, Folly Beach is just a couple of miles away if you want to cool down in the ocean.
This survey was commissioned by SIMPLE Mobile and conducted by Survata, an independent research firm in San Francisco. Survata interviewed 1,000 online respondents, ages 18 to 34, between May 10, 2016, and May 11, 2017. For further information, visit www.survata.com.
* Please always refer to the latest Terms and Conditions of Service at SIMPLEMobile.com.
** To get 4G LTE speed, you must have a 4G LTE capable device and 4G LTE SIM. Actual availability, coverage, and speed may vary. LTE is a trademark of ETSI.
††† Video typically streams at DVD quality.