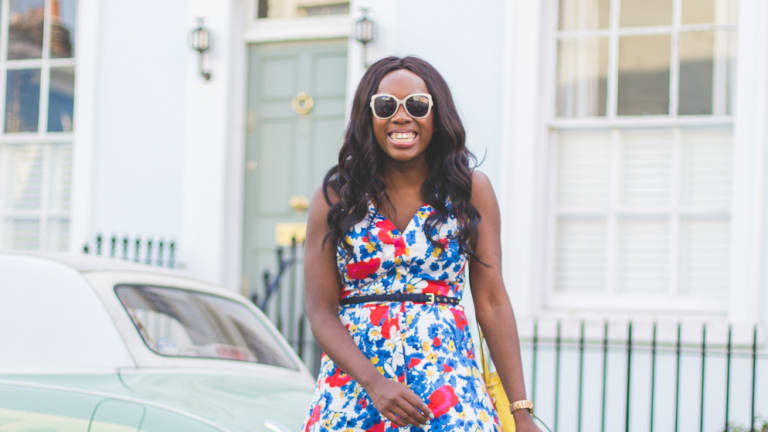 5 Ways to Dress for the 4th of July (Without Looking Tacky)
A more subtle take on the red, white, and blue outfit
There's an unspoken rule that you must wear red, white, and blue on July 4th—and we're all for it. Who doesn't love an excuse to dress up and show off a little patriotism? But for those of us who are more subtle with style, dressing for the 4th can sometimes feel a bit like we're heading to a costume party. If you're ready to celebrate in style without looking like Yankee Doodle Dandy, follow our simple tips below.
Floral Red, White, and Blue //
Who says it has to be stars and stripes? Wearing a pattern with red, white, and blue communicates your intention to partake in the festivities in a subtle yet intentional way. Try a floral red, white, and blue pattern like Kristabel Plummer did!
Show Your Stripes //
Nautical stripes already have that all-American appeal. If you already have a striped red or blue item in your closet, your 4th outfit planning will be easy! If you're wearing a red striped top like Eleanora Mararo, pair it with a splash of blue. 
Go Gingham //
Gingham is the official pattern of summer. The cheery checks remind us of long summer days sipping iced tea on the porch. The Americana red and white gingham print will definitely make your outfit Independence Day-appropriate. Kate Gelinsky proves this gingham top is ready for fireworks!
Subtle Details //
If you really want to avoid bright-red and blue, try wearing baby-blue and crisp-white as the base of your outfit and then top it off with a red lip. That way, your look won't be too themed but you'll still pass inspection at the BBQ. Daphne Moreau is all about the red, white, and blue but never looks excessive. 
Muted Red and Blue //
Many of us don't actually own bright red or cobalt blue. If you're lacking the typical 4th of July colors, get creative with your more muted options. Do you have faded maroon, burgundy, navy, or even denim? Take a cue from Jean Wang who perfectly matched her muted red top and blue chambray skirt.