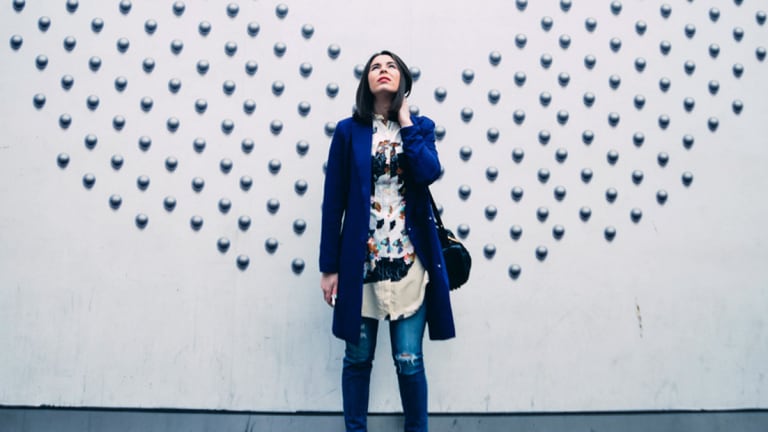 How I Finally Stopped Shaming Myself for Wanting to be a Stay-at-Home Mom
Success just isn't one-size-fits-all.
This summer marks the five-year anniversary of what has become a cultural touchstone to this day. That's right, it's been half a decade since a lawyer/professor/political policy maker, who happened to also be a wife and mom, wrote a cover story for The Atlantic. That story launched a maelstrom of eye rolls, sighs, pits in stomach, snarls, and likely a few tears. It became one of the publication's most viewed pieces—ever.
Of course, I'm talking about "Why Women Still Can't Have It All" by Anne-Marie Slaughter.
Drained from years of long work commutes, endless commitments, and a looming dread of not being home enough for her kids, Slaughter confessed in 2012 that she, like so many others, was guilty of, "making millions of women feel that they are to blame if they cannot manage to rise up the ladder as fast as men and also have a family and an active home life (and be thin and beautiful to boot)." Her account of modern womanhood has been the basis for countless follow-ups, celebrity interviews, and desperate attempts to disprove it. 
When I first read Slaughter's piece, I had just finished grad school and was a few months into my first job, with hopes of someday getting married and having children. I had always envisioned myself being a stay-at-home mom. But at the same time, I felt magnetically drawn to the "have it all" narrative, reading endless articles probing esteemed women for their life hacks and tricks to make it all work. Five years later, I can't help but wonder if we've been getting disappointing results because we're asking a really bad question. Is it really about having it all, or should we be asking: What matters most to me?
Over time, I've grown more comfortable embracing my personal priorities over what's popular or prescribed. I was feeling overwhelmed, so I applied Laura Vanderkam's time tracking strategies to my schedule. I learned to let go of things that didn't matter, and I began to see my priorities in a new way. I started practicing Marie Kondo's magical tidying technique, and I participated in a challenge dedicated to helping people unplug.These experiences helped me develop a new mantra: Spend my time in ways that spark joy.
Still, when faced with the prospect of working motherhood, the pressure to "have it all" returned. Just a couple weeks after starting a new job, I found out I was pregnant. My husband and I were thrilled, and we started looking ahead at what the next chapter of life would be like. I wanted to stay home. But this sense that women ought to be striving for more was nagging at me. 
As each trimester faded into the next, I realized with greater clarity that working motherhood would not be for me. I dreaded the thought of pumping breast milk at work when I could be home nursing my baby. On top of that, I have a heart condition where the first year postpartum can be a really sensitive time. So, for my sanity and my health, and ultimately the good of our family, my husband and I decided I would stay home.
Just that one decision immediately excluded me from the ranks of women who were—theoretically—living out the feminist dream. Those who lean in, break glass ceilings, and nurture children, all while being attractive. I knew I was never going to be the woman who brags about how busy I am while ticking through Google calendars complete with board meetings, soccer games, date nights with their husbands, and thrice-weekly yoga sessions. 
That wasn't what I wanted. That wasn't a full life for me. 
I was so nervous about telling my co-workers I wouldn't be coming back after the baby was born. After all, I worked in an office of Millennials, and we're not exactly known as the get-married-and-settle-down types. They'd been ecstatic when I told them I was pregnant, and they were supportive every swollen step of the way. But telling them I was leaving felt different. I feared their judgment. 
When I finally told them, I received nothing but more of the same support. Sure, they were sad I wouldn't be part of the team. But no one said anything to make me feel guilty; no one made me feel that I was losing myself or throwing away my potential by choosing to focus on my family. But I know many women aren't as lucky as me. Slaughter talked about some of the criticism she got from peers when she chose to step back from one of her commitments. "'I've never had to compromise, and my kids turned out great,'" she recalled being told by a fellow working mom. It's that type of unfounded comparison that has led so many to denounce the "having it all" dialogue. At best, it's a dated concept; at worst, it's completely nebulous, Rebecca Reid wrote for Metro. So let's just stop asking it of ourselves, and of others. 
Ultimately, "having it all" looks different for everyone. More importantly, it's rarely a one-person job. Some women want to work outside the home. Some women have to work. Many women enjoy the job of balancing career and family, others don't. Instead of trying so hard to force an overarching ideal, we should instead be pursuing what works best for each of us, and supporting each other rather than comparing.
I'm not alone in making this shift. Having spent the years following her acclaim traveling widely and speaking to men and women from all backgrounds about their experiences juggling work, family, friends, self, and so on, even Slaughter herself seems to be revising her views. She now says, as told to the Washington Post, "The bottom-line message is that we are never going to get to gender equality between men and women unless we value the work of care as much as we value paid work—or when both men and women do it."
When I look at my friends, I see a beautiful variety. We've all had to make choices along the way to make room for our priorities. Sometimes—always, rather—that means accepting limitations and making sacrifices, or adapting when plans go askew. There's really no "all" to have.
When I got caught up in worrying about what it meant to "have it all," it was easy for me to focus on what I didn't have. But I found when I tailored my choices to focus on what matters the most to me, I could better appreciate the fullness of my life.
I may not "have it all," by some standards. But when I realized what standards truly mattered most to me—as opposed to external pressures or internal fears—my life had far greater meaning. 
When I look at all that I do have, I find it's more than enough.
Photo Credit: Julia Hembree