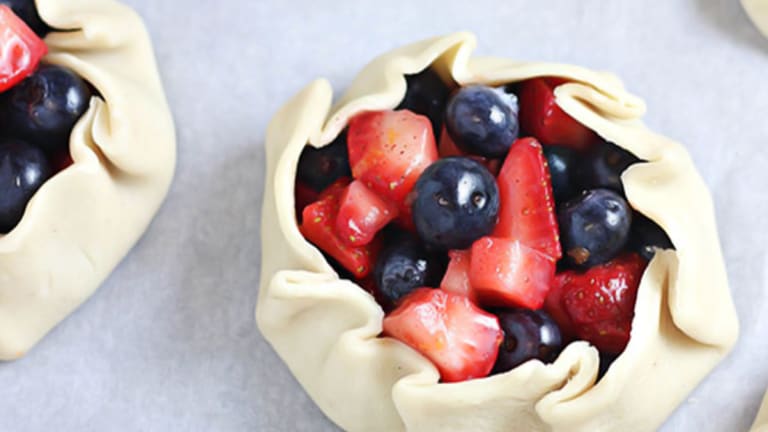 6 Guilt-Free Summer Dessert Ideas from Trader Joe's (That Actually Taste Amazing)
Cool and clean desserts made of three ingredients or less never tasted so sweet.
If you haven't already, the summer heat will soon have you digging into ice cream, froyo, and popsicles before you know it. Instead of succumbing to a side of sugar rush with your brain freeze, try these healthy versions of our favorite frozen treats to satisfy your cravings. Some recipes suggest adding a sweetener like honey or agave nectar, but we recommend adding these at your discretion (or not at all).
If you live near a Trader Joe's, you're in luck. You can pick up all these ingredients in one stop.
01. Dark Chocolate–Covered Frozen Bananas
You'll need:
or
Recipe: Take it easy with a box of TJ's Belgian dark chocolate-covered frozen banana slices. Or try your hand at this easy recipe for Copycat Gone Bananas by The View From Great Island.
02. Mango Creamsicles
You'll need:
Recipe: Pour ingredients into popsicle molds as directed. Freeze until solid (about 3 to 5 hours). Enjoy on a hot day.
03. Summer Berry Galette
You'll need:
Recipe: Swap the crust in this Summer Berry Galette by Clean Eating Mag with TJ's highly-rated frozen pie crusts based on The Kitchn editors' blind taste tests, and you'll rarely bother making a traditional pie again.
04. DIY Dole Whip
You'll need:
Recipe: This treat is so popular at Disney Parks that lines wrap around the quick service windows no matter what time of day or how cold it is outside. But the DIY Dole Whip by Dole can be yours with just three-ish ingredients and a solid blender.
05. Chocolate Avocado Pudding
You'll need:
optional toppings
Recipe: The Chocolate Avocado Pudding With Hazelnuts & Sea Salt by Downshiftology deceptively tastes like the creamiest, chocolatiest, most decadent dessert, except packed with nutrients and healthy fats. Bravocado!
06. Watermelon Cake
You'll need:
Recipe: This Fresh Watermelon Cake by Sprinkle Bakes is as beautiful as it is refreshingly easy to make! Top with TJ's Wild Boreal Blueberries ($2.99), Dry Roasted Honey Sliced Almonds ($3.99), and Organic Unsweetened Flake Coconut ($1.99) for an extra special touch in honor or America's red, white, and blue birthday this summer.