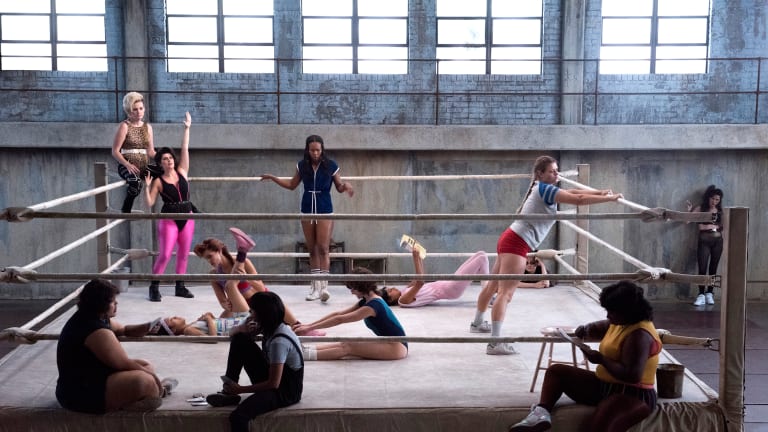 'GLOW' Is an Empowering Show Worth Watching, Even if You Don't Like Wrestling
Here's your Netflix binge for the weekend.
Netflix's latest original series GLOW premieres this weekend, and I have to admit, I loved it. Not only am I a sucker for the 1980s—outrageous neon, the funky music, the hair heights sustained only by teasing and aerosol—but I also felt empowered watching it.
The show is based on the eighties TV program "Gorgeous Ladies of Wrestling," which showcased real-life female wrestlers in a lowbrow production meant to capitalize on the novelty of scintillating girl-on-girl dramatized fighting. Executive produced by Jenji Kohan of Orange is the New Black, 2017's GLOW has some active ingredients I doubted would be very relatable. I thought it was going to be another show with women in outrageous situations and very few steady role models—a show made more to shock than empower. But for a show built on the premise that women can do anything—like push for more dynamic roles in Hollywood or excel in a sport commonly reserved for men—GLOW's resonance was pleasantly nuanced. The story sidestepped the default "strong woman" stereotype of hardened ladies who reject most feminine ideals, but with very little dimension, and revealed characters showing strength not only physically but also of character.
GLOW is set in Los Angeles and stars Allison Brie as Ruth Wilder, a struggling actress going out on one disappointing audition after another. It opens with Ruth, giving a dramatic performance during a casting call. She ends it by tearfully expressing her gratitude to the casting director, saying that it is so exciting to have an opportunity to audition for such a dynamic female role...only to be told she had actually read the man's part.
Ruth confronts the casting director about this saying, "What I'm interested in are real parts, not secretaries telling powerful men their wives are on line two." The casting director sends her to audition for GLOW instead. Ruth gets rejected but keeps coming back, insisting that she's right for the show. Eventually she lands a part in GLOW, and quickly finds herself rehearsing in a seedy gym full of other young hopefuls looking to make it in the Hollywood big leagues.
If she was hoping for something different, Ruth got exactly what she asked for. But it quickly becomes apparent that the women who've landed roles in the show are typecast, sexualized, and forced to deal with quips about their motherhood, miscarriages, and race. They are restricted, as one character puts it, from being "intelligent and whimsical"—restricted, one might say, from being complex. 
For these reasons, GLOW initially frustrated me; the absolutely cringeworthy stereotypes were a turnoff. But I eventually realized that there was a sneaky victory to be had. Ruth, for example, is immediately cast as a villain, and is pitted against her real-life former best friend turned co-star in the ring. I half expected her to drop out, but Ruth trained even harder, and threw herself into the role. This eventually led the former friends to set aside their differences to work together as a team for their work. The women threw themselves wholeheartedly into their characters and their acting. They took control over the stories they were telling in the ring; they reclaimed the narrative, and made it better, stronger. They displayed a perseverance not unlike what women face in the real world still today. 
GLOW shows that making something your own is powerful, regardless of the resources given to you or the outlook of others. The women work hard for their place; rather than pandering to a reductionist script, they retain their pride and turn the show-within-the-show into something more than a female interpretation of "a man's world." The women of GLOW managed, when given a prescribed mold, to jump into it so hard they broke it. That is something that makes for entertaining and thought-provoking television, even if we probably shouldn't try this at home.
Photo Credit: Netflix