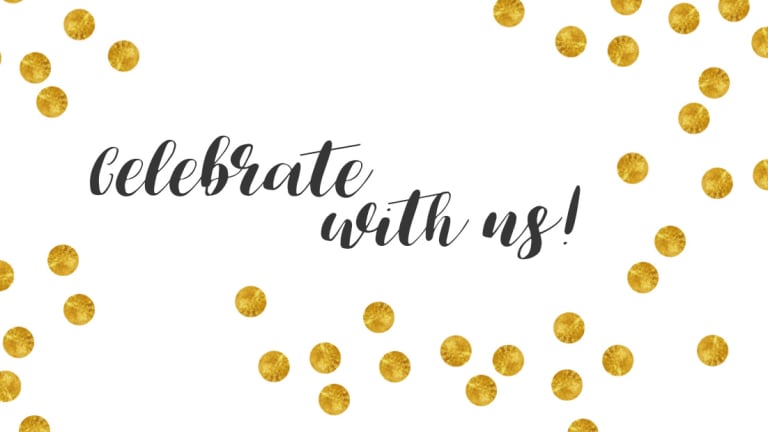 Let's Celebrate! 5 Years of Verily and the Launch of our Ambassador Program
Find out how you can get involved.
It's hard to believe for those of us at Verily HQ, but this month marks the five-year anniversary of our launch!
If there's one thing we've been most grateful for over the years, it's the support of you, our readers. From day one we've had people ask: How can I help? We've always said, "Share Verily with your friends!"—and share you did! Actually, you've shared more than we ever expected. We've heard of book club–type groups using Verily articles as the reading; someone formed a Verily club in their college dorm; friends share articles and discuss over long email chains. It's things like this that make us excited to come to work each day.
We've also had requests for ways Verily fans can connect with one another. Which got us thinking: What if we could give our readers more ways to meaningfully connect and share Verily?
So we're excited today to launch our new ambassador program: The VIPs (for "Verily Important People"—yeah, we're corny, but you know, #ownit). The VIPs are people who love Verily, who want to support our mission and connect with like-minded fans—and as a bonus, earn some Verily swag along the way.
What do VIPs do? VIPs get the inside scoop on what's going on at Verily HQ and help us with new projects, get invited to exclusive events, and get to know each other virtually and IRL.
To join, sign up over on VerilyVIPs.com and get ten friends signed up to our newsletter using your unique link in order to activate your VIP status. Or, if you just want to join straight away, sign up for an annual subscription to Verily Premium. Then you're in!
To celebrate our anniversary and kick off the VIPs starting today, we've partnered up with 31bits, Sudara, Ubuntu, Brass, and Love41 to offer you a chance to win their products. We'll be doing five giveaways—one for each year of Verily—with winners all being drawn on Monday, June 19. To enter a giveaway, all you need to do is:
Sign up to join the VIPs (you only have to do this once!).
Follow the giveaway brand on Instagram (sign up to get our newsletter to see it each day, or follow us on Instagram).
Want more chances to win? You'll get an extra entry for each friend who signs up for our newsletter using your unique VIP link from now through Sunday, June 18.
Entries from your unique VIP link go toward all the giveaways you enter and are added up throughout the week, so keep sharing for more chances to win!
We can't wait to see you over in the VIPs and to celebrate more with you throughout the month!
—Kara (Co-Founder and CEO) & The Verily Team
Required Fun Legal Stuff! For the giveaways, no purchase necessary. Eligible to residents of the United States and District of Columbia. Must be 18 years of age or older. Giveaway entries close at 11:59 p.m. ET 6/18/17. Void where prohibited. Official Rules can be found here.