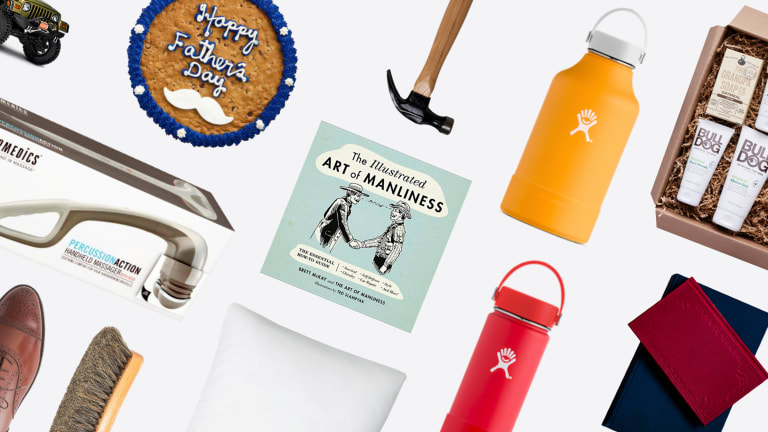 2017 Father's Day Gift Guide Ideas for the 5 Love Languages
Celebrate the role of fatherhood with a gift he'll never forget.
Everyone appreciates a gift tailored just for them—and your dad is no exception. But now the tricky question: what should I get him? 
Whether your dad is the strong, quiet type or the funny, in-touch-with-his-feelings kind of man, we all show and receive love through the 5 Love Languages as defined by Dr. Gary Chapman: Words of Affirmation, Quality Time, Physical Touch, Gift Giving, and Acts of Service. If you're not sure what language your dad speaks, think of how he shows his love to those around him. Then use our annual gift guide based on the 5 Love Languages to pick the perfect gift for the father figure(s) in your life. 
WORDS OF AFFIRMATION
This dad isn't shy about telling you how proud he is of you, how much he loves you, or how blessed he feels to have you in his life.
A Classified Ad + Subscription: A friend of mine told me that growing up, her local paper ran classified ads for the 'World's Greatest Dad'. Talk about affirmation! While getting a personal ad in The Wall Street Journal may be a stretch, local papers and community magazines will gladly sell ad space for a heartfelt thanks. He'll never forget a public ad all about him and a regular subscription will be an ongoing reminder of your feelings.
A Tribute Video: Apps like Quik, PocketVideo, and Videorama make it easy to collect photo and video clips from loved ones to create a tribute video the Words of Affirmation dad will play on repeat. If he's old school, there's an app for that too: VHS Camcorder lets you shoot videos on your smartphone that look like 30-year old crackly home videos, with faithful zoom, date and dodgy audio features.
A Perfect Personalized Bottle: Customize a Hydro Flask with a poem, quote, or personal sentiment that will make him smile each time he takes a sip.
QUALITY TIME
Men bond best through activities, so plan one that's all about him.
The Illustrated Art of Manliness: The Essential How-To Guide: Founder of men's interest and lifestyle site The Art of Manliness Brett McKay and bestselling illustrator Ted Slampyak write brilliantly illustrated articles of more than 100 practical skills to help modern men be the best fathers, brothers, sons, and men they can be. Pick a few skills neither of you knows, and learn them together.
A Social Club Pass: In the age of social media, social clubs are making a comeback. From cigar & whiskey lounges to alumni associations and sports leagues, there is a club out there tailored to his hobbies, passions, and interests. The best part is that guests are usually free, so ask him if you can tag along.
His Dream Ride: Whether his dream vehicle is a boat, motorcycle, or the latest Tesla, find a ride on Turo or call your local rental service and take him for a spin.
ACTS OF SERVICE
For this quiet dad, actions speak louder than words.
His Favorite Items Serviced: Maybe his shoes need a good shining, his bowling ball needs waxing, his golf clubs cleaning, or his tennis racquet restrung. Think about what objects he uses most, and we guarantee he'll be grateful for the thoughtful gesture!
A Task Rabbit Gift Card: Whether dad needs help cleaning the gutters, building furniture, or organizing the garage, there's a Task Rabbit out there to help him get the job done.
Online Sessions at MyDietitian: The fathers in our lives deserve the same protection they give us day in and day out. Help him be at his healthiest by getting him a few sessions with a registered dietitian who can tailor a plan for his health needs and wellness goals.
PHYSICAL TOUCH
A hug, kiss on the cheek and presents that make him feel cared for will warm this papa's heart.
The Pillow: Casper, the makers of the highly-rated mattress for all, have come out with a unique pillow-in-pillow design for the perfect balance of softness and support. For the hardworking dad who deserves a good night's sleep, this Casper pillow will deliver better spine alignment, a cool sleeping surface, and a peaceful slumber.
HoMedics Handheld Massager: The HoMedics Percussion Pro Action Handheld Massager with Heat uses dual pivoting heads and an ergonomic handle to bring relief where he needs it most. Dad can de-stress any time he wants.
Thrive Market Men's Bath & Body Kit: This toxic-free kit using the cleanest and best ingredients has everything a gent needs to give dry skin and unpleasant body odor the boot once and for all.
GIFT GIVING
It's the thought and effort behind the gift that counts most.
An Audible Account: Dad will appreciate finally getting through his reading list while cooking, gardening, exercising, or driving at the same time.
Send a Treat to His Office: When it comes to getting special deliveries, men tend to get the short end of the stick. All this means is he'll be extra surprised when you send something totally him to his office or at home. Whether it's an enormous cookie to share with his team or a Bro Basket with craft beers, there's cool man mail out there just waiting to be shared with him.
A Five Four Club Membership: For dads who like to look good with minimal effort, he can join the Five Four Club, which delivers a monthly box of curated clothing from Five Four designer collaborations right to his door.