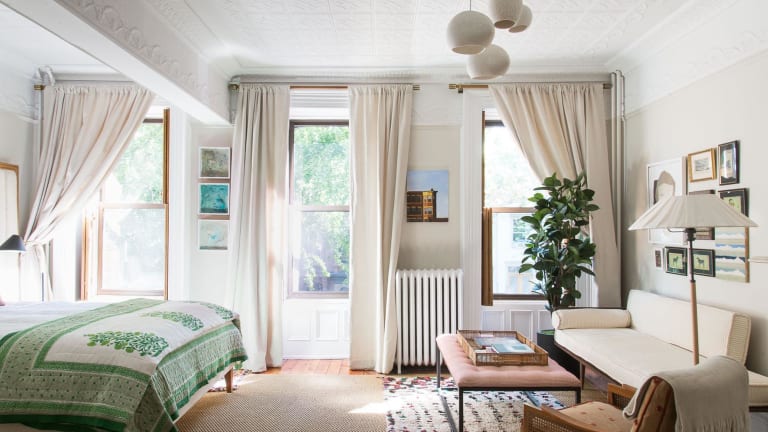 10 Renter-Friendly Ways to Bring Your Home Decor Style to Life
No more boring white box—adding personal style to a rental is easier than you think.
Whether you're living in your first apartment or your fifth, the endless challenge of a rental is making it feel personal—without being able to make major changes. Leases often stipulate no holes in the walls, no paint, and definitely no switching out big-ticket items such as carpeting or appliances.
There are, admittedly, other roadblocks to getting your space how you want it: roommates' tastes, the hodgepodge of furniture everyone brings over from their last hovel, limited budgets, and, not to mention, having no clue where to start. Homepolish interior designer Shannon Tate says, "For finding your style, I always think it's very apparent by the way you dress." Ask yourself these ten questions to help define your personal style before bringing it to life in your home. Tate says, "If you can't nail it on your own, you should ask your friends how they view you." Then try these ten renter-friendly ways to spruce up your space in style. 
01. Play with Removable Wallpaper
Wallpaper is a fun way to express yourself and bring out your personality in a space. Removable wallpaper brands like Chasing Paper and Hygge & West make it possible for renters and indecisive minds to try out the fun of without the commitment.
02. Personalize Your Wall Art
Bring different styles together via personalized wall art. Start by curating a selection of affordable frames, and dividing them amongst you and your roomies to create a gallery that combines art and photos from each of your personal collections.
03. Go for Sculptural Lighting
Lighting is another great excuse to get creative with utilitarian pieces. Everyone needs lighting to see, so go for interesting bulbs, materials, sizes and shapes.
04. Dress Your Windows Like an Adult
Homepolish designer Jennifer Wallenstein says function should come first. "I always think about what will be happening underneath or near the window." Balance out a room by using window treatments in the same color scheme, or use them to make a statement with a pop of pattern and color. 
05. Bring the Garden Inside
Studies show that indoor plants can lower stress and make you more productive. Depending on what type of sunlight you get in different parts of your home, you can bring a tree into your living room, herbs and flowers in your kitchen, tropical botanicals in your bathroom, and house plants on your shelves.
06. Edit What's on Tap
Tate says, "Changing things like faucets, which are inexpensive, can change the whole vibe of a place." Wayfair carries tons of faucets under $50. We recently replaced a bathroom faucet and the hardest part was removing years of grime from the old one.
07. Change Out the Drawer Pulls
Homepolish designer Casey Debois transformed a regular ol' IKEA dresser into a chic piece of custom furniture with some stain, paint, and cute gold drawer pulls. From your bedroom dresser to your kitchen cabinets, "These little details all add up," says Tate. 
08. Paint, of Course
Whether DIY-ing adding eye-catching graphics, adding simple borderlines, or washing every wall in trendy millennial pink, at the end of the day (or, rather, your lease), there's nothing a big bucket of white paint can't fix!
09. Ask Your Landlord About DIY-ing More Permanent Upgrades
"If you plan on being in the rental for any length of time, it might even make sense to do some inexpensive things that have a big impact," says Tate. Change out the countertops for IKEA butcher's block ($99+) or cop a white marble effect with an Ekbacken countertop ($79). Or add subway tile, new laminate floors, or inexpensive click and lock wood flooring. Tate notes, "You would need to pass this by the landlord of course, but I've not ever found a landlord that's not ok with these upgrades....and sometimes they will even reimburse you or lower your rent."

10. Finish with Accessories!
Homepolish designer Anna Gray calls accessories "the seemingly small additions that actually give your space that finished quality (like jewelry that upgrades an outfit)." It can be as simple as finding the perfect pillow or showing off travel souvenirs, sentimental objects, and random artifacts in a quirky display case. To avoid an overly kitschy feel, stick to a consistent color theme to create a cohesive palette that lets pops of color in without having to commit to larger investment pieces like a couch or giant area rug.
Photo Credit: Homepolish