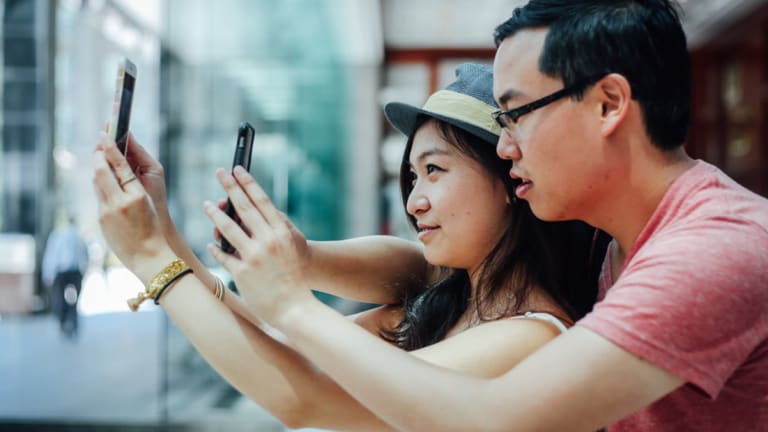 This Is Where Most People Meet Their Partner, But You Need To Consider This First
This popular meet cute has it perils
Dating someone you work with has always been considered taboo. Fraternization policies are fairly common, especially in corporate environments, for a fairly simple reason: Love can be messy, and who wants that at work? Nevertheless, one-third of singles have dated a coworker, according a 2016 Match.com survey. The workplace is one of the most common places people meet their significant others; it's even more common than apps or online dating according to one Google poll.
I'm currently dating a coworker and have twice before dated coworkers. So I guess you could consider me a seasoned veteran in this area. In my line of work there's a lot of collaboration happening, and everyone talks with each other all day. Because of that, it has been easy to fall into good friendships that sometimes become something more. The first two times I dated coworkers, the relationships lasted more than a year each and ended in such a way that I could continue to work alongside them and even be social with them. My bosses have always known about the relationships (which I think is crucial!) and been fine with them to the extent that nothing changes about our work ethic or the team dynamic (as much as possible).
While my experiences have been mostly good, there are some definite things to consider before you decide to mix business with pleasure.
01. You'll want to think long and hard about what you plan on doing.
Honestly, I would only recommend dating a coworker on two conditions: (1) You have no problem being very professional with your boyfriend at work and won't get jealous watching him interact with others, and (2) he's someone you really intend to be with for a long time. You don't want to bring drama or toxicity into the workplace with an unstable relationship. Best to start things off slow before making it official and get to know one another as friends first. This is not something you want to rush into.
02. You'll have to double down on boundaries.
You get to be with your boyfriend while earning money at the same time. Sounds great, right? I actually think the worst part about working with someone you're dating is not being able to get a break. Fights happen, annoyances come up—sometimes you just need a breather from your S.O. That's not really possible when you're spending 8 hours a day at work together plus trying to actually build your relationship in your free time. To get around this, I always try to leave work at work and home at home, so to speak. I've made a conscious effort with my boyfriends to not talk too much about our private lives at work or talk too much about work drama when we're on our own time. It helps to keep those boundaries mentally, even if they aren't there physically.
03. You'll have to be careful about what you share with your other coworkers.
We tend to have friends at work; it makes sense considering we spend a lot of time with these people. When you begin dating a coworker, your relationships with all your other coworkers will (and should) change. I can't be as open with my work friends about my relationship as I may otherwise be. There's no gossiping about the date we went on over the weekend; no scheming with my coworkers about birthday gifts for my S.O. It's important that I not bring that intimacy into the workplace since they all know him. Also, it's important to me to not alter their view of him as their coworker because of my experience as his girlfriend.
04. You'll become paranoid about affection.
Part of what you sign up for dating a coworker is having to constantly temper your affection. That can be really hard. Imagine, you're having a really stressful day and you just want a quick hug from your S.O. who happens to be right there. It sucks having to watch your every move, trying to not make anyone uncomfortable or be unprofessional. But more than that, you don't want to give anyone ammunition to use against you should any issues arise.
I know from experience that having even the slightest issue with another coworker almost always results in them complaining about your romance. Despite keeping physical touch to an absolute minimum, I've still had coworkers complain to management about this, and it's usually because they're annoyed about something else and simply using my relationship as a scapegoat. It can be hard to flip a switch all the time with your physical and even spoken affection, going between work and free time, but it's really crucial to keep romance out of the workplace.
Overall, I have no regrets about dating my coworkers. I've had great relationships and continued to thrive in my career, but that doesn't mean it has always been easy. As with any relationship, be intentional and over-communicate with your S.O.—from there you should find plenty of time for both work and play.
Photo Credit: Alexa Fernando