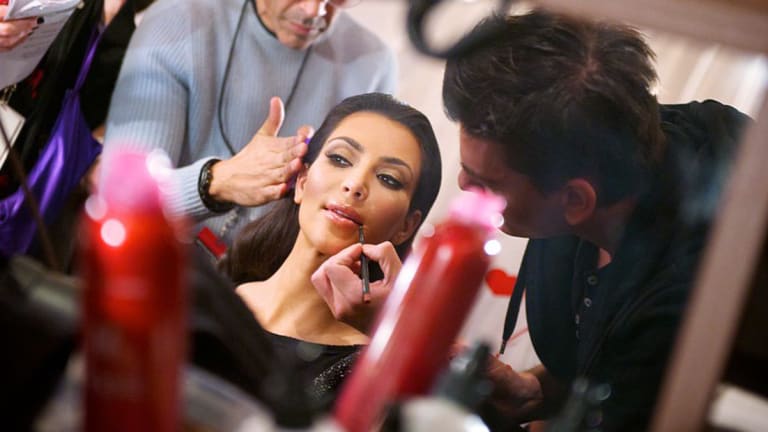 Why I'm Hoping Contoured Makeup Is on Its Way Out
It's all about natural beauty.
Kim Kardashian West—the woman responsible for contouring's modern ubiquity—launched her beauty line, KKW Beauty, last week. The signature Kardashian aesthetic of sculpted, highlighted, drawn-on, made-for-Instagram makeup debuted in a 2012 tweet and ushered in a new era for the beauty industry and, more importantly, self-image. Refinery29 reported on data from NPD that showed a 21 percent sales increase in the "prestige makeup category" last year alone. Unsurprisingly, the growth was attributed largely to the product segment that includes primers, contour products, highlighters, and sculpting kits. Kim's namesake line launched with one new product, a contour and highlight kit, which sold out in about three hours.
Famed makeup artist to the Kardashian family Joyce Bonelli told New York Magazine last month, "I've given Khloé [Kardashian] the best nose job for eight years with contour." Clearly a source of pride for the artist, I read that comment and thought how sad it sounded. It was a clear indication of the fact that makeup has stopped being a subtle enhancement of our natural looks and has instead become an all-out manipulation. 
If you're anything like me, encountering this type of makeup in real life gives you pause. It's so unnatural as to seem almost inhuman. I see women with their strobing and contouring and microbladed eyebrows and I just wonder, what do they even look like, really? I don't feel like I'm seeing a person as much as an image—a facade. Makeup artist Justin Tyme hit the mark when he said, "The problem with this trend is it makes it seem as though there is only one face of beauty."
The idea that we should all look like luminescent clones is ridiculous, and thankfully, the tides are turning. Last year may have seen more women than ever swiping their plastic to get a face that looked filtered, but it also saw a huge surge in the exact opposite: natural beauty. 
Glossier used social media to popularize a makeup look that's more akin to dewy, fresh-out-of-the-shower skin. The company relies on accessibility and relatability to grow its influence and has exploded in the past year. For Forbes, Hannah Long wrote, "I think Glossier's use of Instagram has been the most successful use of social media I have ever seen."
As Tyme pointed out, contouring is about one ideal, but Glossier rose to the top by championing the everyday woman. Paste Magazine says of Emily Weiss' unstoppable brand, "Glossier knows its community is tired of shelling out for product after product, only to never look like Gwyneth Paltrow. That's why it's using people with dry skin, student loans, and jobs in retail to sell the Moisturizing Moon Mask." In other words, it embraces the fact that we're all different, and that is a beautiful thing.
While Glossier represents the epitome of the Millennial mindset, Bobbi Brown has championed a natural "no-makeup" look—albeit priced to a more affluent demographic—for decades. Despite leaving her eponymous brand last year, Brown recently released her ninth book, Beauty From the Inside Out, to wide acclaim. Her approach sounds far from revolutionary—simple, everyday beauty—but today it fills a void. Her book offers nutrition and exercise tips, alongside makeup tutorials, of course. In it she expands on her original philosophy of natural-looking makeup to an approach that encompasses a whole lifestyle. For her, that's a life far from the undue pressures of selfies and strobing. Brown says she loves Instagram for all its inspiration but warns against "the obsession with selfies, and the way the whole thing encourages the comparison game and affects people's self-esteem."
Brown has often been vocal about the Kardashian-endorsed contour trend. She told The Cut: "The reason we wear makeup is to look better. And as soon as you look better, you feel better. And to me, all confidence means is you're comfortable. . . . I hate contouring. It's telling people there's something wrong with their face. I never made a contour palette, and I had a lot of pressure to do it."
While Kim's beauty company reportedly raked in $14.4 million by selling out of the $48 contour and highlight kit on day one, the reality star and business mogul has personally taken a step back from her signature look. She boldly announced last year at a Vogue event that she was over the trend. Heavy strobing is out, and ". . . now I'm really into 'nontouring' . . . I'm trying to wear less makeup," she said.
It's nice to see Kim embracing a more natural look, whatever that may mean for her, but her products continue to promote a look that isn't. As Bobbi said, every woman deserves to feel confident. While confidence is individual, I can't help but hope the trend continues to move back to basics, and I think it will. Mintel data from 2017 shows that three in five women prefer a "natural look," according to Premium Beauty News. As Brown says in Beauty From the Inside Out, "We are all a work in progress." Rather than attempt faux rhinoplasty à la Khloé Kardashian, perhaps we stick to Brown's advice. "The key is to switch your focus to what is working. . . . The most confident—and attractive—women I know are the ones who are comfortable in their own skin. They make no apologies for who they are. They own it." Let your makeup be fun, let it be beautiful, and let it do what it was intended to do—give you a little boost of confidence. But most importantly, let it look like you. 
Photo Credit: Wikimedia Commons