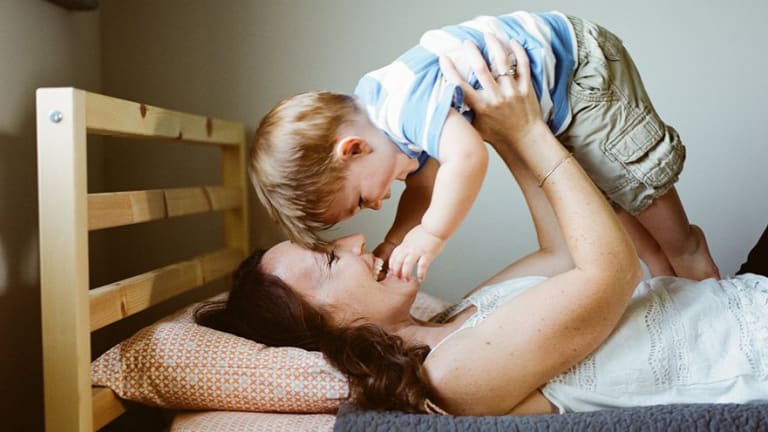 How This Secret of French Parenting Helped Me De-Stress Across the Board
For me, it was the spirit over the letter of the law.
In its latest issue, Elle France offers a glimpse into the life of Hollywood's most mystifying parent—Angelina Jolie. Following the extremely public split of Jolie and Brad Pitt, questions have rapidly circulated about what impact the divorce has had on their eight children. In this rare interview, Jolie spoke to her friend and French journalist Marianne Pearl about the influence her own mother Marcheline Bertrand, who died of cancer ten years ago, had on her.
As it were, this is only the latest in what has become a full-blown industry of comparing (and revering) French mothers to all other mothers. While not explicitly tied to cultural differences, Jolie was raised by Bertrand who was French-American. Of her example, Jolie said, "the only way I know to raise them is to really listen. It's perhaps the most important thing any parent can do. They are resilient children but they are children, and as much as they need help to understand the hard truths in life they also need what we all need—protection and love."
While the protection part isn't entirely synonymous with the French ethos of instilling independence in their children early on, Jolie's comments about the synchronicity of love and resiliency sound très français. 
I was pregnant with my middle daughter when I first heard of the famous book Bringing Up Bebe by Pamela Druckerman. Apparently in France children will entertain themselves for hours at the park, they'll eat anything that's put in front of them, sit quietly in a restaurant, and sleep through the night from infancy. Well, this sounded like a dream come true. A French parent I would be! 
Despite my best efforts, my children rarely achieved any of these French feats. Last week my oldest threw a pair of shorts on our roof. He'd been jumping on the trampoline in the yard for nearly thirty minutes when through my bedroom window, I could see articles of clothing flying. First one sock, then another, followed by his t-shirt. I ran outside.
"Mom! My shorts are up there!" He pointed to the overhang above the patio.
As I was climbing a ladder to retrieve the pants, a girlfriend of mine arrived for a playdate with her 2-year-old son. She walked into the backyard to find me angling a stick above the gutters and also noticed a smear of dog poop in the grass. In this moment my 3-year-old—who was spotting me at the base of the ladder—notified me that I had already stepped in said dog poop and had tracked it up the rungs of the ladder below me. Then my 2-year-old fell off her scooter and began to cry and bleed.
And my husband wonders why, when he arrives home as I'm serving dinner, which we all know is . . . really peaceful, I "have lost the hope in my eyes" (his exact words).
Although my family circus is unique, the feelings of stress and overwhelm that I'm feeling are not; American mothers are consistently recording increased levels of stress. However, it seems that French women stand in contrast to American women and are breezing through motherhood with the same je ne sais quoi that also allows them to stay trim and sexy forever, at least according to the book titles. In response to my inferiority, I did what many American mothers do: I shamed myself. 
I culled together a list of all the ways I've failed as the perfect French mother. Then I assembled another list of all the ways that I faltered as an American mother. Then I compared myself to Pamela Druckerman, most of my girlfriends, and also a handful of mom bloggers who have really perfect-looking children on Instagram (just for good measure). I spent quite some time in an internal shame spiral, and let me tell you, that whole process was much more stressful than the Shorts-One-The-Roof incident.
My comparison-based shame was more stressful than the time my toddler knocked a stranger's iPhone into a glass of water at a restaurant. It was more stressful than the afternoon my son tried to pee in a planter at the mall. It was more stressful than the time my daughter locked herself in the stall of a public bathroom while I was wearing her sleeping sister in a baby-carrier.
I met a French mother in my neighborhood park a few months ago. Her kids were begging for food, so she pacified them with crackers and juice boxes. It was 5 p.m. As she was doling out snacks just before the dinner-hour, our eyes met; she laughed and shrugged a little. I felt a little twinge of satisfaction that neither she nor her children were following the "rules," but then I wondered if perhaps the only person worrying about the so-called rules in this situation was me.
That's when it occurred to me that my criticism of myself might be the real reason the hope has gone out of my eyes.
Perhaps the reason I'm feeling hopeless and stressed isn't because of what I'm doing or not doing, but because I'm spending too much time judging myself about my parenting decisions. English adventurer Helen Skelton went viral on social media for this very thing a couple months ago. Biking to the North Pole and kayaking the Amazon were not enough to rid this mom of the anxiety of interacting with local moms after her family relocated to France. Skelton wrote, "What is certainly true...is that French mothers do not assume the feelings of inadequacy which seem to be so common in Anglos. They have children, their mothers and grandmothers have done it before, so they get on with it. No #mumfail about it." 
It seems to me that my real problem isn't that I'm not introducing my children to a new cheese everyday or employing others of the preferred French parenting practices, but that I'm beating myself up about it. Instead of seeking out opportunity for joy, I'm finding flaw in the mundane and punishing myself for my imperfections. 
We've all heard that "comparison is the thief of joy," but I would add that comparison also breeds stress. Comparison is the most obvious difference between French and American mothers. Throughout each of the French parenting books, and in all of the reviews, the recurring theme is that French mothers are not plagued by guilt. They do not spend time second-guessing themselves.
The physical and emotional demands of motherhood may never go away, but how I respond to them is up to me. While the French way surely offers priceless tidbits of wisdom, what I've incidentally found to be most powerful is the chic shrug I witnessed firsthand. She showed me that when it comes to moments in which we might criticize ourselves for falling short, it's helpful to embrace an attitude that's more laissez-faire. Being easy (read: compassionate) on ourselves, after all, is what makes us best equipped to show unadulterated love to our little ones.
Maybe, in this context, the real takeaway from the French parenting trend isn't about what I do for my children, but what I do for myself. I can acknowledge my natural feelings of stress when my child provides a full-immersion baptism to a stranger's cell phone, while also acknowledging that this occurrence is not my fault. I can give myself permission to laugh at the dog poop I've tracked up the ladder in such glorious fashion while trying to retrieve my son's flying apparel. C'est la vie. Maybe all the French kids are well-behaved because their moms employ certain techniques, or maybe French children are responding to the confidence their mothers possess about the care they are providing, not only to the children, but also to themselves.
Of course sleep schedules and broad palates are desirable; but at the end of the day, my primary goal, like Jolie pointed out, is for my children to grow up feeling loved, cared for, and confident in their own abilities, and modeling those behaviors begins within me. In my daily life, I can show them what it means to care for myself, and in doing so, I'm able to love them even better.
Photo Credit: Ashley Crawford Photography