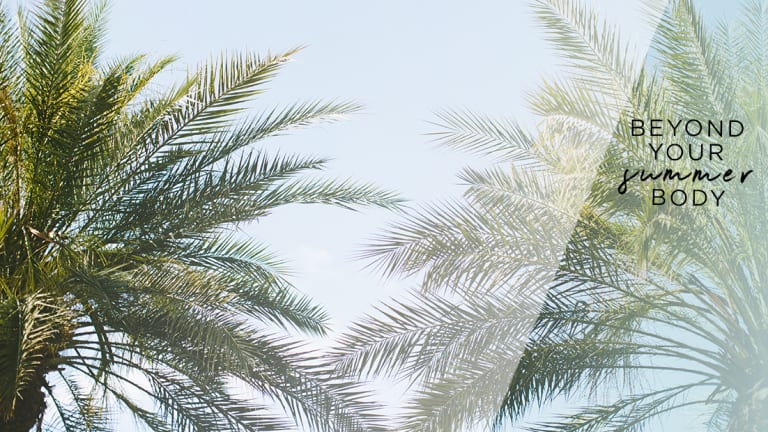 'Beyond Your Summer Body': A Note From Our Co-Founder on Our New Series
Let's talk about the complex relationship we all have with our bodies.
Swimsuit season is here, and with that comes a bit of anxiety for most of us. It certainly used to for me. 
For years, bikini season made me feel like I had to put on a false confidence; everyone was supposed to love wearing something itty-bitty, shouldn't I feel that way too? But I'm busty, and never felt comfortable in suits that looked like I was dressed for the cover of Sports Illustrated. It was more than just the cleavage. In a bikini, I compulsively compared myself to what I thought I was supposed to look like; I imagined everyone who saw me judged my body as harshly as I was judging myself. When I made the switch to wearing a one-piece, I felt infinitely more comfortable—more myself—but it hardly fixed my lifelong perception that maybe I just didn't have a "beach body," and never would.
Like most women, my relationship with my body is complex. I was a collegiate golfer, and before that spent most of my childhood logging endless hours in the swimming pool. I loved that my strong shoulders and core propelled me forward quickly or let me hit the ball far. I would never have compromised the abilities that I had, but I would be lying if I said that I didn't wish I could be taller and slimmer while doing so.
That's the tricky thing about beauty standards. Even when we know the current ideal is only attainable for a few; that it's mostly hitting a genetic jackpot; that you wouldn't really want to look that way if it meant no longer being you—it's still difficult not to be influenced.
When we first launched Verily, we made a concerted effort to cast models and non-models of diverse body types for photos. One of our first shoots was a swim spread with two women who were curvier than conventional models, and I remember being blown away at how amazing they looked. Wouldn't we all feel differently about what it means to be beautiful if we held up women who look more like us to be our body role models? We truly believed that seeing different body types as beautiful would be powerful for changing perceptions of beauty, and we wanted to be that change.
As a small digital publication, we don't produce photo shoots much anymore, but if anything, I am more affirmed by the idea of seeing a difference today than ever before. We couldn't have anticipated it at the time, but five years ago we were on the leading edge of the body positivity movement. While there are certainly some extreme messages and times when people mistake the objectification of different body types for equality or empowerment, by and large there are many positive trends. There are Instagrammers galore showing that women of every body type can dress well. Mainstream magazines are (slowly) featuring more diverse models. And while there are still plenty of places that only show a narrow vision of modern beauty, I'm heartened by these small changes.
I know for me, it has helped immensely to change my media diet. I don't follow people or publications who make me yearn to be something I am not and cannot be. But there's something about summer, about the endless influx of advertising for items that are all about revealing your body, that can still open the door for little bits of insecurity and body scrutiny.
I know I'm not alone in that. We asked our VIPs recently about their experiences with the pressure to have a "bikini body" (a term that was coined by a weightloss franchise in the '60s; go figure). Many admitted to feeling that there was always something about their bodies they felt needed to change.
But you know what? Those same women told us that they have learned to love their bodies, too. They have communities of friends who are committed to lifting each other up; they stopped consuming damaging media; their significant others have reminded them that they're beautiful; they have become athletes and mothers, developing a wonder for their own bodies. It was inspiring to hear that these women learned what we at Verily hope all women come to know: that your body is precious, and that every body is a summer body.
As summer officially kicked off last week, we wanted to do something special. To encourage us all to embrace our bodies and treat them well, we've put together a series of articles all about battling insecurity and embracing our bodies this summer (and every season). We've called it Beyond Your Summer Body—we hope you find the essays and advice as inspiring as we find all of you.
There are still days where I catch myself wishing I looked slightly different than I do. But those days have become far fewer over the years. Working on Verily has been a big part of that—creating an intentional space that constantly reminds me of my dignity and the value of my body has truly changed my self-perception. I hope that Verily, and this series in particular, can do the same for you.
Share your own summer stories with us using #VerilyMoment and #BeyondYourSummerBody on social media!