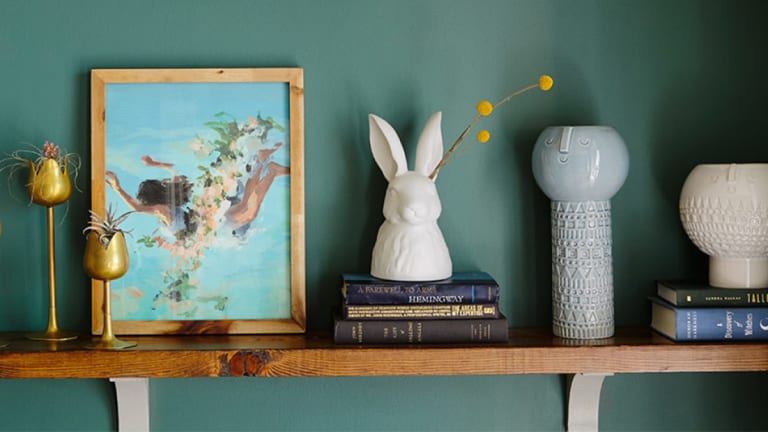 9 Great Places to Sell Your Stuff Online
Clear your mind and make a dime.
While the majority of us aren't exactly hoarders, we do tend to have much more stuff than we really need. Studies show that clutter hampers our creativity and increases stress. So why not recoup some of your cost while helping to clear your mind?
Finding the right marketplace means you can make a dime while decluttering, and regain your peace of mind in the process. Check out our list below of the best online shops to sell your stuff that deserve a better home. Then get ready for more pennies in your pocket and less stress in your life.
01. Office Furniture
Researchers at the Princeton University Neuroscience Institute have found that visual clutter hampers our productivity. So improve your home/work life and make your next move less stressful by shedding an extra desk or chair. Buyers are glad to skip building a bookcase when they could have one already assembled for less. The Apartment Therapy Marketplace is great for selling gently used office furniture locally.
02. Bedroom Bundles
Bedroom sets, mirrors, and mattresses are all highly-searched on resale sites like Craigslist. Maybe you have a guest bedroom that never gets used and would function better as something else. Or maybe you're just ready for an upgrade to something you truly love. New and gently used items go for the best prices, but you can easily sell older items too. Bundling (e.g., mattress + frame or dresser + mirror) looks like a better deal and will appeal to buyers who want to one-stop-shop.
03. Lighting
Floor, table, wall lamps, and even vintage or specialty chandeliers are popularly sought items. You can get a good price through AptDeco, who will handle the item from pickup to final delivery, which saves you and the buyer from transporting these fragile items. They take a 14-19% commission depending on the selling price, but the lack of hassle is worth it.
04. Kitchen Supplies
How many pots and pans does one really need post-college? The answer is one. Despite the dream of being Julia Child in the kitchen, many of us simply don't have time to make fancy cuisine, but the tools we bought for it were pricey—and still sitting on the shelf (largely) untouched. Snap a photo on your smartphone, and find a local buyer in a snap via OfferUp.
05. Art That No Longer Fits Your Aesthetic
We are all guilty of purchasing affordable wall art on a whim. It is a pain to move a $20 framed poster of the Eiffel Tower from one location to another. Ship it to someone new instead. You can sell pretty much anything on Amazon, but the Amazon Art section features some of the best art available on the web so you can buy something you love for yourself while you're at it. So say au revoir and start anew.
06. Electronics 
In the age of upgraded models that work better than the last one, many of us have drawers of boxes with old electronics; the old iPhone 5 model, the iPod that we ditched when we got the 5, and the list goes on and on. Look up the fair retail value, based on the condition of your electronic item at Sage BlueBook, and then: ready, set, and list! Many of the top items that sell on eBay are electronics, including laptops, digital cameras, tablets, e-readers, and all manner of Apple products.
07. Unopened/Unused Presents
Think back to that scene in Father of the Bride where George Banks announces that yet another silver tea set has arrived for the bride-to-be. While it baffles me that anyone would need even one silver tea set, the idea of two or three brings out the opportunist in me. Keeping gifts out of guilt benefits neither the giver nor the receiver. Dust off these well-intentioned but unused gifts, and get this treasure into the right hands for a discounted price. The best place to sell these is Bonanza, where you can set a fixed price for quirky items like Justin Beiber perfume or souvenir t-shirt for as low as a 3.5% fee. Bonanza is best suited for home & garden items, women's fashion, cosmetics, and collectibles.
08. Fitness Equipment
Some things are just tricky to move due to weight, size or shape. Make some money off of odd workout equipment (when was the last time you touched that mat or dumbbells?) and invest the money into a gym membership that you're more likely to use. Here is a chance to be honest with your fit self. Was Pilates a phase? What about ankle weights? Evaluate what you will really use as you move forward into this next phase of your healthy life, and list your new or gently used fitness equipment on specialty site Play It Again Sports.
09. DIY Supplies 
Glass jars, twine, beads, picture frames, etc., can all be sold on Etsy, where you can sell more bizarre items in general. We often collect these as we go, so you may have several bins full of supplies. Case in point: a calligraphy pen, nibs, and bottle of ink I splurged on when I thought I'd have time for some good old-fashioned hand lettering. While you shouldn't expect a large profit from individual sales, bundling them for one price can mean a better deal for you and the buyer.
10. Everything Else
Except in rare cases, miscellaneous items like toys, knick knacks, and textiles probably aren't going to fetch you much. You're better off dropping them at a thrift shop or having them picked up by a local charity. You'll walk away with a tax deduction, a less cluttered home, and warmth in your heart knowing that your things are now being used to help others.
Photo Credit: Dustin Halleck for Homepolish