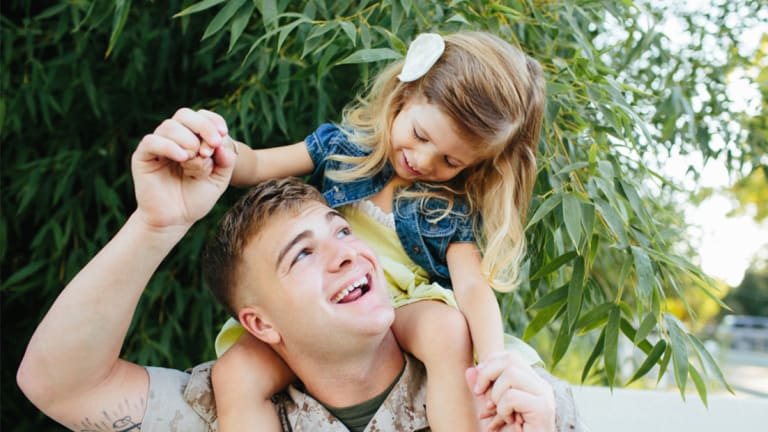 10 Life Lessons We Learned from Our Dads (Warning: Tearjerkers Ahead)
Time to bust out the box of Kleenex.
Dads. We may respect them, appreciate them, get annoyed by them, or laugh at their corny jokes. However we feel about the fathers and father figures in our lives, one thing is for sure: We wouldn't be who we are without them.
Verily editorial intern Gabriella Patti says, "I think in a lot of more traditional households, such as mine, where we are raised by our mothers, it is sometimes easy to take our fathers for granted." Yet, unbeknownst to them, what our fathers taught us have turned out to be some of life's most important lessons.
This Father's Day, we bring you the best advice our dads passed on to us. We hope you love reading them and being reminded of what we can learn from fathers and how invaluable their role is in our lives.
01. You can make something out of nothing.
"My dad immigrated to the U.S. from the Philippines in his late twenties with nothing but a few belongings and $250 in his pocket. Yet he was able to open his own business, which he has operated for over twenty-five years. He taught us to multiply what little we had, reminding us that somewhere out there, someone has less." —Krizia Liquido, Lifestyle Editor
02. Leave the world better than you found it.
"He taught me that it's not enough just to be nice—that you have to try to actively leave the world better than you found it (pick up other people's litter, literally and metaphorically) rather than leave it the same." —Sophie Caldecott, Special Projects Manager
03. How to be a problem solver.
"If something broke, my dad would tinker with it until he could make it work again—and would make me do the same if I came to him with a question he was sure I could think through on my own. It made me unafraid to try new things or not know what I'm doing because I knew I could think logically to solve the problem (or look it up!)." —Kara Eschbach, CEO
04. Don't be afraid to be wrong.
"I distinctly remember my dad telling me, 'Don't be afraid to say, I don't know how to answer that question, but let me find someone who does.' It's a theory I've applied to a lot of places, jobs included. It made me really embrace not knowing things and how to ask for more information (really useful as a journalist!). We have a lot of fear of being wrong, but it's OK (and expected) to be wrong every once in a while." —Krysta Scripter, Editorial Intern
05. Being bored is boring.
"I was a kid when my dad taught me the lesson that boredom is a result of not having our eyes open enough. We were driving to school, and I was looking zonked out of the window. He asked how I was and I must have said I was bored. He said he's never been bored in his life; that all I have to do is keep looking around me, and I'll see something new or interesting, or something to learn." —Mary Rose Somarriba, Culture Editor
06. A stranger is a friend you haven't met.
"He taught me to always talk to those around me (on the train, coffee shop, etc.). My dad always spoke to strangers and, as a result, gained lifelong friends all over the world, always had a place to stay when he traveled, had a wider trove of knowledge, and I think grew in empathy as a result. My dad [also] taught me to help the homeless. [He] knew all the homeless men and women in our town by name and always bought them food or gave them money. He was the only person to visit one of the ladies when she ended up in the hospital and made sure she had a funeral." —Gabriella Patti, Editorial Intern
07. Keep beautiful moments in your heart.
"He told me this story from when I was almost 2. We were looking at a sunset in Tuscany and he told me to always keep this moment "in my heart." I guess I responded with, "In my heart, Daddy." I don't remember this moment, but he has told me the story enough times that I remember it whenever I travel, go to an art museum, or just generally experience something beautiful. I suppose that the lesson is to hold moments of good and beauty in my heart and let those be my dominating memories and influences."  —GP
08. Come to the table with more solutions than problems.
"My dad always taught me not to just point out the problem at hand, but to also come up with a solution (or several) to fix it; to never be that person who always points out the problem, but never has any motivation to fix it." —Paola Hegedus, Art Intern
09. Our words are a thing of beauty.
"My dad taught me the power of writing, which has obviously impacted the trajectory of my life and career. He used to do little poetry and short story workshops with me, reading his favorite poets and working with me on my own poems. At a young age, I learned that words are just as powerful as actions and that you can change and create different realities with your experiences, ideas, and a pen." —Lilly Bozzone, Style Editor
10. No matter how cramped or busy life gets, make room for a good chair.
"Growing up I remember tapping on my parents' bedroom door and peeking in to see my dad sitting in a chair, eyes closed in prayer or looking down at a book. It was his place for himself, something that he prioritized at the beginning or end of every day after he had done all the duties that come with raising a house full of eight kids. When I moved out on my own in NYC, the first thing he asked me about was whether or not I had a chair I could sit in, and I knew exactly what he meant. My bedroom was too tiny to fit a chair, but to this day I always try and create a space for prayer and reading, a place to find some inner peace amidst the fray. I don't always succeed in making it a part of my day, but I learned from my dad that you should never be too busy for your 'prayer chair.'" —Monica Gabriel, Relationships Editor
Share some of your own fatherly lessons in the comments below!
Photo Credit: Taylor McCutchan