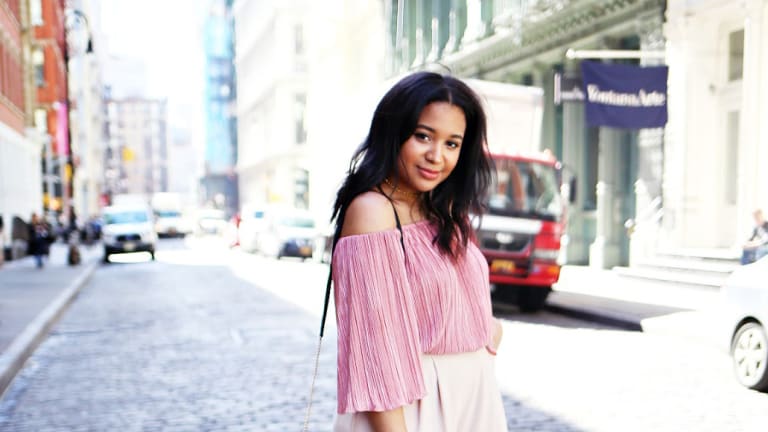 Beauty Bag Must-Haves: Audrey Williams
This lifestyle blogger has some seriously affordable makeup tips!
If Audrey Williams doesn't seem like your typical lifestyle blogger or Instagram influencer, that's because she's not. Take one peek at her Insta feed and blog—Lulu Linden—and you'll soon realize Williams could actually be your college roommate or a member of your Sunday morning brunch squad.
Since 2014, the Brooklyn-based writer has shared her musings on style, beauty, food, travel, and body image with her "internet girlfriends." Her 'grams serve up real-girl style inspo with a side of wit and humor, while her blog entries read more like emails shared between longtime BFFs. When it comes to beauty tips, it's her authenticity and honesty that have earned her a loyal following.
We caught up with Williams to find out more about her beauty routine.
Her beauty philosophy:
"For me it's simple: Do what makes you feel good. If I wake [up] in the morning and I don't feel my best self, I'll do whatever it takes to get out of that funk. If that's wearing red lipstick, glitter eyeliner, or a pink wig (which I legitimately have worn to work—it was a look), I'll do it. Some days, feeling good can be going barefaced with a good brow and lip tint. My beauty routine is just an accent to my mood."
Her routine:
"I'm still in a very experimental stage because I really, really love finding new products. This is always subject to change, but right now I'm a fan of Avène for skin care. I cleanse with their Cleanance Gel Soapless Cleanser to take care of my oily skin without overdrying. [My] biggest skin discovery of my early twenties was that you can have both oily and dry skin, and it's changed the way I do skin care. Hydration is key, so I also use their Hydrance Optimale Serum morning and night along with my moisturizer."
"As far as makeup, well, I have every shade of lipstick ever (but several reds), and I'm still looking for a good vibrant coral that's more orange than pink (recs, please!). I am a newly converted strobing freak, and ColourPop is my jam. The formula, you guys! Because my makeup routine depends on my mood, I don't have a go-to look, but I feel naked without my wingers eyeliner. I have one in my purse at all times. Not to brag, but I can do an even application on the subway. It's the skill I'm most proud of!"
Photo Credit: @trustmyeye