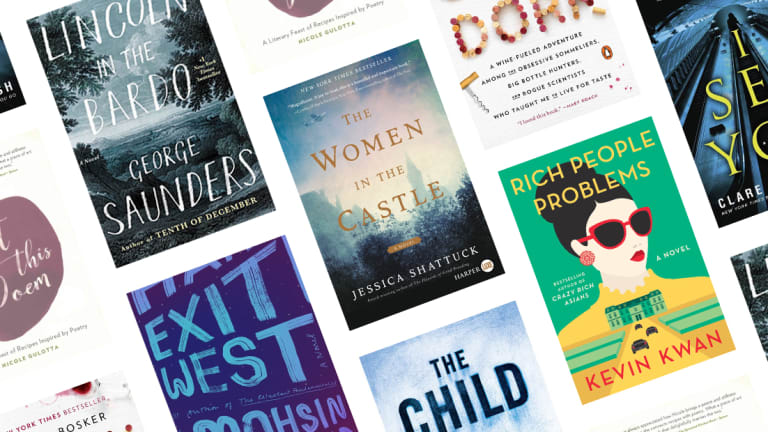 6 Novels We're Definitely Reading This Summer
Looking for your next beach read?
You've got the sunscreen. You've got the swimsuit. You've even got the best beach loungewear to go with it. But what books will you be bringing to the beach this summer? Here's our take on some of the most talked-about books of the year that might be just what you're looking for to pass time on the beach, plane, road trip, or wherever your summer may take you. 
The Women in the Castle by Jessica Shattuck
The Women in the Castle by Jessica Shattuck is not a typical fluffy beach read, but it will keep you glued to your couch on those gloomier summer days. The novel tells the story of three women brought together by the atrocities of WWII and their connections to the men who attempted to assassinate Hitler. It will make you ponder the true nature of love and loyalty while asking you to consider under what circumstances your moral compass can lead you astray. Each woman in the story brings her own experiences and perspectives to the table, but their choices of when to reveal what draws in your attention and doesn't let it go until the end. —Monica Weigel McCarthy
Exit West by Mohsin Hamid
Exit West is a thought-provoking reflection on what makes us seem and feel human. Mohsin Hamid's dreamlike novel addresses the harrowing and hopeful reality of those who become refugees. The reader follows lovers Nadia and Saeed, two young adults living in an unnamed country, "in a city swollen by refugees but still mostly at peace, or at least not yet openly at war." Nadia and Saeed's lives are meant to be relatable to the reader; their first date is at a Chinese restaurant, they do much of their talking through social media and text, and they attend business classes together. This relatability allows the reader to feel more camaraderie as Nadia and Saeed are affected by the growing unrest in their city, and eventually make the decision to migrate. The book enters into another world, mixing fantasy with a harsh reality of our times while allowing us to consider what it's like to have strangers view us without acknowledgment of our humanity. —Gabriella Patti
The Child by Fiona Barton
For those who enjoy their beach reads with a side of suspense, this female author offered up her second novel earlier this year, which is so engrossing you might want to set a "reapply sunscreen" alarm on your phone before you settle in. Fiona Barton's The Child, about the discovery of a small skeleton at a construction site, drops its clues like French fries for seagulls, and just when you think you figured it out, a whole new set of breadcrumbs are uncovered. Readers are reintroduced to journalist Kate Waters, who we met in Baron's debut The Widow, as this shocking revelation opens up a decades-old crime and begins to upend the lives of three different women. Every time you think you've figured it out, a new twist sets you off in a new direction. —MWM
Lincoln in the Bardo by George Saunders
George Saunders' novel Lincoln in the Bardo is a compelling imaginary look into the life of one of America's most beloved presidents, Abraham Lincoln. As the United States is on the cusp of the Civil War, Lincoln's young son Willie lays sick and shortly after dies. The book follows the true story of the many visits that Lincoln made to his son's grave. Employing creative license, Saunders adds in a folklore-like aspect as the ghosts and spirits in the graveyard hold discussions about their hopes, dreams, and regrets while stuck in the Bardo—a Tibetan Buddhist concept of purgatory. The book explores the deeper meaning of human life through the ghost of Willie and the other graveyard inhabitants, as well as through President Lincoln as he copes with his personal grief and the grief of the nation. This book is much more than a run-of-the-mill ghost story. For a read so entertaining, the book invites readers to reflect on our own grief and our own purpose. —GP
Rich People Problems by Kevin Kwan
Kevin Kwan, bestselling author of Crazy Rich Asians (currently filming into a major motion picture starring Constance Wu of Fresh Off the Boat), is back with a hilariously entertaining new novel of Asia's most privileged families and the heir to one of Asia's greatest fortunes locked out of his inheritance (yes, #richpeopleprobs). If you're really looking for an escape this summer, this novel fits the bill, although it might leave you with a little bit of envy. Called The Joy Luck Club of our time, it's the perfect depiction between old money and new, mainland and immigrant Asians, and what it means to be young, in love, and ridiculously wealthy. —Krizia Liquido
I See You by Clare MacKintosh
I See You is a brilliant suspense story about a woman who finds out she is being stalked. When protagonist Zoe Walker finds her picture in the local paper as part of an advertisement for what appears to be an online dating site, she is spooked. But as it becomes clear that the women in the photos are victims of crimes ranging from theft to murder, the routines and relationships that define her life begin to appear sinister instead of safe. I See You is the kind of page-turner that promises to make your everyday commute to work seem so suspicious and filled with threats that you just might convince yourself that you have to stay at the beach forever. (Oh, darn.) —MWM