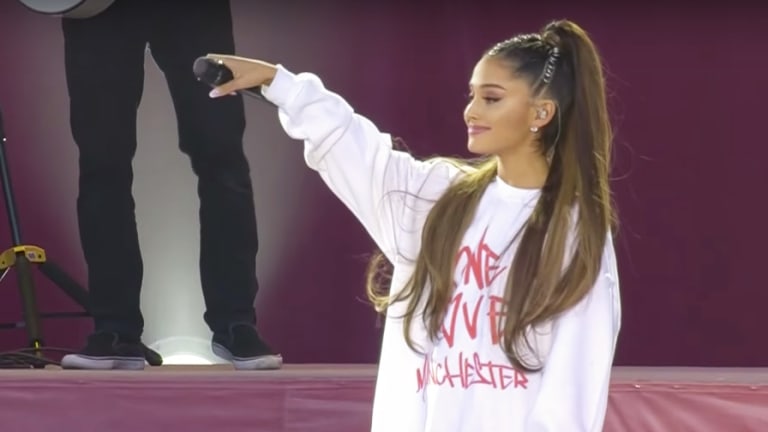 You Need to See These Powerful Moments from the One Love Manchester Concert
Singing through the tears.
On Sunday in Manchester, Ariana Grande and many other top artists performed at a benefit concert, One Love Manchester, raising money for the families of the twenty-two people killed in the terror attack at Grande's concert in the same city on May 22. Despite another U.K. attack within twenty-four hours of the show—an attack near London Bridge killed seven—the show went on.
Indeed that was part of the point. Grande's manager, Scooter Braun, said as much on stage: "Last night this nation was challenged, and all of you were challenged, and you had a decision to make if you were going to come out here tonight. And this is so beautiful. . . . You looked fear right in the face and you said, 'No, we are Manchester, and the world is watching.'" The message was palpable from all accounts on the ground and from viewers across the internet. In the face of injury, we will overcome. We will not submit to bitterness or let fear take over our lives. We will persist in face of tragedy. Put in song lyrics, we won't look back in anger.
There were a number of touching moments that spoke to a sense of resilience in the face of hurt. Here are some of our favorites.
"Don't Dream It's Over" // Miley Cyrus and Ariana Grande
We have appreciated Miley Cyrus' change of sound lately, and this duet at the Manchester concert was no less delightful. Sitting with Grande on the steps of the stage at the Old Trafford Cricket Ground in Manchester, the two belted out affirming lyrics: "Hey now, hey now / Don't dream it's over / Hey now, hey now / When the world comes in / They come, they come / To build a wall between us / We know they won't win."
"Don't Look Back in Anger" // Chris Martin
Coldplay's Chris Martin performed "Fix You" as well as a cover of an apt song by Manchester band Oasis, "Don't Look Back in Anger." Martin announced the song as one the fans and he could serenade to Grande, and they did exactly that, as the lyrics flashed on the big screen behind them. In this light, the lyrics "Step outside, summertime's in bloom," rang like a call to bravely keep living, despite the temptations to hide in fear or "look back in anger."
"Part of Me" // Katy Perry
Katy Perry took the stage with some appropriate songs as well. She started with a request to make the choice to show love in spite of fear, and sang "Part of Me," including such apt lyrics as "Throw your sticks and your stones, throw your bombs and your blows / But you're not gonna break my soul." Perry adjusted the lyrics to plural "souls" and, this is the part of me "that you're never gonna ever take away from us"—applying the song to larger community, before breaking into her hit song "Roar."
"Hide and Seek" // Imogen Heap
In a surprise performance, British singer-songwriter some know from the band Frou Frou, Imogen Heap, performed a song at the piano. The stadium fell silent for the stripped down version of her song "Hide and Seek" that spoke to the disbelief and pain in the face of loss. "Where are we? / What the hell is going on?... This can't be happening / When busy streets / A mess with people / Would stop to hold their heads heavy." Less of a ballad than the other songs of the evening, this tune rang as a gift to those weary of crying.
"My Everything" // Parrs Wood High School Choir
After the attack, a Manchester area high school choir covered Ariana Grande's "My Everything" on YouTube. The heartfelt tribute inspired the singer to invite them to the stage on Sunday night. The children sang along Grande: "You are my everything / I know you're not far but I still can't handle all the distance / You're traveling with my heart / I hope this is a temporary feeling / 'Cause it's too much to bear without you."
"Better Days" // Victoria Monet and Ariana Grande
Grande joined Victoria Monet on the steps to sing the recent song "Better Days," about the longing for an end to violence. "I can hear the sirens right outside our window / And I can hear the children crying while their mothers cry / I'm praying for the people right outside our window / Hoping they find peace at night, just like you and me," the two sang.
"Somewhere Over the Rainbow" // Ariana Grande
Grande ended the night with a solo performance of "Somewhere Over the Rainbow," evoking a memorial to the twenty-two souls lost in the attack. At this point, there was not a dry eye in the house, Grande included. 
Overall, the performances from the Manchester concert, which is viewable in full online, were glued together by a sense of strength in community, a need for closure, and a call for bravery and love in the face of hurt. The need is universal, but it had to happen in Manchester. Thanks to their being widely broadcast and freely viewable online, these are messages we can all take to heart at home.
Photo: YouTube