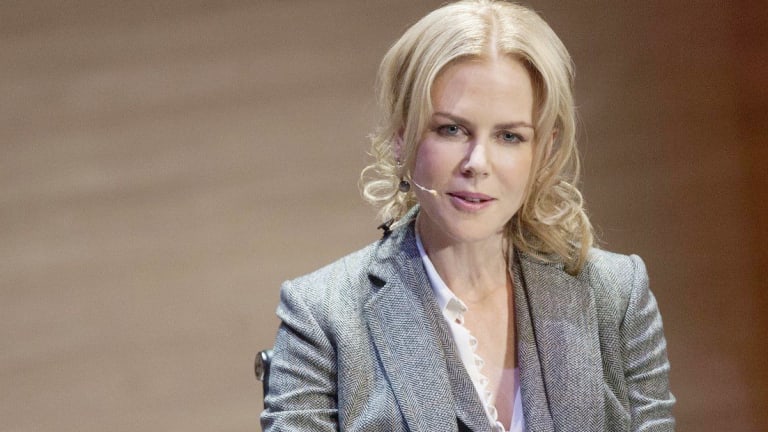 4 Times Women Proved We're Making Progress This Week
Courtesy of Kate Middleton, Nicole Kidman, and more.
Not a day goes by in which we don't hear about the challenges women are up against today. And for good reason. In just the past two weeks at Verily, we've brought you a harrowing reflection of the sexual violence crisis and an urgent account of what women need to succeed in STEM fields. But often what we hear about are the problems, the need for improvement, the endless examples of inequality and sexism. Sometimes things feel bleak, even hopeless. We always strive to tell a larger story than that at Verily, but this week we also couldn't help but notice numerous inspiring stories in their own right. We counted at least four high-profile moments that show what taking action really looks like for women looking to make the world a better place. Let this serve as a reminder that change is possible, and it's happening. 
Serena Williams Took on Silicon Valley 
As if Serena Williams was not already a role model for strong women, having fought for equal prize money in professional tennis and penned an open letter about the need for women to receive equal recognition for their achievements last year, she has taken yet another step forward. It was just announced that Williams is joining the board of SurveyMonkey, a Silicon Valley-based online polling company. Williams said she and the brand, "share a fierce commitment to letting all voices be heard." A champion athlete, business woman, and soon-to-be-mother—Williams is definitely using her influence for good. 
Nicole Kidman Committed to Female Directors
Hollywood is an apparent breeding ground for sexism and unequal treatment. Nearly every female now gets asked about equal pay and representation during any press interview. On the heels of her powerful portrayal of a woman embroiled in domestic violence as Celeste in HBO's Big Little Lies adaptation, Nicole Kidman is putting her influence to work. In an interview with the Sydney Morning Herald, the Australian actor made a public pledge to work with a female director at least every 18 months. Kidman's high-profile name will definitely lend credence to the many women's directorial projects that are too often granted smaller budgets and consideration than their male counterparts in Hollywood. "Hopefully, it will change over time, but everybody keeps saying, 'Oh it's so different now, oh it's so different now,' and it isn't," said Kidman. Here's to one small step for womankind.
Dame Helen Mirren Embraced the F-Word
In a commencement speech this week, Helen Mirren gave the graduating class at Tulane University in New Orleans a list of rules for a happy life. Rule No. 2 was to "treat people just like people," to which she added an addendum. "No matter what sex you are, be a feminist." The actress admitted she hasn't always loved the idea of "feminism"—considering it too political—but she added, "I have come to understand that feminism is not an abstract idea, but it's a necessity." A feminism that's filed under "equal treatment of humans"? We'll embrace that F-word any day.
Kate Middleton Scolded Her Child
This sounds trivial, of course, but it's actually not. In a world writhe with mommy wars and constant comparison and ridicule toward motherhood differences, the Duchess of Cambridge has emerged as an unlikely advocate for moms everywhere. This past weekend, in a passive act of empowerment, the Duchess was photographed at her sister, Pippa Middleton's, wedding pointing a stern finger toward a sobbing Prince George. While not a happy moment, the Internet rejoiced! Even royals are human! Instead of seeing headlines condemning the Duchess, the online chatter cheered her on as a good mom towing a hard line with her toddler. Does she have privileges (read: hired help) afforded to few? Yes. But the Duchess has been very humble about the loneliness and exhaustion that comes with raising kids. Her willingness to reveal vulnerable truths (even misbehaving children) despite her high position continues to inspire women everywhere, and motherhood, as a vital part of a functioning society, is all the better for it.
Photo via The Guardian