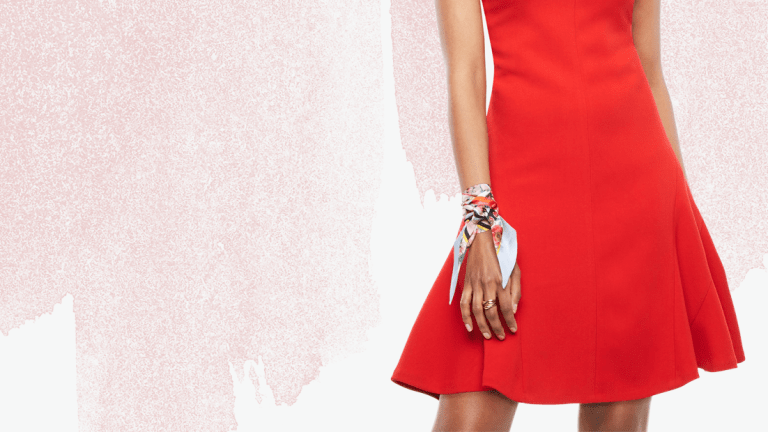 3 Items to Help You Survive Wedding Season
What to wear when literally everyone is getting married.
Now that Memorial Day has come and gone, wedding season is about to kick into high gear. Whether we have weekend weddings lined up for the next three months or just a few to attend, naturally the first thing we're thinking is: "What will I wear?"
The key to surviving wedding season is to buy versatile staples that can be worn repeatedly when styled differently. Follow these tips to finding a wedding outfit you can wear all summer long!
The Little Red Dress //
It seems like a red dress is one you can wear only once, but red is such a versatile color that it acts more like an LBD without looking drab. We recommend an easy, flared A-line fit rather than a tight pencil, as the A-line can be both casual and fancy.
The key to transforming your LRD is to have fun with accessories and shoes. Throw on a unique shawl, jacket, statement necklace, or even a fancy crop top to shake things up each time you wear it. A pair of strappy sandals, ballet flats, pumps, or wedges will also change up your look, making your wedding ensemble unrecognizable every time.
The Last-Second Jean Jacket //
A jean jacket doesn't seem terribly wedding-appropriate, but hear us out. When we're running out the door and wondering if it'll be chilly later, we're rarely happy that we only grabbed a light shawl. The jean jacket is the perfect last-second grab (besides, Jenna Lyons has proven that the denim jacket is the new blazer). If you're running to a more formal wedding, jazz up your jacket with flashy statement earrings and bangles to make your look fashion-forward. Tie up your hair in a sleek bun, add a bold red lip, and enjoy looking J.Crew catalog chic.
The Perfect Dancing Shoe //
At this point, you know that wearing heels to a wedding just means you're going to kick them off as soon as it's time to dance. Why not avoid all the pain (not to mention a dirty dance floor) by simply wearing a pair of comfortable yet sleek sandals? Fancy flats look great and allow you to shuffle and slide all night long.