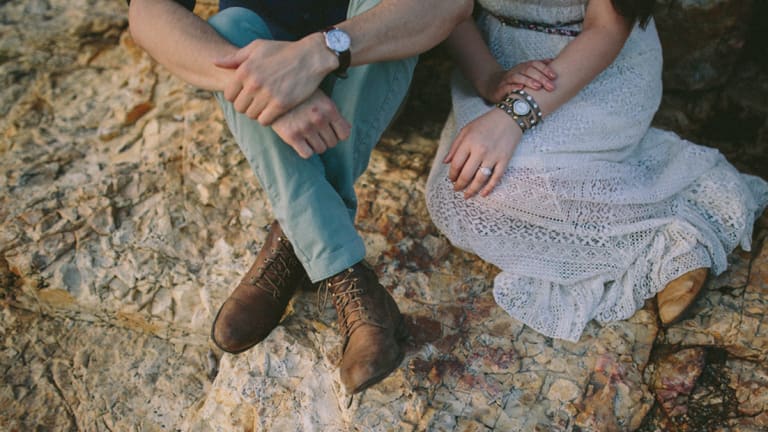 When You Start Wondering If (and When) He's Going to Propose, Try Doing This
Don't just wait around.
Two bright summers ago, I was certain my now husband was going to propose. We decided to meet at a restaurant for a special date, and I glanced at his pockets—trying to gauge if a ring box was hidden inside. Turns out, the question wasn't popped that evening, so I knew it would happen when we visited a beautiful park a few weeks later. At every turn of florals and shrubs, I thought to myself, "This is it! This is the place he'll propose!"
Sure enough, when we came to a clearing, Joe bent down. My heart raced and I prepped for the big moment. I peeked around to see if anyone was hiding in the bushes taking photos. Before I could screech out an exuberant "Yes!" Joe stood up.
"What happened?" I thought to myself. "Oh. He was tying his shoe."
Waiting for your partner to propose can make you crazy. But don't worry, there are plenty of things you can do to keep your head and heart sane pre-proposal.
01. Spend more time doing what you enjoy.
While you're waiting for the magic proposal moment to happen, take time to pursue the activities you enjoy, whether it's organizing your home or taking long bike rides. This action has two benefits: You'll be doing what you love, and your mind will have less time to think about the impending proposal.
Dale Carnegie shares in his book How to Stop Worrying and Start Living that keeping busy with things that interest us provides reprieve from what's going on in our minds. If you like yoga, perhaps sign up for a special package at your studio. If you enjoy playing an instrument or taking walks, implement those more into your daily life. When we do what we love, we also practice self-care. As Julia Hogan, LPC and Verily contributor, writes, "Taking care of yourself should be a daily practice." This is especially true when we are stressed or anxious about something, such as an upcoming proposal or life change.
02. Learn the habits of happy marriages.
Consider this waiting time a prime opportunity to get to know yourself and your partner better—and what it takes to maintain a happy marriage.
Successful marriages require more than just work. They thrive on healthy habits. Learning about positive relationship habits now will give you a head start on the journey ahead. Read books from experts such as The Five Love Languages by Gary Chapman or The Seven Principles of Making Marriage Work by John Gottman. Enjoy articles that share the secrets to a long-lasting marriage, and feel free to pick the brains of your currently married friends.
03. Enjoy the pre-marriage perks.
I remember my sister-in-law telling me, "Enjoy having the whole bed to yourself—it won't happen very often in the future." Though I was excited to share sleep space with Joe, her words made me realize there are many aspects to enjoy about being single, too. For me, that was going on long weekends with my girlfriends or reading a book until 2 a.m. with the bedroom lights on. While I can still do those things as a married woman, they are a bit trickier now.
Whatever your single pleasures are, whether it's extra time with friends or lazy mornings alone, soak them in while they last!
04. Remember that marriage or engagement doesn't make us happy.
As easy as it is to dream about marital bliss or the perfect honeymoon, happiness is truly only found in the present. A stunning engagement ring, a new house, or a picturesque wedding cannot—and will not—make us happy. We must choose to be happy now rather than waiting for the "perfect" moment. If we're not careful, we can wish our lives away while waiting for the next milestone.
Eckhart Tolle writes about this concept in his book The Power of Now. He says we must "realize deeply that the present moment is all you have. Make the now the primary focus of your life." If we pay attention to our thought patterns, though, we can recognize when our minds are drifting too much to the future. When we separate ourselves from this type of thinking, we bring ourselves back to the present. We realize that today is a perfect opportunity to experience the full joys of life and love.
05. Build deeper relationships with his family and friends.
Because you'll be an official part of his life soon, getting to know his family and friends is an investment sure to payoff. Make an effort to spend more time with those closest to him by hosting a casual barbecue, inviting your future in-laws for drinks, or sending a text message to see how their week is going.
Making strong connections now will also make for a stronger future marriage. Megan Lundgren, Licensed Marriage and Family Therapist, finds that "supportive communities are essential in sustaining a healthy marriage." Having a network of family and friends to rely on is important for stability through the good and tougher times of married life.
So, as you look ahead to your future life together, take time to also do the things that keep you sane, happy, and healthy.
Photo Credit: Erynn Christine Photography