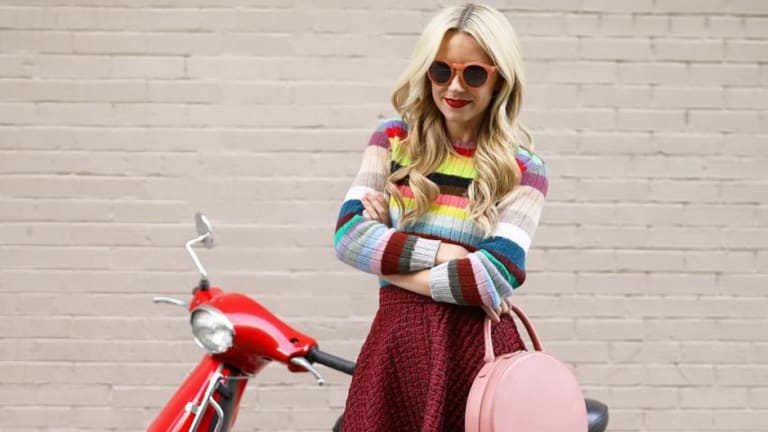 5 Trends We Secretly Want to Wear
Shhh . . . don't tell Forever21!
Trends get a bad rap for a good reason. Typically, they sprout from the fashion industry and are adopted by celebrities, which in turn are adopted by the masses who find these trends at fast-fashion stores such as Forever21 and H&M. But when millions of women are wearing the same thing, we naturally ask, "Do they actually like it?" Surely crop tops and chokers aren't that great.
But every so often, trends emerge that haven't been created in the vortex of fast-fashion brands but instead come from stylish, influential women who take classic items from fashion history and make them fresh again. Their creativity inspires other stylish women, sparking a trend that is organic and usually has some objectively pleasing appeal.
This spring, a few trends in particular have caught our eye, and we can't wait to try them out for ourselves. But don't worry, there's no need to head to Zara to achieve these looks—these items are best found at vintage and thrift stores.
Camo //
Walk down Broadway in Soho or scroll through the street-style Instagram feeds, and you will see a surprising amount of camo print. Thankfully, this isn't the early 2000s bright pink and purple camo embellished with rhinestones. This camo trend is all about authenticity with its array of natural green and beige tones. What we love the most about this trend is its ability to work with either casual or dressy outfits. It can make a casual outfit more interesting or make a dressier look more fashion-forward.
Neck Scarves //
It's no secret that we love a neck scarf. The silky hanky reminds us of Audrey Hepburn in Roman Holiday, making it a timelessly flattering look. The best thing about the neck scarf is that it upgrades any boring outfit and is as easy as 1, 2, 3 to put on. Plus, hundreds of silk square scarves can be found at vintage or thrift shops for cheap!
Vintage Tees //
Vintage tees will never not be cool. With the graphic tee making a comeback, the vintage tee has also become a street-style regular as of late. Vintage tees are famous for their soft fabrics and flattering fits, but it's their unique prints that make them highly sought after. Whether it's a one-of-a-kind 1980s Van Halen tour tee or a 1970s Venice Beach California tee, the unique and rare print of the vintage shirt is what makes it so iconic.
Colorful Striped Tops //
Colorfully striped shirts have been spotted all winter and are definitely making their way into the warmer months. This 1970s-inspired look is all about embracing bold colors and prints, officially kissing minimalist styles goodbye. Typically worn in a form-fitting style in ribbed fabric, this shirt is immediately flattering on every body type. How could we not love it?
Green Everything //
Olive green is the new black. Don't believe us? Keep an eye out for green hues on the street, and you'll be shocked at how many women have adopted green into their wardrobes. Because of its universally flattering and versatile tone, olive green goes with everything while adding a creative flair to a basic outfit. The best thing about olive green is matching it with unique colors and prints such as cobalt, neon pink, floral, and leopard. Go for it!