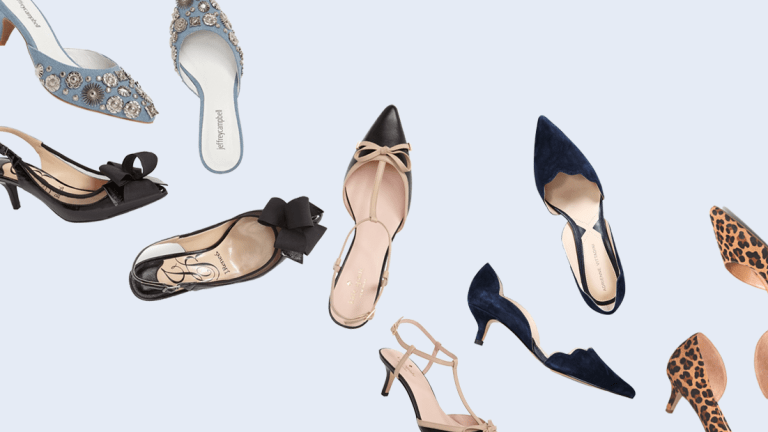 The Kitten Heel Comeback Nobody Saw Coming
Your grandma's shoes have returned with a vengeance!
The kitten heel—not quite a heel and not quite a flat—conjures images of conservatively dressed women of the 1950s and sixties scuttling off to Mad Men-esque office buildings. But there's an awkwardness to the kitten heel that even the most untrained fashion eye can spot. Whether it's the stubby little heel that cuts off the line of the leg or the half-elevated walk of its wearer, the kitten heel is (literally) the runt of the high heel family.
The last time we saw the kitten resurface was in the early 2000s, which may be why we're seeing it again. (Oh, haven't you heard? The early 2000s are back!) In 2017, the kitten heel has been making regular appearances during major fashion week shows, including Dior, Vetements, Céline, Gucci, and more. The runway styles have trickled down to the streets, and we're now seeing kitten heels on everyday women who are putting their own spin on the vintage look.
You won't see today's kitten heels paired with matching pencil skirt and blazer sets à la grandma-chic. Modern-day street style stars such as Jenny Walton and Leandra Medine are giving kitten heel naysayers a run for their money. Rather than going for a pulled-together, prim and proper look, women are dressing down the heel with denim, relaxed dresses, and an overall playfulness that we're all about. With casual styling, the kitten heel is, well, surprisingly adorable.
So, what are your thoughts on the kitten heel? Hate it or love it? Let us know in the comments!