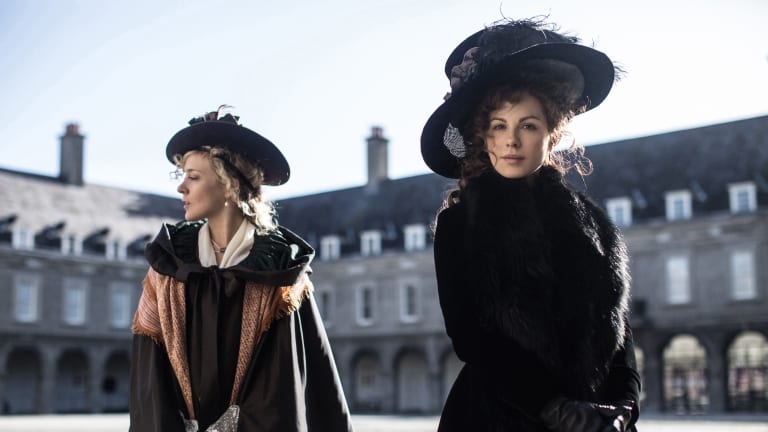 A Mother Lode of Streaming Movies to Celebrate Every Type of Mom
Ten movies streaming now
While it shouldn't take a Hallmark holiday to remind us about how great moms can be, it's nice to have a calendar telling you to make time in your busy schedule to be thankful. And whether or not you can be with your mom in person, Mother's Day is a great excuse to pause the madness of life and appreciate all the good there is out there to celebrate it.
I know so many amazing moms, and I tip my hat to you all. If your ideal way to celebrate Mother's Day is some well-deserved relaxation on the couch, here are ten streaming movies that celebrate all types of moms.
On Netflix:
The Parent Trap
No, not the Lindsay Lohan remake, I'm talking the original Haley Mills wonderful camp fest (literally and figuratively). At the heart of this comedy is a story about the importance of family, served up with high jinks, the occasional musical number, and some super cheesy lines. Watch this to celebrate the moms who love a good trip down memory lane.
Hope Floats
This one might draw a few tears (maybe more than a few), but this heartfelt tearjerker showcases two mothers (played by Gena Rowland and Sandra Bullock) who want nothing more than to make their daughters happy—they just can't quite figure out how. It's a message of perseverance when faced with fraught family moments, with Harry Connick Jr. to sweeten the deal. Watch this to celebrate the moms who always put their children first.
Chocolat
Do you have romantic sensibilities about France? Do you consider chocolate a food group? Does a young Johnny Depp make your heart beat a little faster? Do you make it a point to watch anything with Judi Dench? Look no further than this gem, about a mother and daughter who move to a small village and start a chocolate shop that shakes up the town. Watch this to celebrate the moms who make life sweeter.
Queen of Katwe
This real life story about a chess champion emerging from the slums of Katwe could have turned into a treacly Disney "can do" film. Luckily, performances from Academy Award winner Lupita Nyong'o and Golden Globe nominee David Oyelowo raise the bar, with Nyong'o portraying a fiercely protective mother whose daughter has a chance to make it out of Katwe. Watch this to celebrate all the strong moms you know.
On Hulu:
March of the Penguins
If anyone has NOT seen this documentary about Emperor Penguins, with soothing narration by Morgan Freeman and stunning cinematography, you are seriously missing out. Pregnancy can be tough, absolutely, but getting a glimpse at what these penguins have to do to get their babies hatched made me very thankful to be a human being. Watch this to celebrate the moms who go to the ends of the earth for their children.
Clue
This classic eighties caper is a crowd pleaser, bringing the popular childhood board game Clue to life. Did you used to play this one with your mom on rainy days? Graduate to the adult version and prepare to laugh out loud. Just remember—"communism was just a red herring." Watch this to celebrate the game-night-loving moms who are always up for a little intrigue.
On Amazon:
Love and Friendship
Let's raise a glass to those moms who drill proper etiquette into you but also pass along a sense of humor that would hold its own in any 1800s English drawing room. Based on Jane Austen's novella Lady Susan, this recent film is a great bet for those out there whose favorite movie version of Emma isn't starring Gwyneth Paltrow or Alicia Silverstone, but a young Kate Beckinsale. Watch this to celebrate the moms whose wit is their secret weapon.
Florence Foster Jenkins
Did your mom always encourage you to be yourself, be creative, follow your dreams, and not worry what anyone says about you? Meryl Streep's character takes this advice to the extreme, and has a ball doing it. (She was nominated for yet another Oscar for this role.) Watch this to celebrate the moms who march to the beat of their own drum.
On HBO GO:
The Chronicles of Narnia: The Lion, the Witch and the Wardrobe
My heart might belong to the BBC TV version of The Lion, the Witch and the Wardrobe released back in 1988 (the terrible special effects are AMAZING), but this updated movie version of C. S. Lewis' great fairy tale is a classic in its own right, with Tilda Swinton owning the part of the White Witch like she was born for it. Watch this to celebrate the moms who are never too busy for bedtime stories.
My Big Fat Greek Wedding
For anyone who has ever had a "family—can't live with them, can't live without them" moment, this truly delightful mega-hit about a large Greek family in Chicago will provide so many YES moments you'll start to question if it is based off your own family. (As a bonus, HBO GO also has the more recent sequel streaming.) Watch this to celebrate the moms who know how important it is to celebrate family.