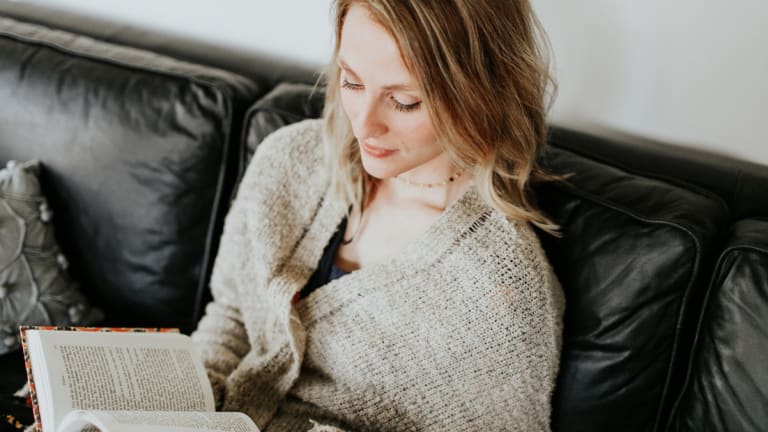 How Working Women Turned Stay-at-Home Moms Say They Adapted to the Big Change
Even beyond the workforce, it takes work.
When a woman gives birth or completes an adoption, she doesn't simply have a baby; she becomes a mother. Her very identity changes.
The demands on her time, body, attention, resources, and personal space shift immediately and irreversibly. She is faced with choices she's likely never had to make before: breast-milk or formula, co-sleeping or crib, sleep schedule or play-it-by-ear—perhaps the biggest choice being to go back to work or stay at home.
In 2014, the Pew Research Center found that after decades of decline, the number of women deciding to stay at home was on the way up, from 23 percent of moms not working outside the home in 1999 to 29 percent in 2012. This may be in part because 60 percent of Americans surveyed told Pew they believe children are better off when a parent stays home. Additionally, a 2016 survey of nearly 600 women conducted by Redbook revealed women who stay at home with their kids report the greatest job satisfaction.
But despite the vocational satisfaction, many stay-at-home moms report it's not without its challenges. A 2012 Gallup poll found stay-at-home moms experience more negative emotions such as worry, sadness, stress, anger, and depression than employed moms or employed women without children. A 2013 survey conducted by Mom Central Consulting and Gather Moms found that 60 percent of mothers with children under five experienced feelings of loneliness in their everyday lives, and 80 percent felt they didn't have enough friends in their lives.
This sense of isolation may explain why year after year, according to Pew, women consistently say they'd prefer a part-time work situation if given the options between working full time, part time, or not at all. The data seems to suggest that while many families find having a parent stay home with the kids is beneficial and enjoyable, many also feel a need to engage with others and do something outside of the home. As one 31-year-old analyst and mom of two told me while writing this piece, "by giving up the workplace, I gave up an everyday community of friends."
For me, to go back to work or stay at home was a choice I dreaded for the majority of my career in sales. I liked the sense of accomplishment I received from my work, the camaraderie I had with my coworkers and clients, and the lifestyle that my income contributed to. I also enjoyed an active social life, hobbies—including training for and competing in local triathlons and running races—and going out for breakfast with my husband almost every Sunday morning. I knew a baby would change all that. I knew that being a working mom would likely mean giving up a lot of my hobbies. I knew being stay-at-home mom would mean giving up a lot about my lifestyle that felt so closely tied to my very identity.
My husband spent two years waiting for me to finally be ready to have a baby. At that point, a merger led me to a new job with a corporate culture I hated, which turned out to be a gift in disguise. I knew I couldn't balance the stress of this job I hated with the anticipated stress of a new baby, so the choice was clear: I'd give the stay-at-home gig a whirl. I'd adapt, I told myself.
Adapt I did. I found a sense of accomplishment by implementing a sleep schedule and a meal planner and daily chores. I joined a weekly mom's group where I connected with other new moms and discussed all the things new moms discuss. As soon as my son was old enough to go to the childcare at my gym I got back on the treadmill and worked up a sweat. In many ways, I treated motherhood like a job so I could maintain the sense of accomplishment that I had enjoyed so much in my career, at the same time prioritizing our quality time.
Other moms have found their own adaptations to make the adjustment from the workforce to the homefront. Ana, a 34-year-old mother of four, told me that giving herself permission to take some time and space to learn about her new role as a stay-at-home mom was the strategy that served her best. "I think a lot of us try to do it all right away, and get upset when we fail," she says. "It's good to remember that doing the stay-at-home mom thing takes a lot of time to learn because it entails so much—logistically sure, but also intellectually, emotionally, [and] spiritually."
Even with that self-permission, Ana didn't necessarily feel confident as a stay-at-home-mom right away. "Really, it took me years, and even now, years in, I'm still learning and growing into the job. So it's a pattern I noticed in myself that was something of a toxic cycle—I would see other moms doing something better and then I would get upset with myself for not having that particular skill. But the guilt or shame would be paralyzing rather than inspiring, and I wouldn't learn anything. So now, when I see another mom doing something better, I don't judge myself, but, rather, I try to figure out what they are doing differently and if that makes sense for me to try."
For many stay-at-home moms, the loss of daily engagement with peers and coworkers leaves a gaping hole that an infant is woefully ill-equipped to fill. Says Sara, a 28-year-old mother of one: "My biggest challenge was identifying what parts about working I missed the most and trying to find those things outside of a job. For me it was relationships with coworkers… I had to work to translate that into new friends with similar life stages [and] lifestyles."
Lina, a 34-year-old mother of two, echoes: "No one prepared me for the crushing loneliness, but then someone told me to find just one friend. The difference between having zero stay-at-home-mom friends and having one is far greater than you can imagine."
The motherhood-as-career strategy worked for me for about two years. By then I had another baby who was much less agreeable to the sleep schedule his older brother had been so compliant with, my daily chores were a joke, and the meal planning included lots of take-out. I almost never felt accomplished. When my husband would come home from work and ask how my day had been, I couldn't think of anything to report other than the kids' eating, sleeping, and diapering events of the day. It was time to adapt again.
For me, that meant going back to work outside the home. I found a part-time marketing job that allowed me to use some of those skills I had worked so hard to cultivate in my previous life. I dressed like a professional and got treated like one, which felt good. Dropping my kids off at daycare that first week was hard, but I knew by that point that motherhood is intrinsically hard, and we all choose some hardships over others.
For the mothers who successfully adapt to a stay-at-home role, those hardships likely look different than they do for mothers who continue to work outside the home. Both come with their blessings and burdens. We all do the hard work of navigating our new identities as mothers, adapting to new demands and new ideas about how to meet those demands. What's clear is that we can't resign to isolation as a new normal. Whether we add volunteering, side projects, part-time work, or simply more playdates and moms night outs, we can learn from each other how to stay afloat, make it work, and be the best mommies and selves we can be.
Photo Credit: Elissa Voss