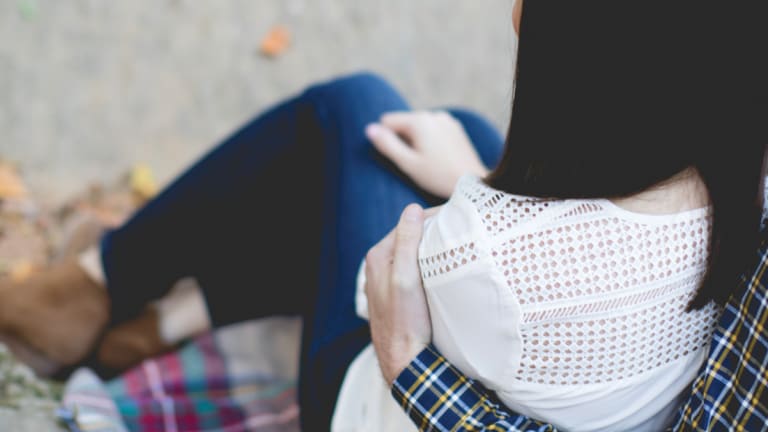 3 Secret Struggles Women Experience in Marriage
Marriage looks different on the shelf.
#RelationshipGoals have never been higher. So after you've found that rare one-and-only who talks like your best friend, sparks insane chemistry, shares similar passions and adventures, demonstrates mutual respect, practices similar beliefs and life goals—things are supposed to click. Your life together can finally start, right?
High standards and hopes are good things. But sometimes indulging too much in these particular good things can create a quagmire of unrealistic expectations—and consequently, a whole lotta confusion, frustration, and disappointment that no one talks about, even if you madly, deeply love your spouse.
It's entirely normal for women to feel a tad bewildered and restless after the wedding is over, the honeymoon euphoria dissipates, and routine sinks in. For me, these undiscussed issues might have even contributed to panic attacks. More often than not, though, my feelings had less to do with the groom and more to do with facing reality versus the post-wedding narrative that I'd been told all my life.
To help shed some light on these secret struggles of married women, I spoke with relationship experts and real women to hear more about what life after "I do" really looks like.
Here are three struggles women experience in marriage.
01. Feeling Let Down
Sure, we knew going in that marriage wouldn't magically bring instant euphoria to our lives. After all, you can't live in the modern world without being reminded—over and over again—that "marriage is hard." Still, chances are that your daydreams glossed over many of those nitty-gritty details and the reality might leave you feeling let down.
"I grew up in a mansion, and my husband grew up in a trailer park. Not really, but it feels that way sometimes," Sarah shares with me. "We talked money during engagement. We plotted. Planned. And even budgeted." Still, even after all those talks, it didn't feel like they were really on the same page—and this caused a lot of unexpected tension.
"To my surprise, spending money in a marriage isn't just about Cartier versus cardboard. It's about the little things," Sarah explains. "We communicated before and after marriage about money, but contrary to what I thought, money isn't about money. It's about mindset." Sarah goes on to clarify that this mindset certainly didn't come after one talk—but it initiated the change.
So what can you do to mitigate feeling let down by expectations that don't get met? "Calmly and kindly share your feelings without being critical. Acknowledge the areas you can each strengthen, and make a commitment to one another to put in the time and energy to do so," says Meredith Silversmith, MA, LMFT, and co-founder of Nassau Wellness. Perhaps this means making time to share ideas more or to discuss your expectations around quality time or even division of labor. Or sometimes it means talking about how you both can help each other change your mindset.
02. Feeling Shame
From the celebrity bloggers to the Mompreneurs' Instagram, it can feel like we're never good enough. The masses of people displaying seemingly perfect lives can leave us all a tad bit ashamed of our own relationship. "Other people seem more 'in love' than us," Jane, a wife and mother, explained to me. "Plus, they have their lives together and aren't letting their houses fall down around them."
The best way to combat these feelings? "Accept that there is no trophy. We will never be able to do it all without some epic face plants," advises Jessica Opert, Relationship and Dating Coach.
Moreover, Alis, a wife who also experienced shame due to marriage struggles while suffering from postpartum depression, explained that it's important to realize that love isn't a feeling as much as it is a choice. In fact, the more you choose to love someone, the more you feel in love; not immediately, but it works. "I started doing small things like randomly texting him I loved him during the day, putting love notes in his lunch, telling him how much I appreciated him and all the reasons I loved him and respected him," Alis says. "This didn't change him; it changed me. Doing all these things wasn't really for him; they were for me. As time went on and I did all these things for him, I started to feel that spark again."
03. Feeling Vulnerable
As we hail Miss Independent, the word dependent has gotten a bad rap. The truth is, if you want a healthy relationship, interdependence is imperative because it makes room for vulnerability, which is how we achieve real intimacy.
"The unspoken struggle is usually centered around a woman's independence," shares Tiya Cunningham-Sumter, author and certified relationship coach. "Many of the wives in my coaching sessions are used to managing a household on their own and coming and going as they please. When they get married they sometimes struggle with allowing their husbands to be their full partner and letting him support them in certain areas."
Whether this support is emotional or financial—those women with a strong independent streak have a hard time letting go. However, this need for complete independence, Cunningham-Sumter explains, often stems from the fear that he might leave. These feelings can also be a point of pride.
"Yes, I was a single mom before getting married, so [letting myself be vulnerable] was pretty tough for me," Stacey shares. "I think time is really all that helped me; I still struggle some with this. Especially when I leave something to my husband and he muffs it up."
Cunningham-Sumter says, "Women can combat this struggle by entering a marriage with realistic expectations and a clear understanding of the role her husband wants to play in her life and vice versa. Most men want to feel needed and respected."
When you discuss this with your partner, it's important to explain these feelings and address why they're happening in a heart-to-heart. As Cunningham-Sumter explains, if he knows your "why," he'll be more understanding and patient as you grow to become more dependent on each other. Yet, this can take a lot of time, depending on your personality. "It took time to be completely comfortable. I'd say by around year seven or eight, to be honest," Ann says. "I've always been independent."
I think that "Marriage is work" is an oversimplification. Suzanne Venker, author of The Alpha Female's Guide to Men & Marriage: HOW LOVE WORKS, agrees. "A better way to explain it is that marriage isn't something you get. It's something you do. It's a vocation," she says. And it's a vocation that, in order to be successful, you'll need to take action in. This goes for you and every other relationship you drool over on Instagram.
Photo Credit: Horn Photography