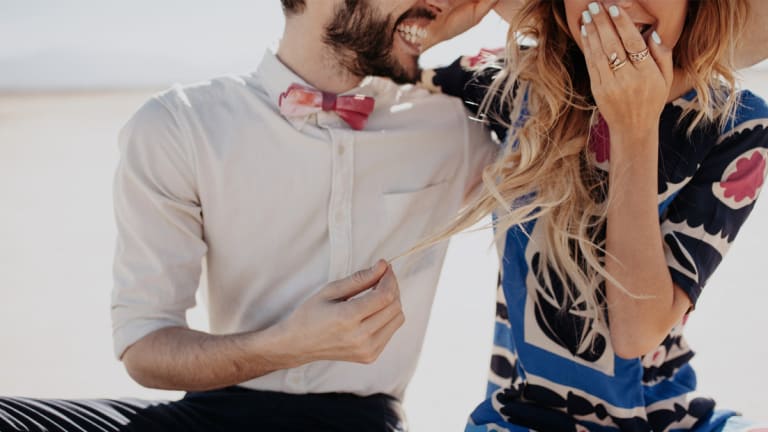 Gentlemen Speak: 4 Signs He Might Be About to Propose
Better go get that manicure.
It's wedding season, and around this time of year it's normal for both women and men to wonder when their turn to be the bride and groom might be. I hear from my female friends that it can be particularly difficult to wonder when their man is going to pop the question. Should I re-up on my apartment's lease? Should I hold off on that expensive vacation? Should I get my nails done on a weekly basis?
One big problem with the engagement process is that most men have no idea what they are doing, and this doesn't often work out well for the waiting and wondering woman. I happen to be a card-carrying member of the Once Engaged but Never Married Club, so I know what it's like firsthand to get ready to propose, and let me tell you, most guys have to figure it out as they go. It doesn't help that there's a desire for an element of surprise—a desire both men and women often place before all else. It's hard for guys to plan an amazing marriage proposal she never saw coming, while also leaving little anxiety-reducing breadcrumbs along the way.
If you're stressing about whether an engagement is imminent, take heart: there are things most men do that can tip you off that a proposal is coming. In an effort to help women pick up on some of those signs, I asked men what they did when they were ready to propose.
01. He initiates clear, intentional conversations about marriage.
"We talked clearly about what we expected from marriage," Alessandro says. Marriage is a serious endeavor, and should be treated seriously. It's fun to get excited about conversations involving a future together, from five-year plans to what color you like your drapes. But that's still a far cry from what you might call next-level conversations.
Sure you don't like the idea that he snores, but is that a sacrifice you'd be willing to make? Sure, you've talked about living in Europe sometime and you think he's joking about liking the idea of living out of a van down by the river. But before proposing marriage, a man wants to know specific things about real expectations, hopes, and dreams.
"You want to make sure your longterm life goals and values are aligned," Zachary says. "I guess intentionally asking questions to determine compatibility, not just currently but throughout all stages of life."
And, as the old saying goes, never propose to a woman unless you know what her answer will be. So a man will want to hear her say, more times than one, that she wants him to propose and she wants it now. So he'll prompt conversations to make sure he knows his proposal will be successful, lest he become an internet meme.
02. He starts getting cozy with your family (especially your dad).
Yes, this is still a thing and for good reason. Getting married to someone means you are marrying into their family. It's funny though, as terrifying as it is, the guys I know love the tradition of asking for a woman's hand. It's a bit like slaying the dragon in order to win the heart of the princess. 
One big yet easy way to make that eventual conversation easier is to build up a rapport with her pops. Every individual time a man is with his girlfriend's dad may or may not mean he's going to be asking permission for engagement. But, "if he's proactively including himself in more family functions," Joe says, "then the alarms should start to go off."
He might not just ask your dad either. "I asked my best friend and my mom if she seemed like the one," Eddie says, and I think that's great advice. When I'm serious about a woman, I'll fill her in when people important to me think highly of her.
03. He gets curious about your jewelry.
Most dudes are not going to leave such an important purchase to our own designs, so we're going to want to know what she likes. Furthermore, most dudes are also not the type to just screw around with engagement ring conversations. So if he's asking about how you want your diamond shaped, he's probably not just asking for curiosity's sake.
Of course, some of us are going to want to be a little bit more sneaky with it, specifically when it comes to figuring out ring sizes. As Jeremy says, "I snuck a ring I knew fit her finger for the jeweler to use for size." My roommate Robert proposed last month, and he did the same to make sure he got it just right. So if a woman finds any of her rings just randomly missing, it could mean that she's dating a kleptomaniac. Or it could be a sign that he's ready to propose.
04. He gets serious about saving money.
"Coming from the perspective of a college senior," my buddy Jake says, "I started to look for a real job and career path." Something about the prospect of a proposal makes a man look at his finances differently. Sure, he has to buy a ring, but the prospect of starting a life together is enough to move guys to get serious about what they do with their money.
"You think a lot about your future, envision it with your future spouse," Joe says. "You save some dough, make sacrifices." Another guy, Xavier, even says he sold some of his video games. So if your boyfriend starts unloading some of his stuff, or even just gets a bit more intentional about his spending, he might be doing that with marriage in mind—and more immediately, a diamond in mind.
Photo Credit: Jordan Voth