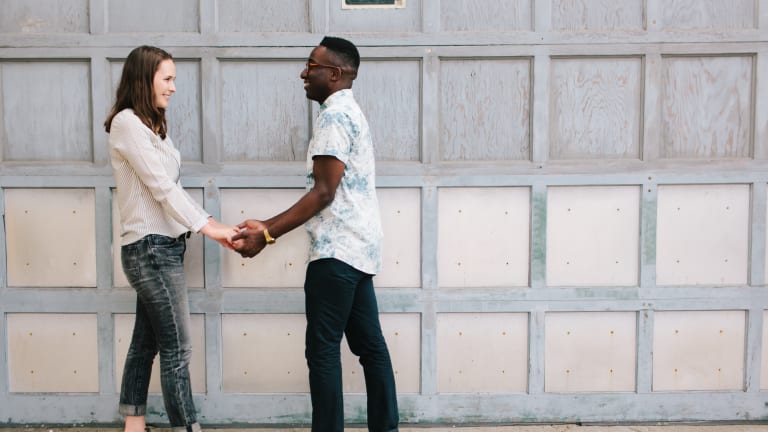 7 Things You Need to Know About Planning the Fourth Date
This one is going to be groundbreaking!
Date number four is a pretty important milestone in a relationship. You've been dating for several weeks, you've had some deeper conversations, and you're weighing whether you want to make things official. But, the best thing about date number four is that a lot of times the date-planning pressure is off the guy—it's your turn to plan a date! 
Getting beyond the early stage is all about creating new levels of connection and building intimacy, and the perfect date can help facilitate that. Of all the dates to have in your care, this is an important one. No pressure, right? Here are 7 ways to make sure date number four is groundbreaking.
01. Make it a whole day.
Up until this point, your romance has probably revolved around long drawn-out evenings that, while wonderful, leave you sleep deprived in the morning. Date four is an opportunity to spend time with each other in the day light, to adventure. Make a day of it, and maximize the amount of time you have to actually talk and connect intellectually, while you're still sharp. 
02. Do something active.
Speaking of adventure and connection: for men, these two things go hand in hand. Research shows that men feel more comfortable communicating side by side. Rather than conversing face to face, men feel more connected and emotionally close when doing an activity. So, to help facilitate great conversations steer clear of staring deep into his eyes (save that for later when you don't even need words). Instead, plan an activity that keeps his body busy and his brain and heart free, like going for a hike or playing a board game.
03. Play to his strengths.
Use the activity for the day as an opportunity to show him that you want to learn about him, about the things he is passionate about and the things that he excels in. If he loves cooking, maybe a cooking class? Or if he loves art, plan a day at an art gallery. Activities that play to his strengths give him an opportunity to teach you something, which is a confidence boost too! 
04. Don't get hung up on your agenda.
When it's your turn to plan a date, there can be pressure to ensure that everything goes according to schedule. But, for date number four, try to let go a little and make room for the unexpected. Romance thrives off the unpredictable, so allow yourself to be flexible and to get a little off course. 
05. Feel free to give the DTR a nudge.
If you haven't "Defined The Relationship" (aka DTR), you're not rushing things if you ask your guy for a status update. If things are going well, you are both probably bubbling with excitement for each other, so the conversation should be natural and easy. Tell your guy how much fun you are having with him, how happy you are with him, and invite him to share his feelings. Does he feel like things are going well? Does he have some lingering questions for you? You don't have to make things official, but you should leave the fourth date with a clear understanding about your current status and trajectory. 
06. Incorporate good food. 
Have you ever heard that the way to a man's heart is through his stomach? While this makes men sound a little overly one dimensional, there is some truth to this, generally speaking. Feeding someone is a dialect of love; it nurtures the body as well as the soul, and when it's really good food, it elevates the spirit! For your fourth date, cancel dinner reservations (or just don't make them) and cook a meal together instead. Whether or not either of you has a flare for cooking, you will have fun together as you try a new recipe and laugh at your rookie mistakes.
07. Create ambiance. 
As date planner for the day, it's your job to set the mood. Atmosphere sets the mood for intimacy, so take care to encourage a deeper level of sharing and connection. You don't have to force quality conversation when the mood is right. 
Photo Credit: Jennifer Trahan