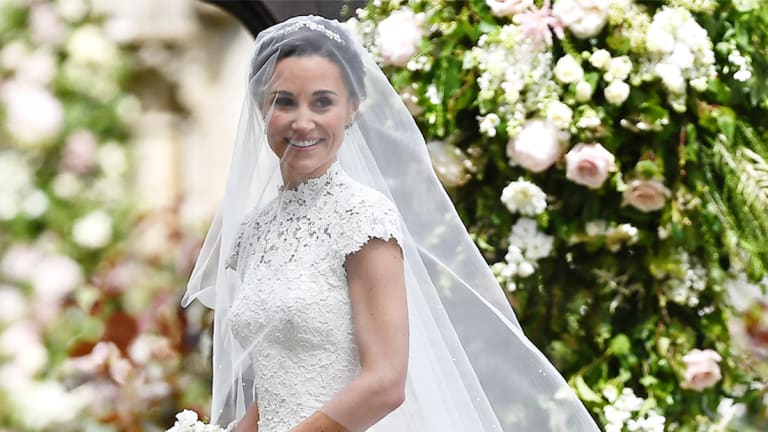 Why We're Swooning Over Pippa Middleton's Dress (and How to Make It Yours)
Grace Kelly would be proud.
Iconic wedding style certainly runs in the Middleton family. Pippa Middleton, younger sister of the Duchess of Cambridge, married James Matthews on Saturday and looked every bit an English princess as Catherine did a few years ago.
The entire wedding was out of the pages of a Jane Austen marriage scene, with a cobblestone twelfth-century church and florals galore. Not to mention a picture-perfect wedding party headed up by sister Kate, who herded a flock of children clad in matching spring green pantaloons and cream frocks.
But all eyes were on Pippa, who wore a high-neck, cap-sleeve all-lace gown by couture designer Giles Deacon. Not unlike Kate, Pippa's gown also greatly resembled Grace Kelly's legendary wedding dress when she married Prince Rainier of Monaco. Pippa was the embodiment of regality and class, stunning but not over the top.
It's only a matter of time before the wedding industry starts churning out Pippa-inspired dresses, but for now, we have a head start with these beauties below. Maybe one of these royally inspired gowns will be perfect for your own wedding!
Photo Credit: Getty Images