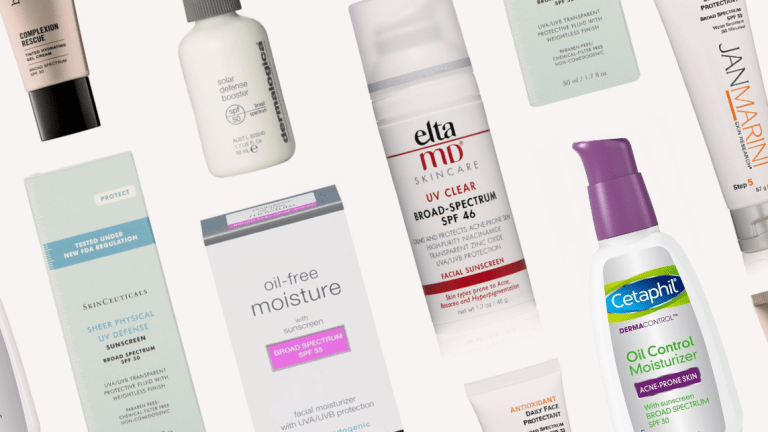 The Highest-Rated SPF Moisturizers on Amazon That Won't Clog Your Pores
Because sun protection shouldn't mean sacrificing clear skin
We know we should have been wearing SPF all year round, but let's be honest—70-degree weather and sunny skies is our official wake-up call. If sun protection hasn't been in your routine, that extra layer of product isn't always the most welcomed. SPFs have a reputation for being greasy and pore clogging, so who can blame us for avoiding this skincare step? 
Dermatologists and skin experts will remind us time and time again that SPF is the number one defense against damaged skin. So rather than ignoring their advice, let's find SPFs that have been specifically formulated to not clog pores. To get you out in the sun sooner, we've rounded up the top rated non-comedogenic SPFs.
Dermalogica Solar Defense Booster, SPF 50
It's hard to come across a heavy duty SPF moisturizer combo that doesn't clog pores, but Dermalogica seems to have done just that. With an SPF of 50, reviewers are raving about the broad spectrum coverage of this lightweight lotion. 
"I've been very hesitant to use facial sunscreens in the past because most that I've used have been too watery, or powdery, or greasy and oily. I decided to try it out, with the intention of returning it if I was't happy after the first use, but now I'm hooked!! The formula is so smooth, you can put it on under OR over makeup with ZERO residue or cakiness . It's not runny or greasy and I haven't had a single pimple since using it." —Rachel Parker, Amazon User
bareMinerals Complexion Rescue, SPF 30
If you like a little color with your moisturizer but want sun protection, look no further than bareMinerals. Verily's own editors recommend this tinted SPF moisturizer for getting that summer glow without the damage. 
"I tried several different bb creams before landing on this one. This one had been my favorite so far. It's lightweight and super easy to apply. Coverage is good but light so it's not going to cover up blemishes and imperfections completely." —Cody Walker, Amazon User
Cetaphil Oil Control Moisturizer, SPF 30
Cetaphil is the brand every dermatologists recommend, so we know we can trust their SPF moisturizer. Specifically formulated for those with oily or acne prone skin, this moisturizer is lightweight and non-greasy yet affective. 
"This product is incredible. I have extremely oily skin, and even the lightest oil free moisturizers can be too greasy. Spraying aerosol sunscreen on my face used to be my only option. This product has a lightweight texture that moisturizes and mattifies the skin, while also giving superior SPF 30 protection." —J, Amazon User
Neutrogena Oil-Free Moisture, SPF 35 
We all grew up using Neutrogena and as adults their products are just as useful. Their non-greasy moisturizer with SPF 35 is our daily go-to as it absorbs right into the skin without leaving any residue. 
"I have a hard time finding sunscreen for my face. I have combination but mostly oily skin and this moisturizer works great. Unlike all the other products I tried this cream didn't make me break out. The cream feels like a night time moisturizer after you put it on. Is has a pleasant smell and doesn't burn unlike some of the other facia oil free sunscreens. I will definitely purchase it again." —Monika, Amazon User
Jan Marini Daily Face Protectant, SPF 33 
Controlling oil is this moisturizer's M.O., so how could we not give it a try? It also offers antioxidants to fight against further skin damage. And if you find yourself sweating during the summer (who doesn't?) Jan Marini's formula is also water resistant. Now, that's a triple threat!
"I use it over my other day products ( serums, etc ) and under my makeup every day. I have tried other products that protect and nourish, but this is the only one that is not sticky and is a perfect base for my foundation. I have worn it in all climates and it always does the job without feeling greasy or tacky." —Glam Giver, Amazon User
Elta Md Skincare UV Clear, SPF 46 
With thousands of positive reviews, Elta Md's SPF tops the charts! The oil-free sunscreen is recommended by dermatologists for it's non-comedogenic formula that's ideal for those with acne or sensitive skin.
"I use sunscreen everyday, all year, on my face and hands. This is the best sunscreen I've ever used. It comes in a pump that's easy to use. It goes on smoothly and blends perfectly on my skin. I use it over moisturizer and there's never small non absorbed pieces as with other facial sunscreens I've used." —SShar, Amazon User
SkinCeuticals Sheer Physical UV Defense,  SPF 30
Yet another heavy duty SPF that leaves pores squeaky clean! Drying quickly, SkinCeutical's SPF spreads easily and leaves that highly sought after matte finish. 
"This is a very easy formula to apply. I have used others that feel rather pasty and greasy. This one has a greasy feeling but goes on very easily and absorbs quickly. It does not leave your skin feeling greasy at all and it feels like you are wearing nothing at all. Goes great with layers of face creams and makeup." —Judy, Amazon User