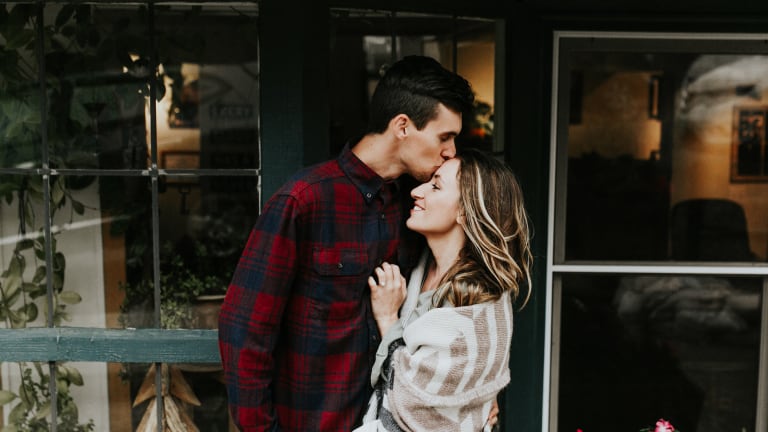 Think Moving Will Help You Find Love? Consider This First
The problem may not really be the number of eligible bachelors in your area.
"I've been on a date with everyone in this city," my friend—let's call her Liz—lamented one overcast afternoon. "I think I need to move."
Paired with a perfect poker face, it was unclear if she said this in jest or if she was completely resigned, as if moving were the next, albeit inconvenient, step in the long quest in finding requited romance.
The conversation began with the usual suspects. Dating apps are awful; all the good men are already taken or not interested in women; they're all poor manchildren, underachieving and grossly immature. "It's not crazy," Liz insisted. "Women have done this for centuries. I hear Silicon Valley is swarming with men."
She wasn't wrong. Ask your grandma—finding a husband was the reason that propelled many women to go to college. Go back further (or pick up an old-timey novel), it's how many women made their "debut" into society. And yes, Silicon Valley technically does give you more man options than, say, NYC. But it's not necessarily the location that makes a difference. "Moving to a new city can prime a person to fall in love," relationship expert Anita Chlipala, LMFT, and author of First Comes Us: The Busy Couple's Guide to Lasting Love, tells me. "But no matter what city people are in, they have to do the work to find love." 
Before you start using this handy map to decide your next move, or decide to pull a Love Actually and relocate to an entirely different country where they find your accent attractive, it's good to ask yourself some hard questions before you pack your bags.
01. Have you really put yourself out there in your current city?
No matter where you go, finding—and maintaining love—requires effort. And that effort is more than signing up on Coffee Meets Bagel or Bumble. "That means doing different things, going to different parts of the city, asking coworkers and family and friends to set you up," shares Chlipala. It also means making time for these kinds of endeavors—as well as letting go of perfectionism. While we all can know those happy-go-lucky stories where two star-crossed lovers meet on a whim of fate, these stories aren't anything to hang one's hat upon. And more often than not, there's a backstory of a lot of effort than went into attracting and then maintaining that spark that turned into a flame.
02. What new things have you tried lately?
Scientifically, moving to a new city actually does give you a starry-eyed view of the world. But the thing is, so do a lot of other changes. "Moving to a new city might help, but research shows that people who are emotionally aroused, be it by sadness, anxiety, happiness, curiosity, or really any feeling for that matter, are much more likely to fall in love," shares Chlipala. So before you go away and move, make a list of the things you haven't tried. As you're writing your list, ask yourself: What things have you done that have pushed you far out of your comfort zone?
You can start small and consider trying a new weird restaurant, or check out an obscure indie movie—and see if you can build to trying new activities that require a bit more action: like joining a kickboxing class, or signing up for improv lessons. Remember these activities aren't about necessarily finding someone, but rather putting you into the mood to be open and ready to meet someone new.
03. Do you have any other (good) reasons you want to move?
If you really believe that packing your bags and leaving is your best option to find love—first make sure that it's not the only reasons you're leaving. Try asking yourself a hard question: "What happens if I don't find love?" Be sure that there are other things attracting you there: weather, the job opportunities, the city life, the kinds of people. Make sure that you'd still love living there even if all of the single men had the same problems they had in city No. 1.
Furthermore, if you think moving is what will calm your restless spirit, remember that starting off in a new city will be best if you start with solid footing. "Start by developing friendships," shares Chlipala, "[you] don't have to necessarily jump into finding someone right away."
Moving for the sole reason to find love can be a tricky thing to maneuver, as it might just set you up for repeating the same mistakes somewhere else. But, if you make sure you have asked the right questions and have given the city you are in a fighting chance, it also might get you ready for the best and biggest change of your life. 
Photo Credit: Elissa Voss