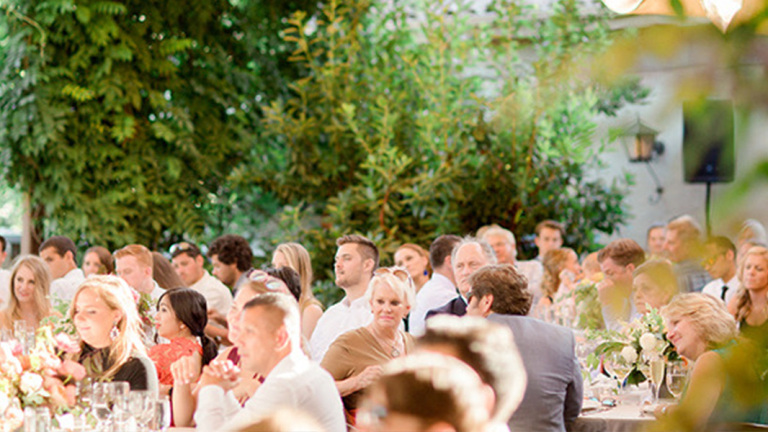 7 Cost-Saving Tips for When Your Social Calendar Is Packed
Weddings, baby showers, graduations galore. Here's how to deal with life's expensive stages.
It's just about that season again. Siblings are graduating. Parents are celebrating anniversaries. Friends are getting married and welcoming babies. Even frugal girls are transforming into social butterflies.
It's an exciting time, but it's also expensive—at least it can be if you're not careful. Happily, there are ways to save wisely when your social calendar is filled with parties, presents, and your presence kindly requested. You don't have to cut your relationships to cut your costs in the process—we promise!
01. Know your money personality.
Anticipate which budgeting problem you'll likely run into by learning your money personality. Being a risk taker or security seeker impacts how you're inclined to deal with your dollar bills during life's expensive stages. If you always say "no" because you assume you can't afford to attend a destination wedding, or you say "yes" to every get together because making memories is your cup of tea, knowing your money personality helps you figure out how to prioritize your social expenses wisely.
02. Find out the celebrant's love language.
What savers and spenders want most out of celebrating milestones is showing the people we care about how much we love and support them. Just like investing in a 401k, you want your gift to yield the highest return with the lowest risk. Ensure your present (or presence) makes the most impact on the recipients by finding out which of the five love languages makes them feel most loved. Then you'll know whether your resources are best spent on a one-on-one spa date with your pregnant BFF (quality time) or planning her baby shower (an act of service). If you're short on ideas, look to our gift guides for every love language for inspiration.
03. Learn how and when to regretfully decline.
Take "Your presence is a gift" literally. It's OK to skip pre- and after-parties. Maybe you skip the wedding shower, so you can better afford the wedding. You're not just saying no; you're saying yes to something else. Special occasions are not an excuse to spend carelessly (like offering to buy everyone and their mom a round of drinks). But if treating the wedding party to a bottle of single scotch double malt is important to you because your money personality is the spender, your love language is gift giving, and it's the last toast for the newlyweds, create a budget for this in advance and decline other expenses accordingly.
04. Side hustle.
There's always time to put aside a bit of extra cash, and summer is particularly ripe with opportunity. Earn money by doing things you love: cooking, photography, selling crafts on Etsy, freelance writing, nannying (the kids are out!), Lyft driving, renting extra space in your home on Airbnb, or whatever is your jam. With our app-driven sharing economy, the possibilities these days are literally endless.
05. Cut travel costs.
Carefully calculate your predicted expenses before you accept any invitation. If you can budget for travel, consider myriad ways to save. Stay with a friend. Share a car, room, or Airbnb with another guest. Use Skiplagged to find the most affordable trip, including one-way flights, alternate airports, and signing up for fare alerts. Don't check bags. Pack food for the road (avoid liquids in your carry-on). Look into free hotel shuttles to avoid cab fare, and when you arrive, ask the front desk if there is a discounted room available from someone else's last-minute cancellation.
06. Split the expenses.
From a grad's surprise party to a mini-babymoon fund for soon-to-be-parents, apps such as Splitwise make splitting expenses easier than ever. Ask friends and family, "I'm thinking of organizing a group present. You in?" It's a practical way to get a pricier gift or experience at a price point every participant can afford. Rather than choosing the gift first, ask each person to contribute what they are comfortable with and pick the present from there.
07. Do it yourself.
We don't mean DIY your gift (unless you're a Millennial Martha Stewart, of course). DIY everything else: your makeup, hair, and outfit.
At the end of the day, you know yourself best. Be honest and make the most of what you can give generously (your time, a helping hand, encouraging words), and your friends and family will feel loved no matter what you can afford. You can't put a price on love.
Photo Credit: Britt Rene