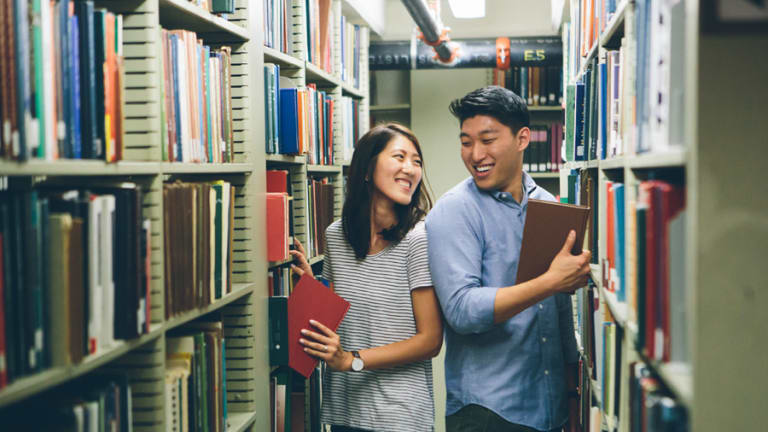 6 Places to Meet Guys When You're an Introvert
Your personality is your biggest dating asset.
One of the most difficult things about "getting out there" is, well, getting out there. For more introverted people like me, hitting the bars or attending crowded social events can be draining; I never really feel like I'm putting my best foot forward. Over the years I have learned that forcing myself to mingle or bar hop on Saturday night quickly leads to burnout. I have also realized that introversion can actually be one of my greatest assets when it comes to dating. I just need to put myself in situations where I can really shine.
If, like me, you are looking for other opportunities to meet men, these six places will get you "out there" and set you up for success.
01. Family and Friends
A dinner or drinks with a small group of friends is the best setting for more introverted types, which is good news because meeting someone through friends is still the most common way matches get made. According to a survey conducted by Mic using Google Consumer Surveys, out of the 2,373 respondents, more 18- to 34-year-olds met their current significant others through mutual friends than through any other means—close to 39 percent of the respondents said they met "through friends in common." 
Ask those who know you best to bring someone new along next time you go out or ask them if they know of any good guys they could potentially set you up with. If they don't have somebody right off the bat, tell them to keep their eyes and ears open in case they think of someone who they think would make a good date (they don't have to have a hunch you are meant to be!).
02. Volunteer
Volunteering is a great way to try something that isn't focused on meeting people and yet still gets you "out there." If there is a particular organization you are passionate about, whether it be an animal shelter or the library or a soup kitchen or the Red Cross, you're bound to meet people who share your interests. Meeting a guy who likes to volunteer and help others is also an added bonus. Don't get discouraged if there are few fellow volunteers who are in your age group; Millennials actually have the lowest volunteer involvement of any other generation. But, making friends with the old and the young will grow your social circle and increase your opportunities to meet someone through friends. 
03. Take a Class
Just like volunteering, signing up for a class is a great way to meet people who share your interest, but in a low-pressure setting. Look around your local park district or community college to find a class you might enjoy. Maybe you're interested in learning a new tech skill or a foreign language. If you're outdoorsy, your local REI has an entire schedule of classes you can take too. In fact, a friend of mine just met up with a guy from her apartment building at a winery—he brought one girl he met at SoulCycle and another girl he met at Bocce. It was very inspiring! 
At class you'll get a chance to meet some fresh faces, while already having something to talk about. Having a guaranteed topic of conversation especially helps when it comes to skipping the dreaded small talk that makes introverts cringe.
04. Singles Group
It may take a little courage to enter a singles group all by yourself, but these groups are a good option with minimal pressure because everybody there shares something in common: they are single and ready to mingle. Look at events hosted by your church or local organizations. There are usually fun events planned that don't include going to a noisy nightclub and don't last until all hours of the night. So grab a wing woman and slap on a name tag that says "Hi, I'm [Insert name here]." 
05. Library, Bookstore, Coffee Shop
Anything chill, like a bookstore or coffee shop, is an introvert's playground. I'll admit, whenever I go to the library or a cute little café, I don't usually intend on talking to people. But, I have a friend who frequented a coffee shop near her apartment to do homework and people watch. One day while wearing a T-shirt featuring The Office, a guy noticed and started a conversation with her about what turned out to be both of their favorite TV show. They discovered they had more in common than just The Office and have been happily dating for nearly a year now. I'm not saying this is a guarantee, but it has worked!
06. Online or Though Apps
OK, this one is hardly revolutionary; pretty much everyone you know has been or is on a dating app these days. But, if you have been dragging your feet because you would prefer to meet someone the old-fashioned way, it might be time to reconsider. Online dating is an especially great way for more introverted types to form a connection with some possible suitors as it allows them to take time to formulate responses. Introverts tend to be more analytical and introspective, which means sometimes they need more time to process what they're really feeling and thinking. The best part is, when you actually sit down for a date with someone you met online or on an app, you already have built some rapport. There are tons of online dating success stories, and if you don't believe me, hear what those who have actually had success have to say. Beth, who met her husband in 2007 on a dating site, said, "I was skeptical at first about online dating. I thought I would get nothing but creeps. Though there were a few duds, I found a rare gem, and we've been blissfully married for seven years."
Instead of spending your time acting like an extrovert and getting burnt out, explore venues that will make you shine.
Photo Credit: Cynthia Chung