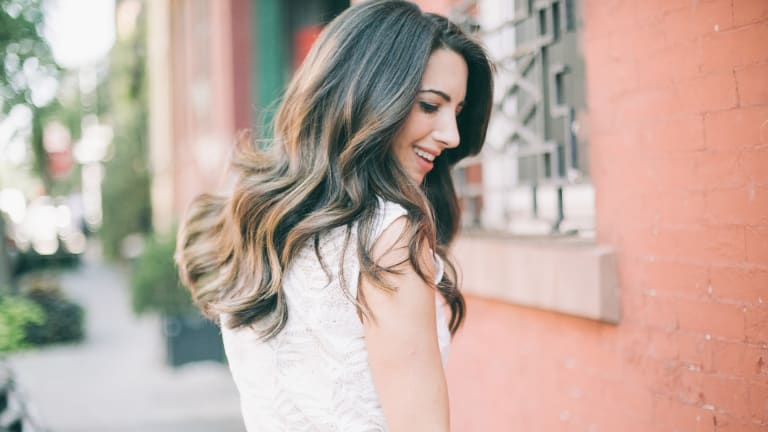 3 Books Marie Forleo Says Every Soul-Searching Twentysomething Should Read
Take it from a world-renowned life coach who has been there, done that.
Dubbed "the thought leader for the next generation" by Oprah, Marie Forleo is an entrepreneur, writer, and philanthropist most known for her entrepreneurship class B-School and award-winning weekly show MarieTV.
Of course, she didn't start out with a huge audience or awards. Following failed attempts at corporate jobs and trying to choose just one thing to be in life, she realized that her long list and unusual combination of interests and skills were her strength, not a liability. She traded the security of a traditional career for a string of odd jobs so she could build her life-coaching business from the ground up. She invited others to join in on breaking the mold with her. Today, her socially conscious digital empire reaches millions of people across 195 countries.
It's safe to say that Forleo knows a thing or two about overcoming self-doubt while finding one's passion and purpose—a journey many of us struggle to navigate in our twenties and thirties. Luckily, she also happens to be a bibliophile who has brought fellow thought leaders Steven Pressfield, Seth Godin, and Elizabeth Gilbert onto MarieTV as sages of the stage. When we asked for her top career-navigating books every twentysomething should read, here's what she had to say.
01. The War of Art by Steven Pressfield
Forleo acclaims Steven Pressfield's The War of Art as one of her favorite books on the planet. She also calls it the No. 1 book on the planet for entrepreneurs and creators. "I know that's a pretty big claim," she writes, "but I totally stand behind it. If you ever struggle to get things done or wrestle with your doubtful chattering brain, this book is your cure."
In an interview on MarieTV, Pressfield emphasizes his mantra: "When you have more than one idea, take the one that scares you the most." In the battle between resisting these ideas and honoring your creative instinct, Pressfield identifies the obstacles—the "enemies"—every person faces. He then offers a blueprint to conquer our internal foes and pinpoints the steps that keep so many of us from our ambitions and creative tendencies. For anyone struggling with channeling their inner warrior, Pressfield's fighting words were written for you.
02. Linchpin by Seth Godin
Every twentysomething should aspire to be what innovator and author Seth Godin calls a "linchpin"—someone who is indispensable. Godin has presented multiple TED Talks and is heralded as a frontrunner of this generation for his thoughts on how ideas spread. In his book, Godin argues that everyone has this potential, but it is those who make the conscious choice to tap into this potential that makes the difference. He tells Forleo that in life, we can't wait for the perfect opportunity or the right moment to come along, nor do we need permission to act. 
"This isn't about waiting for the right answer because there is no right answer—only challenges we can sign up for and emotions we can experience," Godin says. Don't waste the chance of your lifetime. Linchpins live for today.
03. Big Magic by Elizabeth Gilbert
Many recognize the name Elizabeth Gilbert as the New York Times bestselling author of Eat Pray Love. But Gilbert's latest book Big Magic was written for people who, for whatever reason, are hesitant to chase after their calling. In this self-help book, the author attempts to reveal her own creative process, the curiosity-driven means that lead to her own success as a creator. "The real reason we don't move creatively ahead," Gilbert tells Forleo, "is always and only fear." 
It is in conquering this ever-present, all-encompassing fear that allows you to embrace authenticity and your creative spirit. "Fear doesn't get to make any decisions in creative decisions because it doesn't understand creativity. You can't let fear have control over your creative choices." Gilbert also talks about the importance of compassion in the process and our willingness to continue, despite our fears. "What will make you finish it is not discipline, but self-forgiveness."
New York Times bestselling author John Green once said, "Great books help you understand, and they help you feel understood." Books like these are what make reading so important—especially for those looking for answers to life's biggest questions. The beauty of a good read is that it makes for good company while helping you become your best self. So stop waiting for the mythical right moment, and pick up one of these life-changing books today.
Photo Credit: Marieforleo.com