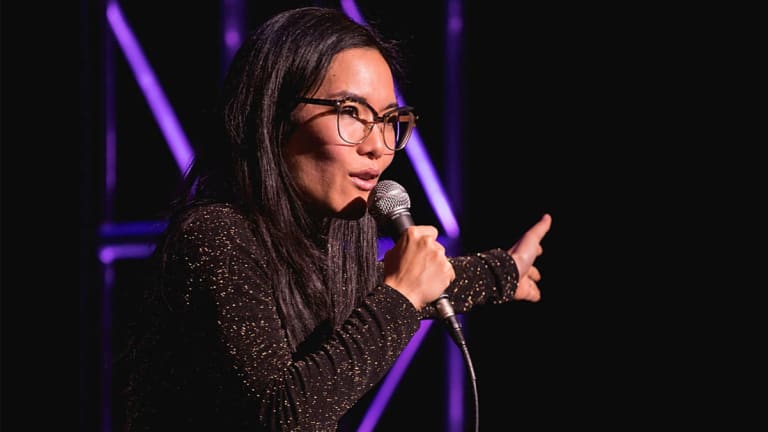 7 Celebrity Moms Who Are Changing How We Talk About Motherhood
Kate Middleton, Ali Wong, and more are getting real about child-rearing.
Have you noticed that we seem to be having a "let's get real about motherhood" moment? I suspect it's due to many factors—to social media for the platforms to get real, women feeling more confident to speak on a public stage, and physical and mental health issues being taken more seriously—but no matter the reason, I have to say that I like it. Take outspoken model Chrissy Teigen: "No one told me I would be coming home in diapers, too," she tweeted after giving birth to daughter Luna last year. "I feel like tiny underpaid workers are putting my uterus back together, and they're super-bitter about it, so they aren't doing a good job," Teigen later divulged.
What past generations may have seen as inappropriate complaints are today relatable vents, giving countless women around the world an extra space to breathe and realize they aren't alone. It's a willingness to go there and be honest about the messiness of motherhood that paradoxically makes room to dish about the joys.
Teigen's not the only one. Here are seven other celebrity moms who are changing the way we talk about motherhood.
01. Kelly Rowland
Former Destiny's Child singer and host of the talent scouting TV show Finding Destiny, Kelly Rowland recently wrote a book after giving birth to her son, Titan. Rowland gets real in her book Whoa, Baby! about postpartum challenges, from breastfeeding pains to vaginal tears. "These are things that happen! We're human—it happens!" Rowland told Parents Magazine. "Every mother has experienced it in one shape or another, and it's important to open the dialogue for it," Rowland said. "Urinary incontinence, (for example). Being out in public, you sneeze or share a giggle with one of your friends...and you're thinking, I can not believe this happened to me."
"I think that people don't talk about this openly enough," Rowland later told TODAY. "Everybody feels the need to be strong all the time, and that's just not the way life is." Rather than feel disappointed for her post-baby weight or shape, Rowland says, "Write on your mirror in lipstick: 'I had a baby. I'm a superhero.'...Now I trust myself and feel stronger, like I can do anything," she says.
02. Ali Wong
Another mom in the spotlight talking motherhood is comedian Ali Wong. After her comedy special Baby Cobra, in which she appeared very pregnant as she dished jokes, she now is touring the country and continuing to draw humor from her personal life. Diana Tsui for New York Magazine attended Wong's recent show at Town Hall in New York City. Tsui noted, "the new show is really about the roller coaster of emotions during her first year as a parent." From going into the challenges of nursing to changing poopy diapers, Tsui says, "it's raw, relatable even if you're not a parent."
Speaking to Tsui after the show, Wong said, "The highs are high and the lows are low. But it's corny as f--- to gush about the highs so you'll hear me mostly complain about the lows." But it's all within a context of joy that the humor emanates. Wong's husband and daughter are traveling with her on the tour, and as Tsui concludes, "you can tell that the highs are pretty good despite her jokes."
03. Jessica Biel
Actress Jessica Biel shared these too-true words on social media last year: "Happy Mother's Day to you, Mom. I only, just now, understand what you did for me."
Biel also recently told E! how her experience as mom has helped her grow as an actress. "I'm just more emotional [and] sensitive...open-hearted," she said. She said she feels, "always ready for anything and everything at this point." It's lovely to hear moms acknowledge the challenges along with the strength-building qualities. They go hand in hand, after all.
04. Kate Middleton
Perhaps the mom in the greatest international eye is the Duchess of Cambridge, who last month shared some personal experiences while discussing the importance of addressing mental health. The Mirror reports, "two mothers, supporters of the royal trio's Heads Together mental health campaign, discussed how they became friends after bonding through mutual loneliness." Middleton responded with her experience since becoming a mom: "Yes, it is lonely at times and you do feel quite isolated but actually so many other mothers are going through exactly what you are going through."
05. Laura Benanti
Tony Award-winning actress of Broadway and star of the TV show Supergirl Laura Benanti recently spoke openly about the hardships of early motherhood in a number of interviews as well as on social media. "Ella is amazing, and I love her so much," she told ET, "but it's hard. When you follow people on Instagram or social media, all you see are pictures of their adorable babies and animal ear hats. What you don't see is a lot of the exhaustion and figuring stuff out. It's a huge adjustment to suddenly be caring for this precious little person. My husband and I are absolutely in love with her and also exhausted. . . . For a while we weren't sleeping at all. We would sleep for maybe two hours in a 24-hour period, but lately she has been doing better."
In a joint interview the New York Times conducted alongside her mom Linda, also in show business, Laura explained how her postpartum experience wasn't what she expected. But the singer and actress also emphasized how despite all the craziness, priceless moments rise to the top. In a recent Instagram post listing what's hard about being a mom ("because I doubt myself" and "because my hormones are bananas" to name a few), she found "a moment of clarity" that she hoped to always remember. When her baby smiled at her and fell asleep on her shoulder, she explained how, "my doubt and worry was momentarily quieted by my deep love for her, and how—at least for a moment—I let that love extend to myself."
06. Sheryl Crow
When Rolling Stone recently asked Sheryl Crow how having kids has changed her life, she said that while it has created some constraints on her available time, it has not limited her in her art. "Everything revolves around what's good for them," she says explaining how her blueprint musician's life was affected. "I quit touring [temporarily] a couple of years ago... But the main thing really is that my work, my so-called inspiration, has been relegated to school hours. I made a record I love between school drop-off and dinnertime. Not many rock stars can say that."
Crow later explained how despite her challenges, she chooses to embrace it. "My struggle in life is accepting the idea of choosing to be happy. Happiness is not something where you wake up that way. You decide you're gonna be happy…. I definitely consciously do it with my children, because they define themselves by your mood and how it relates to them. As a parent and as a person, life can be so happy, but you have to decide that that's the life you're gonna lead."
07. Alexa PenaVega
Actress Alexa PenaVega told E! on new motherhood: "I think that as new moms we really want to just jump back into it, and it's really hard to find the time to do that. But at the same time, my husband is like, 'Don't worry, I'll watch him; you go to the gym.' I just can't leave him, and it feels weird." For PenaVega, she's brought the crazy into her daily life. "I think it's hard because people think, 'Oh, I can't do this,' or 'Now I can't travel to my favorite place because I have a baby.' And that's not true . . . at all," she says. "We go on a sailing trip every year, and we will continue to do so. You have to be able to keep doing what you've always done and just find a way to incorporate your child. It might not be exactly how you've always done it, but it'll be fun."
But she couldn't care less about what she looks like on said sailing trip. "Throw anything diet out the window especially if you're breast-feeding," she advises. "Don't worry about diets. You need all of those nutrients. . . . I'm focused on getting strong." 
Here's to the crazy and amazing moments of motherhood and to the ladies who are showing us how incredibly normal and worthwhile they can be.