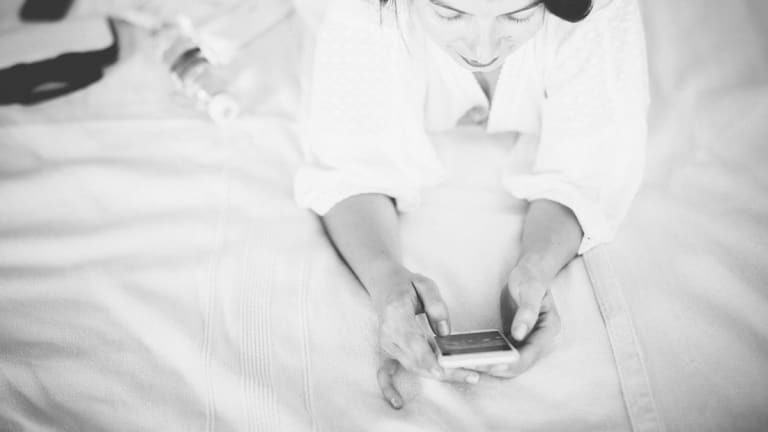 5 Dating Apps You Should Try, Even if You Would Rather Meet a Guy in Person
Tinder isn't the only app out there.
As a woman who has spent a huge part of her adult life single—and especially in the past five years—I sometimes forget that using dating apps doesn't come naturally to everyone. My dating experience has been hugely shaped by Tinder and Bumble, for example, but if you've been wondering how apps work or have been in a relationship for most of this time and now find yourself newly single, you might be totally out of the loop. That's OK (and also, welcome to the club, girlfriend).
Even if you're a totally proficient app user like me, I bet there are some you haven't tried yet. Rather than give you an exhaustive rundown of every app on the market (there are way too many to even try), I've curated a list of apps that each offer something unique or notable—especially for the female users. From "the first feminist dating app" (Bumble) to the app that gives you the opportunity to hand over the decision making to someone else (Wingman)—we're living in a time where there is quite literally an app for everyone.
Here are five that are worth a try.
IF YOU DON'T MIND SAYING HI FIRST, YOU'VE PROBABLY HEARD OF . . .
Ah, Bumble—you might say this app is the golden child of the genre right now (which is fitting because its visual theme is a rich golden yellow and white). Hailed as the first feminist dating app, Bumble's concept is similar to Tinder but with two big differences: Once you match with someone, you, the woman, are the only one who can initiate a conversation. Additionally, you have just twenty-four hours to start a conversation before the guy vanishes back into the pool of possibilities. (That means you've got to ready those cute intro lines and get a little brave.)
I am personally a huge advocate for Bumble, as are most of my female friends. (It feels like pretty much every single woman in New York City is on Bumble right now.) I like the look and feel of the app, and I don't mind firing off introductions to strangers knowing full-well that many of them will not respond. I have met some seriously high-quality guys through this app, and have found that in general the men on it are respectful and engaging, and my matches are more likely to result in a date than they are on Tinder.
And for those who might want to make platonic connections, too, Bumble also offers a "BFF" feature to help female users network and meet up for social and professional purposes.
FOR QUALITY OVER QUANTITY . . .
Once upon a time, Hinge was a lot like Tinder, except that you were only shown potential matches with whom you had a mutual connection on Facebook. It hoped to be the smartphone version of "we met through mutual friends." After lagging usership and a sense that the singles of the world were ready for a change, Hinge relaunched in 2016 with a whole new approach, encouraging thoughtful engagement over mindless swiping. It now calls itself "The Relationship App."
Hinge has moved away from the swiping and matching model to a format that allows users to "like" and comment on photos and responses to a variety of prompts provided by the app, such as "My last meal would be . . ." or "My favorite holiday tradition is . . ." Hinge will show you all the men who have interacted with your profile, encouraging you to start a conversation, and has a "discover" tab where you can interact with potential matches that fit your preferences. You can include a lot of information about yourself that Hinge hopes will lead to more high-quality matches and yes, relationships, including whether or not you smoke or drink, your political leanings, or if you want children. Additionally, users can only like or comment on ten profiles per day.
THE BEST OF BOTH WORLDS . . .
According to COO and Co-Founder Dawoon Kang, Coffee Meets Bagel boasts the highest ratio of women of all the dating apps due to its emphasis on quality and safety. Its focus is creating meaningful connections, which has earned them a reputation as "the anti-Tinder app." Kang notes, "We curate a smaller number of matches (aka Bagels) rather than endless swipes."
Here's how Coffee Meets Bagel works: Each day at noon, the men on the app are shown up to twenty-one quality matches, called "Bagels." They can either like or pass on each one. Next, the app curates the best potential matches for you, the woman, out of the guys who liked you. The ball is in your court from there, giving you the option to start a conversation with men who have already expressed interest. I must admit, I like this approach a lot.
Coffee Meets Bagel is available across the U.S. Kang shared that the average age of its users is 29, and they are mostly young professionals in urban cities who are "looking to make meaningful connections."
WHEN YOU WANT A LITTLE HELP FROM A FRIEND . . .
Tina Wilson, the founder of Wingman, found the inspiration for the core concept of her app after going through a breakup. (How apt!) "My squad of fabulous friends—all of whom were married or in relationships—were dying to help me start dating again," Wilson says. "I didn't feel comfortable dating online, so my mates all began searching the dating sites for me—and collectively we began to wish there were an easier way for matchmakers to help their single friends meet people."
If you're single and using apps, there's a pretty good chance you've wished you could just hand the reigns over to a friend and let them do the work for you. And according to the Pew Research center, one in five online daters have asked someone else to help them with their profile. Three years in the making, Wingman has already been vetted in the UK and Australia, and just arrived in the U.S. in April. Rather than your typical dating app whose users are (usually) single and on their own to find love, Wingman allows only matchmakers to create a profiles for their single friends (with their approval, of course) and then browse profiles to find people their friend should meet. If the potential match likes them back, the two singles are connected and able to communicate on their own.
Wilson notes that a huge benefit of this app is the way it takes some of the pressure off of the single person, and eliminates the sting of rejection that comes from doing the searching yourself. This collaborative approach sounds refreshing, doesn't it? "I really believe that the desire to be a matchmaker for a single friend is as old as friendship itself," says Wilson. 
THE PLACE WHERE SWIPE-HAPPY MEN MEET THEIR MATCH . . .
Female-focused dating app Eve is set to transition from its beta testing phase to its final release (available across the U.S.) any day now, so I got ahold of the CEO, Hank Dumanian, to find out what he hopes will differentiate Eve from the bevy of apps already out there. "Online dating shouldn't be a vulgar imitation of the real-life thing," Dumanian says. "Dating is a courtship ritual, not a transaction."
Straight out of the gate, Eve has a huge element that sets it apart: the "eveSCORE." Dumanian explains that Eve scores its male users on a scale of one to ten based on how often they swipe right—the more often they swipe right, the lower their score (and vice versa). Women then see these scores on male users' profiles as they swipe through them. The score is also scaled relative to the swiping habits of other male users nearby, which means that a male user with a low score swipes right a lot compared to the other men in his location.
According to Dumanian and Eve's beta testing, this scoring system drastically changes men's behavior within the app. "Since they know swiping right mindlessly will actually diminish their chances of getting women to match with them, they start making more thoughtful decisions," he says. He believes this approach is encouraging men to think more seriously about who they are actually interested in, and as a result, the matches made are of a higher quality.
Along with this scoring system, Eve differentiates itself with features like "eveFRIENDS." Both male and female users can add up to four of their friends who are also on the app; and once you're connected you can see who they have swiped right on, and get a notification if you match with the same person. What users do with that information is up to them—some male users have seen it as a bit of a competition, while female users have viewed it as a sort of vetting system.
Photo Credit: Britt Rene