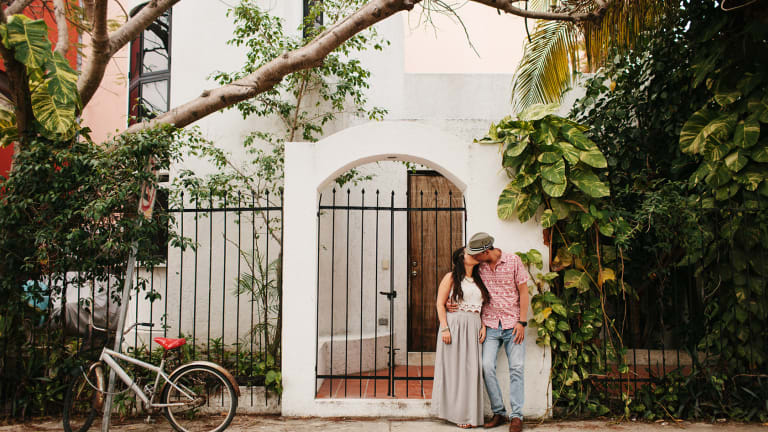 5 Unique Summer Date Ideas You Can Book Through an Unexpected Online Service
Bet you haven't done something like this on a date before.
Summer is upon us (and perhaps so is your fourth date). Rather than leave all the summer planning to the gentlemen, check out Airbnb Experiences, a new feature that gives locals and visitors access to cool communities tailored to a multitude of interests. You can book fun date ideas designed and led by some of the most interesting people where you live or where you're traveling to this summer.
From unleashing your inner photographer or cultivating an urban garden for a cause, here's our cheat sheet to fun dates that will have you and your guy discovering hidden gems before summer's end.
01. Miami, Florida // Cuba Sights & Bites
You don't need a special visa to experience the Cuban boom. Little Havana in Miami is a veritable treasure trove of exiles who've created a colorful neighborhood rich in their flavorful and fun-loving heritage. This 2.5-hour walking tour includes an authentic meal at a Cuban restaurant followed by a crawl for Cuban cocktails, Caribbean beer, and fresh guarapo (juice extracted from freshly cut sugarcane). The cereza on top is a visit to a cigar factory that hasn't been flooded with tourists. ($79 per person)
02. Los Angeles, California // The Hollywood Sign Hike
Far from cheesy, hiking 4.5 miles up from a secret parking spot to this iconic L.A. landmark will give you plenty of opportunities to bond over your favorite films while taking in panoramic views of the City of Angels. Your tour guides (who also happen to be Hollywood actors!) will provide the water, photo ops, snacks, and stories about the sign's unique history—just show up with a hat, sunscreen, a moderate fitness level and a big sense of adventure. ($25 per person)
03. Detroit, Michigan // Night Photography
Behind-the-lens aficionados, bring your camera or camera phone and a tripod for a 4-hour night photography lesson from a published editorial photographer. You'll learn how to "paint" with light and how to best capture images in low light situations. Then you'll use your newfound skills to take photos around Detroit's most interestingly lit locations. End the evening with skyline views and cocktails from 72-floors up at Coach Insignia, a world-class restaurant & bar. Empty out your memory cards, because you'll be walking away with dozens of amazing images to look back and smile on. ($80 per person)
04. Harlem, New York City // Urban Grown
Harlem Grown's 134 Street Farm is just one of eight local urban farms making healthy food accessible to the community by inspiring youth through hands-on farming. After a morning of coffee, snacks, and learning more about Harlem Grown's vision and impact, you'll walk through Harlem's streets before rolling up your sleeves to do some urban farming yourselves. The date ends by harvesting veggies from the garden for school lunches. One hundred percent of what you pay for this Airbnb experience goes to Harlem Grown & FoodCorps, a national service organization that teaches young people about healthy food and where it comes from. ($45 per person)
05. San Francisco, California // Tales of Chinatown
Squeeze through rambling alleyways and step into a bustling world where Chinese immigrants and their families have made their home for decades. A social scientist from Taishan China gives a sociological survey of the history, foods, and community from the perspective of a local—including making fortune cookies at a fortune cookie factory, shopping for unique produce at an old grocery store, observing traditional art in a Chinese American museum, and partaking in a custom meal at the best dim sum house in Chinatown. If there's anything that brings two people closer together, it's learning about something new. ($49 per person)
Title Photo Credit: Jordan Voth