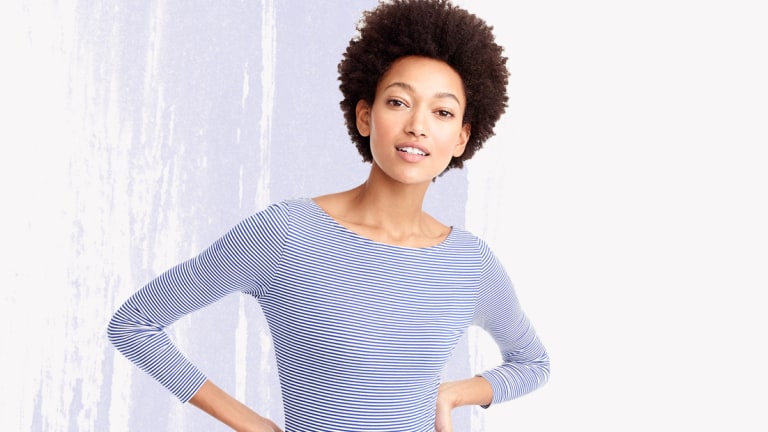 5 Tops to Wear if You're Tired of Off-the-Shoulder Blouses
Give cold-shoulder shirts the cold shoulder.
The off-the-shoulder blouse has officially reached peak popularity. The breezy, shoulder-baring style emerged last year and was refreshing and feminine, but it quickly gained mega-trend status. If you're kind of over it (we certainly are) and looking for some more variety in the blouse department, we have found plenty of styles that are just as cute and current. Stand out from the crowd this summer, and rock one of these beauties.
Believe it or not, we're all about this ballet-inspired trend. But don't worry, this definitely isn't your baby nephew's onesie (although many brands have snaps in the crotch for practical reasons). If you hate the bunchiness of tucking in a shirt, the bodysuit is perfect for you. It always stays smooth and in place; you can raise your arms and never worry about your shirt rising. Plus, it elegantly flatters your shape and accentuates your neckline, making it perfect for more formal occasions.
It's baaaack. The graphic tees of our high school days are making a comeback, and nostalgia is getting the best of us. These message tees, however, don't have cheeky double meanings (lookin' at you, Abercrombie) and are all about incorporating graphic art into your look. The graphic tee breaks up the formality of your outfit for a more playful appeal. Throw on some statement earrings, and you're basically Jenna Lyons!
This is one trend that has emerged more organically. Pastel plaids have been popping up more and more this spring, taking last year's gingham trend up a notch. We're falling in love with the soft pinks, purple, blues, and greens of the reinvented plaid, making us long for hot sunny days and backyard barbecues.
Sleepwear as outerwear resurfaces every few years, but we haven't seen the retro 1950s pajama top worn as daywear before. Increasing in popularity over the past year, the silky Nancy Drew–worthy button-up has won a place in our hearts. With all the structure and class of a classic white button-up, the pajama top offers some fun with its quirky prints and unconventional use.
Bohemian styles have become a staple in the fashion world, so why not invest in a great peasant blouse? With embroidery becoming more popular in the past year, the peasant blouse is back for another hippie-tinged summer. With a loose, comfy fit and adorable embroidered florals, how could we not make this a hot-weather must-have?