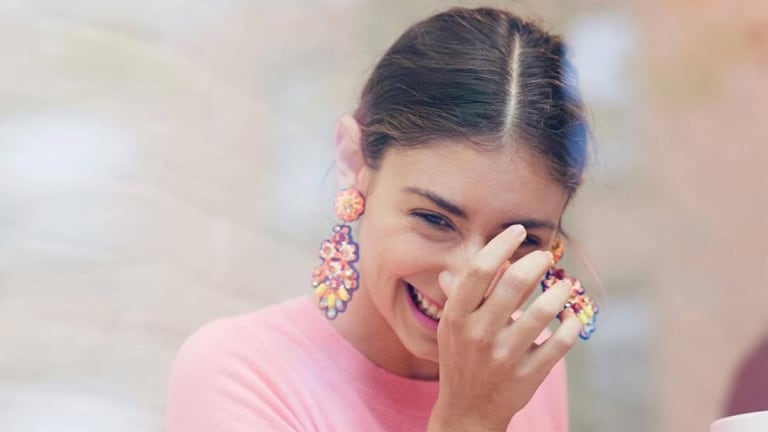 5 Hacks for Looking Pulled-Together (Without Even Trying)
For the days you just can't anymore
Whether you woke up late or simply have a more casual style, we all have lazy outfit days. Before you completely give up and wear your sweatpants in public, we have a few outfit hacks for throwing together a polished ensemble that requires zero planning or hassle.
Interested? Remember the following tips on the days you just can't anymore.
Wear a Button-Up //
If you don't feel like putting effort into an outfit but don't want to wear your ratty old tee, try wearing a button-up. The classic button-up offers all the comfort of your T-shirt without looking like you didn't try. To look extra pulled-together, copy Tanesha Awasthi by tucking in the front of your button-up into your pants.
Wear a Bold Lip with Dark Shades //
When it comes to a basic outfit that needs an extra oomph, sometimes all you need is a bold lip and sunglasses. Swiping on a crimson lipstick and throwing on a pair of sleek shades is perfect for when you're in a rush. You'll accomplish an Old Hollywood look in just seconds, and you don't even need to worry about doing a full face of makeup. Just take a cue from French designer Jeanne Damas, who has mastered upscale casual.
Wear Oversize Earrings //
Bold earrings have a way of making any outfit look intentional. Jewelry in general always makes an outfit seem more deliberate, but a statement earring will take your look to the next level—especially if your hair is pulled back for a more sophisticated appeal like Jenny Walton. Statement earrings are already extravagant, perfect for balancing out your simple outfit. The contrast between your fancy earrings and laid-back outfit will say "street style star," not "I just woke up."
Wear Heels //
Imagine French Vogue editor Emmanuelle Alt's outfit with sneakers instead of heels. Not the same effect, right? Alt's super-casual boyfriend jeans and oversize button-up blouse is transformed by her sleek pumps, making her outfit effortlessly chic. So if you're feeling a little too casual, throw on a pair of heels to immediately elevate your look.
Wear a Blazer //
A blazer offers all the structure your basic outfit needs. The formality of the blazer immediately elevates your look by giving it a professional appeal that makes your tee and jeans look less grungy. In fact, the combo gives you an effortlessly cool vibe—who doesn't want that? Take a note from Russian digital entrepreneur and street style star Miroslava Duma, who takes her look to the next level by draping the blazer over her shoulders.
Image Source: Instagram