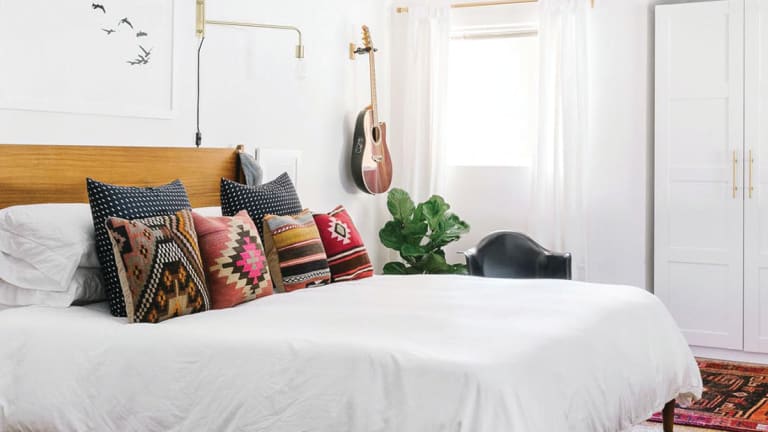 5 Simple Styling Tips You Need to Make Your Bedroom a Clutter-Free Safe Haven (and Keep It That Way)
For every problem area in your sleeping space, Homepolish designers have a stylish solution.
Warmer weather means we're either lounging outside, preferably near water, or finding respite from the heat by lying low indoors. Coming home to a bedroom that is light, airy, and fresh can be such a relief.
But if yours is a hot mess, you're in for a rude awakening. Princeton University researchers found that visual clutter negatively impacts our ability to focus and process information and increases irritability. Is that really how you want to spend your summer?
Whether you're disorganized or a perfectionist who still hasn't figured out how to keep clutter at bay, Homepolish designer Shannon Tate has simple solutions that you can implement today. Tate believes that our homes and lives are inextricably connected and that design is a powerful medium for transformation. So transform your space with her five simple tips to create a curated, clutter-free safe haven.
01. Clear the clothes.
We all wish we had a laundry genie . . . a genie for many things actually, but laundry is just one of those things you have to have a place to throw at the end of the day. Get yourself a reliable hamper that is beautiful to look at and not so big that it can store laundry for a month. A medium size will force you to do laundry more frequently. Because we all know there is nothing more annoying than folding a pile of laundry the size of a mountain; a small hill is much more approachable.
02. Go as paperless as possible.
Random bits of paper everywhere (e.g., cards from friends, post-it notes, bills, etc.) is a problem that most people have. It's important to create a habit of regularly going through and trashing the ones you don't need. Invest in a basic paper shredder so that throwing away things like bills with account numbers is a no brainer and won't cause any reason for pause. Call your companies and ask to go paperless—it's easy and green. If you must hang onto some with extra sentimental value, keep only enough to store in a shoebox and transform the rest into digital photographs or files.
03. Give your workspace room to breathe.
Having a workspace in the bedroom can create an unrelaxed energy because it reminds you of work when you should be settling into sleep. Desks tend to get messy unless you're one of those magic people that can be paperless (please teach me your ways). If you're still a paper user and mad note taker, it's important to have places to store all of those things at the end of the day. The Bigso Black and Gold Stockholm Paper Drawer from the Container Store is so sleek and elegant and makes the mess disappear at the end of the day, yet still stay organized. Store magazines and mail in a stylish sling. It's also always nice to have some fresh flowers in the bedroom, so this is a great place to have a small vase.
04. Marie Kondo your odds and ends.
Have a space for everything (and we mean everything). For knickknacks (paper clips, thumbtacks, random change that has suddenly found its way on every surface), keep out beautiful little dishes to stash them in. Choose something that may not seem like it's meant for your bedroom but is pretty and the perfect little size. Avoid something too big because that will just encourage pile growth. You want to have reason to regularly flush them of unneeded bits and bobs.
05. Keep a smart and tidy side table.
Get the lamp off the side table to create a less cluttered surface, and exchange it for a plug-in wall sconce like this one from Schoolhouse Electric. This will clear a functional space for you to hold a book and/or your phone in a tidy stack at the end of the night. The side table is another place to keep an eye-catching trinket dish for jewelry, a watch, barrette or other small accessories at the end of the night.
Check out Shannon's picks below to refresh your bedroom for the dog days of summer.
Photo Credit: Homepolish