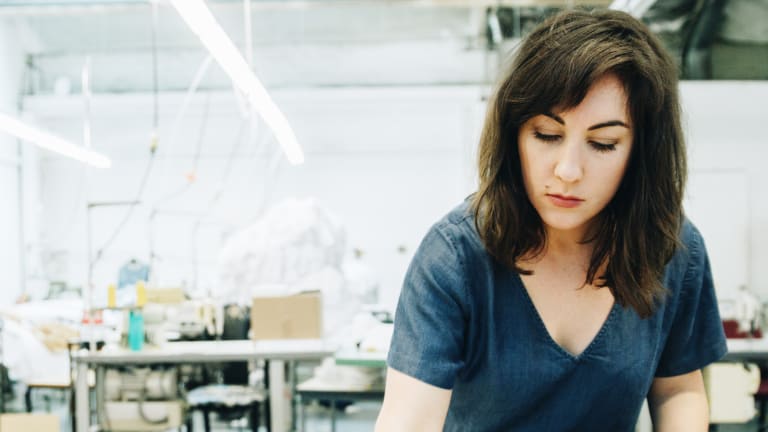 Colleen Monroe Is on a Mission to Transform Outdated, Mass-Produced Workwear
Because business doesn't have to mean boring and uncomfortable
After your morning commute, running between meetings, and fielding endless emails, have you ever found yourself on the way to happy hour margaritas with your friends, wishing you didn't have to lug a bag holding a change of clothes for whatever activity is inevitable that day? Colleen Monroe, designer and founder of Untucked Workwear, found herself pondering this back in 2013 while living in New York City, working on the costume design team for TV show Boardwalk Empire. When she moved to L.A. and sold her car, Monroe found herself biking, using busses and trains, and walking everywhere, needing professional outfits to wear to meetings and wishing she didn't always have to carry around a change of clothes. 
She also began to see that this wasn't only her challenge. Monroe took a leap of faith and enrolled in October of 2015 with the sustainable fashion business accelerator Factory45. She pulled together a team that would become Untucked Workwear and launched the official Kickstarter to get her collection off the ground (which has already surpassed its goal!).
I checked in with Monroe to learn more about her efforts to bridge the gap between the fashion industry and the everyday woman and to beg for a pair of the Untucked trousers ASAP!
Marina Olson: What is Untucked Workwear?
Colleen Monroe: Untucked Workwear is a new fashion startup in L.A. revolutionizing the wardrobes of women who want to look professional and feel comfortable. Our first release, The Perfect Working Outfit for Women on the Go, is a versatile, consciously crafted, and affordable collection, manufactured locally at a small factory in Los Angeles. It includes three staple pieces: The Everyday Blouse, The Flex Trousers, and The Pocketed Smock (see here.)
It all started with considering the lifestyles of many of my creative friends. When we get dressed in the morning, we are slipping on sleek leather boots, not stilettos, and reaching for loose blouses, jeans, and breezy dresses. We want an interesting wardrobe that doesn't require too much maintenance and is comfortable for movement, but we want to look cool at the same time.
MO: Untucked Workwear seems to exist because of your special knowledge as a young professional, creative woman. What did you notice about clothing that made you think "I could do this differently"?
CM: Most of fashion designed today is all about fitting a certain "ideal" type of woman. That's why so much clothing out there doesn't actually fit well. 
Frankly, it comes down to money. The quicker companies turn around product, the more they can sell. Very rarely do companies pause to consider the whole woman and what she actually needs.
MO: How did you shift from "designing for an ideal" approach to addressing the whole woman?
CM: I want to take a more thoughtful and meaningful approach to how clothing is made. I'm tired of clothes being produced for the sake of trends. What about creating clothing that honors the achievements of woman and work with her life, not a life that she has to fit into?
I want Untucked to be more connected with a woman's everyday life, so that when she gets dressed in the morning she can do so with ease and feel good about her body. This will give her the mental space to tackle bigger goals in her job and personal life.
MO: You have a podcast, which is unusual for a clothing company. On it, you are talking with professional women from different backgrounds about topics such as community, living life, work and play, and motivation. Why did you go this route?
CM: Using podcasts and Instagram to form community is a way for your brand to come alive in a real and tangible ways. We as humans want to feel connected and find a sense of belonging. Brands that form lasting communities become almost like family. A trusted resource, guide, and friend that they can keep coming back to time and time again.
Also, research and development is much more democratic these days. We can post a question on social media and receive hundreds of responses back. We can go directly to our customers and ask them questions and involve them in our products. This enables us to design products that real people actually want and need.
MO: You often use the phrase "human-centered design." What does this mean to you?
CM: To me, human-centered design is integrating fashion and lifestyle. Far too often, we have to choose between function or looking beautiful. I believe it's possible to have both, which is a big reason why I started Untucked in the first place.
Fashion is not just about trends or belonging to a certain elite group of people. It's a language, a visual language; it communicates to others how we want to be perceived. I study the person in a story and the world they live in. That story, that world, that woman dictates the clothes she wears. I need to understand the lifestyles of women, and I strive to study the minutia day-to-day of their lives, so that whatever piece I put out into the world is useful and needed, and it represents the best version of herself that these women want to be. 
If you can't wait to get your hands on the Untucked pre-sale, order on the Kickstarter page before June 1. The first shipments will arrive in September. Stay in the loop by signing up for email updates for up-and-coming Untucked Workwear news!
Photo Credit: Francis & Louise