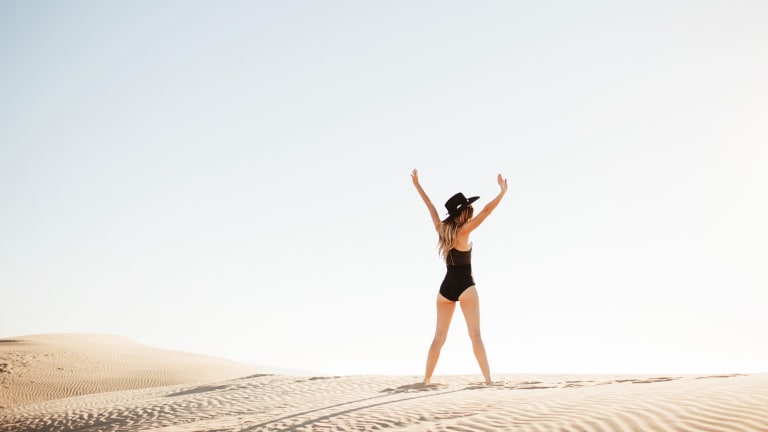 7 Hidden Gems in the U.S. to Check Off Your Travel Bucket List in June
Visit these scenic spots before they make it onto the collective public's radar.
When it comes to checking destinations off our travel bucket lists, it's easy to envy everyone else's exotic beach vacations and romantic old town jaunts. Year after year, we vow that this is when we'll finally go island-hopping in Southeast Asia or backpacking across Europe.
More and more studies have shown that spending our money on experiences, not things, is what makes life worth living. Dr. Thomas Gilovich, a psychology professor at Cornell University, says, "[Y]our experiences really are part of you. We are the sum total of our experiences." If experiencing new places, histories, and cultures through travel is important to you, don't wait until you can make an international trip happen. The experts at Travel + Leisure, Travel Channel, and Frommer's have shared their lists of 2017's best places to travel in June. Luckily for us, seven of these hidden gems are close to home, too.
01. Island Idealists / Kaua'i, Hawaii
Travel + Leisure readers consistently vote Kaua'i one of the world's best islands. According to T+L, rates plummet in June. Plus, the temperature and surf are ideal conditions for hikes or boat tours along the breathtaking Na Pali coast, floating in emerald Hanalei Bay tucked amid majestic green mountains, or driving up to the 10-mile long, 3,000-feet deep Waimea Canyon, the Grand Canyon of the Pacific.
02. Wildlife Wanderers / Estes Park, Colorado
T+L wasn't the only one to include Estes Park, Colorado's gateway to the Rocky Mountains, on its list of top spots to visit in June. Nature lovers and outdoor aficionados laud Estes Park as one of America's favorite mountain towns. Rent a rustic cabin, scope out a signature event like Jazz Fest, Scandinavian Midsummer Festival, or Performance Park Summer Concert Series, and enjoy your proximity to the buds, butterflies, birds and wild blooms of the Rocky Mountains reaching their peak of perfection in June.
03. Leisure Lovers / Boston, Massachusetts
The third and final U.S. destination to make T+L's list of Best Places to Travel in June happens to be one of America's greatest walking cities. Take The Freedom Trail, America's first walking tour, where you'll see sixteen historical sites—and centuries of history—in just a few hours by following the red trail painted on the ground as your guide. Stroll along the harbor, shop family-owned boutiques, or pop into Cambridge's quaint bookshops as you people-watch the Boston's residents come alive. T+L recommends visiting at the tail end of June (when hotel rates drop) and staying until Independence Day to join the crowds along the Charles River waiting for the spectacular fireworks display.
04. Offbeat Oenophiles / Sonoma County, California
Sonoma, California may be renowned for its 250+ wineries and the delicate Pinot Noir, zesty Chardonnay and robust Cabernet Sauvignon that flourish in its fertile soils. But the Travel Channel recommends planning your wine country itinerary to coincide with the stunningly colorful Sonoma County Hot Air Balloon Classic. On June 10-11, join thousands of people gathering to watch pilots launch giant graceful orbs at 6:30 am and float until 10:30 am. If you can't make it, check this list for a hot air balloon fest near you.
05. Musical Muses / Chicago, Illinois
This year, the Travel Channel also recommends heading to Chi-Town on June 9-11 for the Chicago Blues Festival, the largest free blues music festival in the world. Over half a million people gather at Grant Park to hear renowned performers, which have included legends like Ray Charles and B.B. King on the festival's five stages. Open the summer season with a picnic basket for dining al fresco to incredible music (just leave the glassware and alcohol at home).
06. Culture Curators / Tucson, Arizona
Yes, Arizona is sweltering in the summer, but when snow sporters and students head out of Tucson in May, they leave behind a quiet and peaceful desert experience. Frommer's recommends evening hikes on cool Mount Lemmon to escape the heat and rest under its breezy pines, just a 30-min drive from the city. Architecture and history lovers will marvel at the restored 19th-centry mansions of its El Presidio Historic District and the adobe row houses of Barrio Historico. Look for the Saguaro cactus' white blossoms, Arizona's State flower, blooming in June—with some 200-year old Saguaros towering at 45 feet, they're hard to miss. Frommer's most compelling reason to stop by during this off-season? Low-priced hotel rooms, inexpensive heritage meals fit for foodies (in 2016, UNESCO designated Tucson the U.S.' only City of Gastronomy), and wide open spaces to enjoy them.
07. Fine Foodies / Lancaster County, Pennsylvania
Lancaster may be known for being the heart of Pennsylvania's Amish country, where you can pick freshly farmed provisions from markets and country road produce stands. But June is also the best time to tour the region's many breweries and wineries. Frommer's recommends attending the Brandywine Wine & Food Festival (June 10) to sample local goods from wineries and food purveyors and see local artists and musicians. Then take a bike ride through lush green hills or tour the county's twenty-five historical covered bridges.
Photo Credit: Jordan Voth