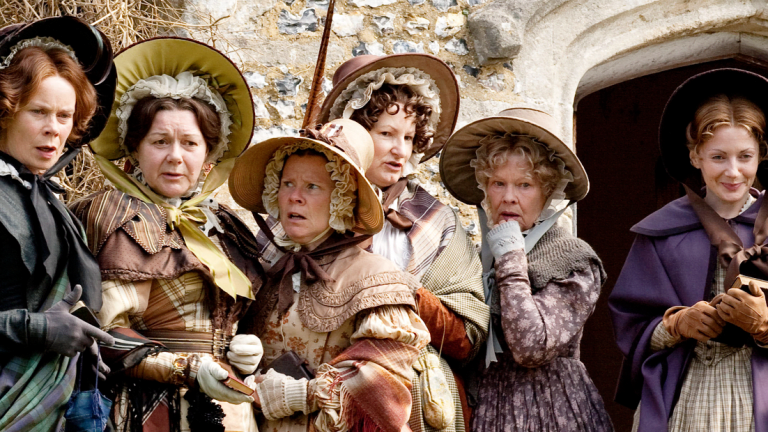 7 British Costume Dramas You Probably Don't Know About (But Should)
A Brit shares her favorite lesser-known films and series.
I've been a costume drama addict ever since I was a little girl—I remember watching the classic BBC adaptation of Pride and Prejudice with Colin Firth and the glorious Jennifer Ehle when it first came out on TV in my homeland, England. My family and I would wait eagerly for each new weekly episode, carefully videotaping and then wearing those tapes ragged over the next few years with repeated re-watching.
My obsession never waned, and I ended up studying English literature at college as an undergraduate. It's pretty safe to say that there aren't many British costume dramas that I haven't seen. Moving to the States as an adult, I've become a fan of PBS as a way to get my fix of British television, but I've also been struck by how there is so much more to classic British television that never makes it big on PBS.
If those jaunty piano notes from the opening credits of the BBC's Pride and Prejudice still make your heart flutter, here are seven other classic (but less well-known) British costume dramas you won't want to miss.
This visually stunning 2002 BBC mini-series is set in Victorian London and based on George Eliot's novel of the same name. The story follows the character of Gwendolen Harleth (mesmerizingly played by Romola Garai), a beautiful and arrogant young society woman who finds herself drawn to the intriguing figure of the gentle social misfit, Daniel Deronda, who is trying to trace his unknown lineage. The original novel is rather a doorstop and not the easiest read, so I particularly appreciated this beautiful and gripping adaptation as a teenager in literature class. You'll recognize Hugh Bonneville in his pre-Downton Abbey days, but be prepared for your image of the kind and wise Lord Grantham to be shattered by Bonneville's brilliant and chilling performance here.
Introverts everywhere, it's high time that Molly Gibson is recognized as one of classic literature's greatest female leads. Molly is the daughter of a country doctor, struggling to cope with her widower father's remarriage to an awful and utterly superficial lady, as her simple and quiet life is suddenly disrupted by unwanted secrets, town gossip, and unrequited love. Her impetuous and glamorous stepsister might be the one who turns heads, but Molly is the character that will stay with you long after you finish watching. In my opinion, the 1999 BBC mini-series adaptation of Elizabeth Gaskell's last novel is quite simply one of the most underrated costume dramas out there. It's a shame that this wonderful mini-series isn't available to stream, currently, but in my opinion the DVD is definitely worth the investment.
03. North & South, 2004 BBC TV miniseries // streaming on Netflix
Elizabeth Gaskell's North & South was once described to me by an English Literature professor as "Pride & Prejudice, but with a social conscience." Focusing on the story of Margaret Hale (another wonderful female lead you're bound to fall in love with), a middle-class southerner who is forced to move to the northern town of Milton, the plot brilliantly intertwines a Darcy and Elizabeth-style romance of opposites with the exploration of the complex issues connected with the Industrial Revolution and workers' rights in Victorian England. Richard Armitage as the dark and brooding Mr. Thornton gives Colin Firth's Mr. Darcy a run for his money and Margaret Hale is sure to win the heart of any admirer of Elizabeth Bennet.
My mother passed down her treasured, dog-eared, copy of this enchanting 1930s British coming-of-age story by Dodie Smith to my sisters and I when we were teenagers; when I was at college, I made a lasting friendship with one of my best girlfriends bonding over our mutual love of this book; at my wedding, I gave copies of this book to girlfriends as a wedding favor. Needless to say, I wouldn't recommend a movie of one of my favorite books of all time if it wasn't a faithful adaptation, but this 2003 version produced by the BBC is wonderful. You're bound to fall in love with the eccentric Mortmain family who live in a crumbling castle deep in the English countryside, and enjoy their adventures (and misadventures) as told through the diary of endearingly hilarious and unwittingly charming 17-year-old, Cassandra Mortmain.
It takes a special kind of genius to turn a novel like Bleak House into a gripping and digestible drama, given that Charles Dickens arguably wrote much of the book in a deliberately slow and tedious style to reflect the mind-numbing effect of an unjust 19th-century English legal system. But that's what the 2005 BBC miniseries manages to do; this beautifully-shot story follows the suspenseful tale of two orphans in Victorian London who are set to inherit a vast sum of money—if their court case can ever be settled. The epitome of Dickensian England, this mini-series stars a young Carey Mulligan in one of her breakout roles, and is a visual and literary treat.
Set in the area of England around Oxford, where I grew up, this BBC series ran for four seasons between 2008-2011, so it's a great one to get into if you want something to watch regularly. The premise for the series was based on Flora Thompson's trilogy of semi-autobiographical novels about her life in the English countryside, published between 1939 and 1943 but set at the turn of the 19th century. The story focuses on the journey of teenager Laura Timmins as she leaves the small country hamlet of Lark Rise to start her adult life in the nearby town of Candleford, and is a lovely, gentle snapshot of times gone by, full of charming and loveable characters.
Yes, I know this is the third adaptation of Elizabeth Gaskell's work I've listed, but no summary of the best and most underrated British costume dramas would be complete without a mention of this two season-long Golden Globe-nominated BBC series starring the indomitable Dame Judy Dench. Set in a rural English market town in the 1840s, Cranford is a tale of a town ruled by "Amazonian" ladies in bonnets, who prove that feminism didn't start with the suffragettes. The threat of the change that the Industrial Revolution will inevitably bring to the area is ever-present, but the light-hearted witticisms, romance, and quirks of the ladies of Cranford is what makes this such a joy to watch.
Photo via BBC
Note: This article has been updated with corrected links to films' availability.