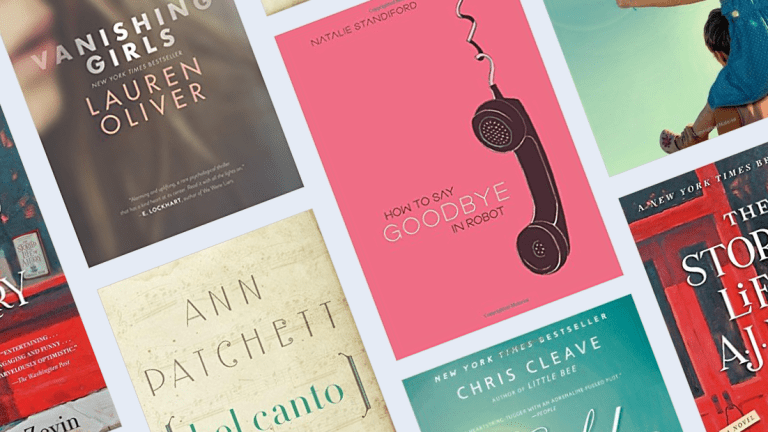 5 Books You Can Breeze Through in a Weekend
Feel accomplished by finishing these reads in just a few days.
When it seems nearly impossible to make progress on a lengthy to-do list, there is little I find more satisfying than reading a book from start to finish. This is a luxury too often reserved for a week at the beach. But with proper strategizing, reading for pleasure can—and science would argue should—be part of your day, every day.
Then comes the eternal question: What to read? You want something not too long but not too short; something you'll dive into and stay up too late with until you've reached the end; something, ideally, you could finish in the course of a well-planned weekend. I'd argue that these five novels are the Goldilocks of contemporary literature. They're recent but not so new that they won't be available at your local library. They're juicy enough to dig in to, but you'll still (probably) manage to get your laundry done between chapters. The plots, characters, and settings all fall under the "just right" category.
The question now is which to read first.
Gold by Chris Cleave
If you find yourself pining for the summer Olympics, try Gold by Chris Cleave for a literary adrenaline rush. Cyclists Kate Meadows and Zoe Castle are best friends—and rivals for the last spot on their Olympic cycling team. They've trained together for years, and their history runs even deeper off the track. Gold is the kind of story that starts in one place and you think it's going forward, but at the same time it goes back three times farther, and you see that there was so much more beneath the surface than you saw at the start. Have a friend on hand to pass this off to; you're going to want to talk about it.
The Storied Life of A. J. Fikry by Gabrielle Zevin
Who doesn't love a book about books? Nothing is going right for widowed curmudgeon A. J. Fikry—until someone leaves a baby at his bookstore. What initially seems a nuisance becomes the turning point in the story of this intelligent, quirky, and downright funny man's life. His transformation echoes throughout his community, which is heartening in a time when many of us spend more time interacting with screens than we do face-to-face with other human beings. Read this tome with a notepad by your side because your reading list will grow with each chapter.
Vanishing Girls by Lauren Oliver
When you pick this one up, don't plan to put it down. If you're familiar with Oliver's Before I Fall (now a book and a movie), you know she does suspense well. Here the mystery involves two teenage sisters estranged after an accident, a young girl who has recently disappeared, and a race against time to put things right. The sketchier characters shed light on dangers realistically present to young girls today, without romanticizing them. Yet a truly romantic subplot keeps balance, but get ready—the ending will blow your mind.
Bel Canto by Ann Patchett
You need not be familiar with the Japanese embassy hostage crisis of 1996 and '97 (I wasn't!) to enjoy this novel, on which it's based. What you need to know is this: In an unspecified South American country, a group of terrorists take a party of politicians, high-profile business people, and an opera singer and her translator hostage. The situation lasts for a couple of months, during which most everyone begins to see his or her adversary in a different light. The cast of characters is large but beautifully handled; each is believable, memorable, and often surprising. You still have time to enjoy this in print before the movie adaptation is released next year (or find the operatic adaptation that opened in 2015).
How to Say Goodbye in Robot by Natalie Standiford
Unconventional is an understatement in describing this beautiful novel. Beatrice's family moves just before her senior year of high school, and she finds herself the new girl in a small private school where everyone else has known each other for close to forever. By alphabetic destiny, she meets Jonah, a boy the class wrote off years ago. Bea and Jonah bond over—of all things—a late-night radio program frequented by a motley bunch of listeners. Senior year is a time of transition, and the secrets of their individual pasts are bound to play out in their futures. You might want the tissues nearby.
Consider yourself warned that any of these may result in a serious book hangover—that phenomenon when you just can't seem to get yourself out of the book world and back to reality. It may seem as though there's nothing else worth reading out there. Fear not, this feeling will pass . . . until you start the next one on the list.
What are you reading this weekend? Share in the comments!