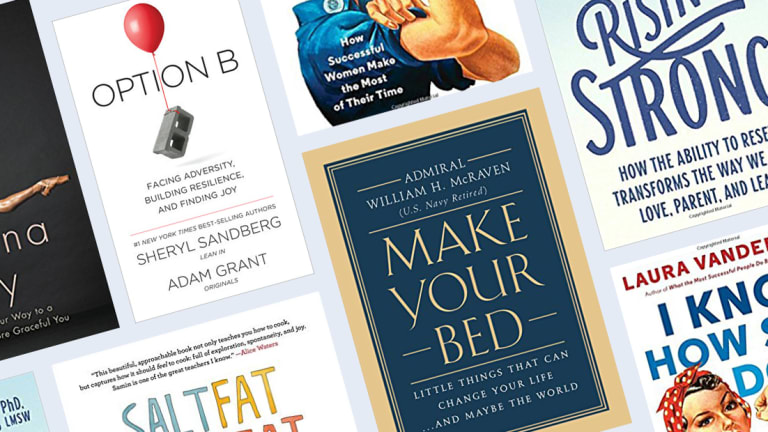 6 Bestselling Books to Help You Master Essential Life Skills in 2017
Take it from someone who can use all the help she can get.
If you ask me why I don't go out with friends or volunteer more often, I'll tell you it's because I'm too busy. I don't have time.
But in her TED Talk on time management, Verily's 8,760 Hours columnist Laura Vanderkam bursts that bubble. "Time is highly elastic," Vanderkam says. "We cannot make more time, but time will stretch to accommodate what we choose to put into it." Instead of indulging in mindless habits or experiences that won't bring you closer to your goals—watching TV, scrolling through your phone, or puttering around at home—block off time to read these six bestselling books that will inspire and motivate you to live a healthier and more fulfilling life.
01. Make your bed.
"If you want to change the world, start off by making your bed," Admiral William H. McRaven said in his 2014 commencement address at his alma mater, the University of Texas at Austin. In Navy SEAL training, it is the first task of the day. "Making your bed will . . . reinforce the fact that little things in life matter. If you can't do the little things right, you will never do the big things right. And, if by chance you have a miserable day, you will come home to a bed that is made—that you made—and a made bed gives you encouragement that tomorrow will be better." Building on the ten principles in his speech, McRaven shares simple wisdom and timeless advice with humility and optimism in his No. 1 New York Times bestseller Make Your Bed: Little Things That Can Change Your Life . . . and Maybe the World.
02. Dance and eat your way to a powerful body.
Celebrated American Ballet Theatre principal ballerina Misty Copeland believes that "standards have changed" and what women want is a powerful body. In her first health and fitness book, New York Times bestseller Ballerina Body: Dancing and Eating Your Way to a Leaner, Stronger, and More Graceful You, Copeland's message centers on appreciating the body you have, accepting its flaws and limitations while acknowledging that it deserves your constant love and care. She shares step-by-step advice, meal plans filled with healthy fats, a deceptively simple fitness regimen based on ballet exercises, and inspiring excerpts from her own personal journal to help women achieve a strong physique, excellent posture, and glowing health.
03. Master the elements of good cooking.
Declared "America's next great cooking teacher" by Alice Waters, Samin Nosrat has taught everyone from professional chefs to middle school students how to cook better by using her simple yet revolutionary philosophy that good cooking is based on four basic elements: salt, fat, acid, and heat. Nosrat's lighthearted approach and whimsical illustrations in Salt, Fat, Acid, Heat: Mastering the Elements of Good Cooking will teach you how to make delicious food anywhere with any ingredients, even without a recipe.
04. Make the most of your time.
In I Know How She Does It: How Successful Women Make the Most of Their Time, Laura Vanderkam narrates stories from real women to prove that it's possible to have what you want: a challenging career, a happy marriage, quality time with your children, a social life, hobbies, and even a good night's sleep. Her research reveals that the secret to being successful isn't "having it all"; it's "having what matters." Vanderkam's specific strategies on how to make time for what really matters to you will inspire you to build a life that works for you, one logged hour at a time.
05. 'Kick the shit out of option B.'
The No. 1 New York Times bestselling authors of Lean In and Originals, Facebook's COO Sheryl Sandberg and Wharton psychology professor Adam Grant, provide inspiration and practical tips on building resilience and moving forward after life's inevitable setbacks in Option B: Facing Adversity, Building Resilience, and Finding Joy. Take it from Nobel Peace Prize winner Malala Yousafzai, who continued to advocate for female education after surviving an assassination attempt. In her review of this book, Yousafzai said, "None of us can escape sadness, loss, or life's disappointments, so the best option is to find our Option B."
06. Rise strong.
In 2011, social scientist Dr. Brené Brown's seminal TED Talk sparked the global conversation on vulnerability, shame, and authenticity. These were universal emotions no one wanted to talk about until her pioneering work uncovered a profound truth: Vulnerability is the only path to more love, belonging, creativity, and joy. Inevitably, we are all vulnerable, and we all fall. So in Rising Strong: How the Ability to Reset Transforms the Way We Live, Love, Parent, and Lead, Brown teaches us how to take stock of our emotions and lean into our discomfort until bit by bit, we become more courageous. It's the process, Brown writes, that teaches us the most about who we are and empowers us to live bravely.
Vanderkam believes that we ultimately have the power to fill our lives with the things that deserve to be there. "We have time for what matters, and when we focus on what matters, we can build the lives we want in the time we've got."