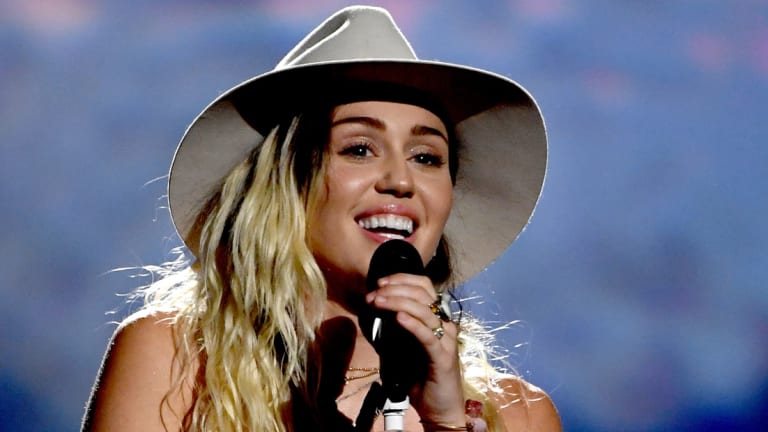 Last Night We Saw What Happens When Miley Drops the Gimmicks, and More at the Billboard Awards
From new voices to timeless.
Step aside, Adele. In the final moments of the Billboard Music Awards last night, Drake broke Adele's record for most Billboard wins in one night, taking home 13 awards total. Luckily, Drake wasn't the only one worth watching last night. Here are our favorite moments from the big night of Billboard.
Co-Hostess of the Mostest
If you had any doubt that Vanessa Hudgens is crazy talented, she proved her musical talent (and impressions) in the opening monologue alongside her co-host, Ludacris. Upon hearing that Hudgens considers Nicki Minaj her rapping alter ego, Ludacris asked her to showcase some lyrics. Moments later, upon mentioning Celine Dion would be performing, Hudgens was given a chance to sample some lines from "The Power of Love," Dion's hit from the '90s. Suffice it to say Hudgens showed her range is wide.
Hey, Nicki
Nicki Minaj never fails to make the internet buzz at award shows. During Drake's first acceptance speech, he gave a shout out to Minaj saying, "I want to say, Nicki Minaj — I'm so glad we found our way back because I love you and I could never ever ever see it any other way," and Nicki's reaction launched a thousand gifs. Her bf wasn't the only one breaking records though—it was also announced that night that Minaj had broken Aretha Franklin's record for most songs on Billboard's Top 100 for a female artist.
All Smiley
Miley Cyrus sang her TV debut of her new single "Malibu." Channeling the vocals of Dolly Parton and a performance stripped down to notes and emotion, Cyrus got teary-eyed singing the hit she recently told Billboard was written for her fiance Liam Hemsworth. To top it off, Cyrus was introduced by her father and sister Billy Ray and Noah Cyrus, who described Miley as the happiest she's ever been. After watching Miley perform her heart-felt song with balloons falling from the ceiling, it's hard not to believe them. (Then again, it's not the first time she's cried on stage singing about Liam.)
Who is Camilla Cabello?
Those not familiar with Fifth Harmony may have been wondering—who on earth is this woman? The Cuban performer made her solo televised debut singing "I Have Questions," before transitioning to the high-tempo "Crying in the Club." Consider us new fans.
That Song You've Been Hearing From a New Voice
Julia Michaels performed her hit single "Issues" alongside musicians including a mini orchestra of plucking violinists. Singing lyrics about two people in a relationship being merciful to one another despite each's issues, Michaels' voice showcased its unique strong yet vulnerable sound.
Lorde's Back
The Kiwi songstress proved she's still up to give the world a dose of real. Lorde sang "Green Light" on a stage set up as a karaoke lounge, singing while the words flashed on the TV screen in front of her. The self-described introvert performed most of the song in the small-scale set, sitting among friends on a couch, and dancing to her own drum before bowing to the crowd at the end.
A Titanic Moment
And for our favorite moment of nostalgia last night, Celine Dion sang "My Heart Will Go On," for the twentieth anniversary of the global hit, under a sparkling chandelier on center stage. For those who paid attention, it was enough to prove how some songs live on, too.
In other notable happenings of the evening, Twenty One Pilots took home some wins, as did Beyoncé (although all Bey's were prior to the live event). Cher was recognized with Billboard's icon award for 6 decades of Billboard chart-topping songs (with a very Cher set of costumes); Ed Sheeran sang "Castle on a Hill" live from Santiago; Bruno Mars performed from Amsterdam (although with its womanizing lyrics, I can't bring myself to link to it here). 
By and large it was a night showcasing some serious talent. And besides Cher, most of the ladies weren't completely naked on stage (which we can't say of other music award shows). Are today's female artists evolving beyond the hypersexualized scripts? Who knows. But if Miley Cyrus can put that foam finger performance in the past and reclaim the stage to sing a love song like she never left Tennessee, anything can happen. 
Photo Credit: Getty Images