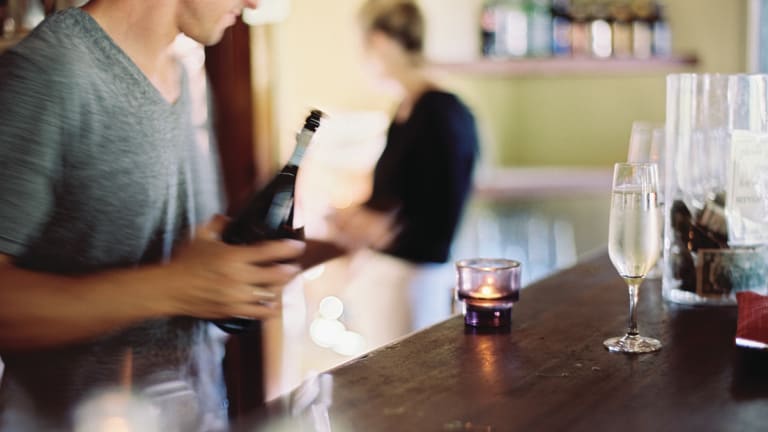 We Asked Bartenders the Best Tips for Meeting Guys at Bars, and This Is What They Said
Increase your odds of meeting a nice guy in person.
For those of us who are single and looking for real love, going to the bar is more than just a fun way to enjoy a night out with friends. The bar represents a world of possibility—at least in theory. 
In reality, it tends to lead to too much time in dead-end conversations (or something resembling conversations) with the wrong people. Then, just as you're ready to totally disassociate bars with potential love, you find out one of your girlfriends met this great guy totally randomly at the bar, and they date, fall in love, and get married. What gives?
The truth is, people really do meet their S.O.'s at bars. Are they just the lucky ones who struck gold? Probably. But that doesn't mean there's nothing you can do to increase your odds. To prove it, I asked the people who would know best: the bartenders watching this happen day in, day out. Here's what they had to say.
01. Set yourself up for success.
What is the ideal time to meet someone at the bar? "Before 10 p.m. for sure," Katy replied without much thinking, and Miranda agrees. "I always feel like late night interactions are just weird drunken hook-ups."
Katy suggested going to different sorts of bars: if you want to stay casual and approachable, try one of the many brewery taprooms. If you want something more swanky, try a distillery's cocktail room. Both places tend to attract a more mature, discerning clientele and as an added bonus often close earlier in the evening, before things get sloppy. "And whatever you do, avoid the bro bars," she said.
02. Make yourself noticed.
"Be loud," Kimmie said. "And throw in some 'woooos.' That'll get their attention." Not exactly your style? (Don't worry, not ours either.) Grabbing a guy's attention doesn't always have to be clever—sometimes they just need to know you are there. "One woman sent a note and a shot to a guy," Catherine said. "He wrote a note back and they ended up having dinner together up at the bar."
You actually don't even have to say or do anything that would obviously show interest. "I've seen girls ask guys to get the bartender's attention for them," Catherine said. "Girls will also say something like, 'make sure nobody takes my spot,' to a guy and then make a joke when they get back." Sometimes the best way to get the romantic wheels turning is to start an interaction in a non-romantic way.
Prefer not to start a conversation? Give guys reasons and opportunities to start one with you. Order a unique drink confidently. We're intrigued when we see somebody who orders something beyond the usual vodka soda. If it's a sports bar, or better yet even if it's not a sports bar, wear some local sports swag, and you'll be guaranteed to have a guy say something to you about that team.
03. Pairs beget pairs.
Fellow Verily writer Justin and I have already covered (here and here) that one of the biggest obstacles to meeting women in the bar is their own group of friends, to which Miranda can attest. "Big groups of women tend to be intimidating," she said. "She'll have a better chance of meeting someone or being approached by someone if she's not in a giant group of girls."
Two is the magic number here. Chances are, there are going to be no more than two eligible bachelors worth talking to in a particular group, and any more than two means you basically need to match up the numbers exactly to keep it from being awkward and/or excluding people. "So either go out with a wing woman," Miranda says, "Or if you're out with a group of girls, separate yourself for a little bit to make yourself more approachable."
04. Shake out the duds—without being icy.
While you should not feel obliged to have lengthy conversations with every guy who approaches you, it's important to be friendly even to guys you're not interested in. While it might be tempting to give a guy who you are not attracted to the "don't even try it" brush off, bartenders say that it's in your best interest to be friendly to those around you—even the guys you aren't thrilled approached you. "There's something appealing I think about the girl that's at the bar enjoying her drink and chatting with those around," Emma said, "who will politely engage with whomever even if they don't serve her immediate purpose, so to speak." 
Common curtesy aside, as a man I can tell you that other guys will notice if you just give the cold shoulder—and will be discouraged from trying for themselves. Also, loyalty comes into play. Maybe you'd rather talk to his taller, cuter buddy, but he might not want anything to do with you if you humiliate his right-hand man. 
05. Curb your drinking.
While some will try to impress with their alcohol tolerance, experience has shown me that the greater virtue in this case is temperance, and Jon agrees. "Once you meet someone," he says, "Slow your drinking way down." Oh and definitely don't do shots, Jon advises. Let's be honest, "Let's take a shot," coming from a guy is often code for, "I think I have a better chance with you if you're drunk."

Personally, when a woman gets drunk at the bar, it's typically game-over for me. If I was on the fence about her, that's just another reason for me to move on. And if I actually liked her, there's no way of knowing if what I'm seeing from her is real or if it's just the whiskey. 
When I set out to write this article, I'm not sure I expected to learn any magic elixir-type methods. Even so, I was still a bit surprised to find that most bartenders had relatively simple advice to offer. The general consensus was to be yourself, be friendly and polite, and focus on having a good time instead any agenda to meet the man of your dreams. If you do that, the rest should take care of itself.
Photo Credit: Ryan Flynn Photography